Despite its English name, Eden Park is a French clothing brand for men. It was created by former French rugby union player Franck Mesnel back in the 1980s.
A quick look at Eden Park's range and the quality of the products proves this is a higher-end label. There are plenty of other brands operating in this sporty / rugby / preppy arena but few seem to provide the same level of quality. It's worth noting this brand is the official England RFU formal wear supplier.
The shirt I'm modeling is the Pop ray stripey shirt. With its button down collar, it's a great shirt for smart casual occasions. It's 100% cotton and the fabric is gloriously soft.
Take a close look and you'll see the buttons are rugby ball shaped! In typical French style, the brand's bow tie logo has been added very subtlety to the breast pocket (although you can't quite see it in this image).
Other items in the Eden Park range include polo shirts, gilets, cardigans and so on. All items are available from official supplier Bone Clothing.
As a special offer, readers can get 10% off all orders from Bone Clothing by entering the code DADBLOGUK at check out. Better still, there's no delivery charge.
Here are some other classic items from the range. I hope some of it takes your fancy!
This post was produced in association with Bone Clothing. For more information about my disclosure policy, please follow this link.
Photo credit: Self portraits.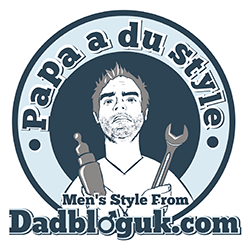 Interested in this blog post? Well have a read of these...