The paddling pool is a wonderful invention, don't you think? Regardless of temperature, when the sun comes out my kids will often ask if they can play in the paddling pool and it provides house of entertainment.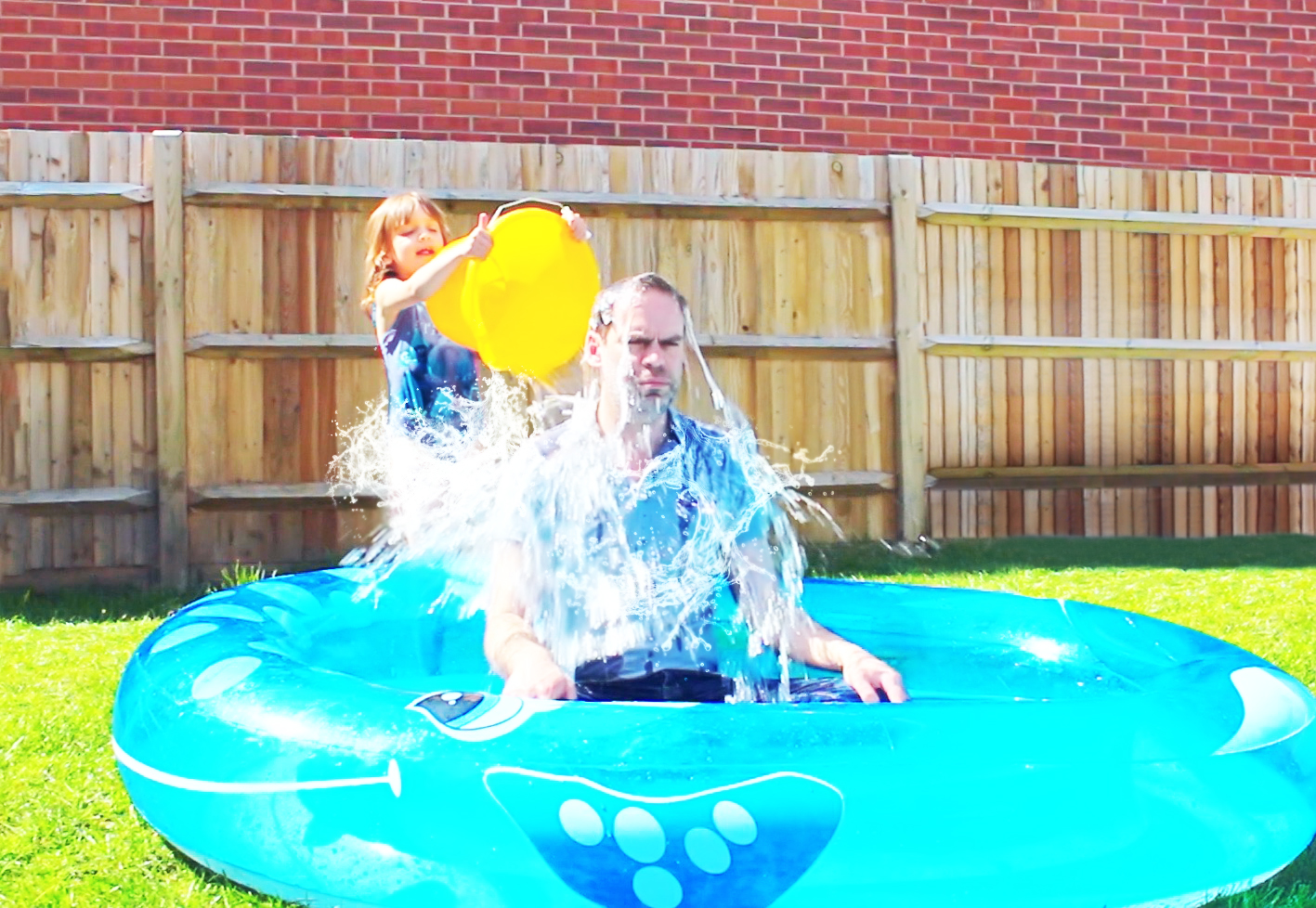 As is usually the way, my daughters Helen and Izzy have been asking all winter if I'd get the pool out for them. Every time there's been a sunny day, no matter how cold it's been, they've asked about the paddling pool.
Over the Easter Bank Holiday weekend, the weather was warm enough for me to agree to their wish. It's been so sunny over recent days that to say no would have mean to say the least.
Of course, getting the paddling pool set-up followed a familiar pattern. I had to climb a ladder to retrieve the pool from an obscure part of the garage. It then had to be cleaned before eventually, I could inflate it and fill it with water.
My mind wandered as I was inflating the pool with a completely inadequate, 100watt electric pump. As the incessant, deafening noise from the pump blocked out all other sounds, I realised that, over the years, I've had quite a few bizarre experiences with paddling pools. What seems like quite a humble garden toy has got me in all sorts of trouble.
I thought I'd share a few of my better stories here. If you have a young family, I hope you can relate to them.
When cleaning a paddling pool, keep it simple
I don't understand why, but paddling pools seem to pick up the most stubborn stains. It can be tempting to use harsh cleaning products or even power tools to clean a pool, but I've learned the hard way that a J-Cloth and Cif are the best options.
On one occasion I decided it would be a good idea to use a pressure washer. Alas, I had grossly underestimated just how powerful a pressure washer can be. It didn't remove any stains at all. Instead it blew a large hole in the bottom of the pool. This was not my finest hour.
Size matters. A lot.
While paddling pools are great for entertaining kids, I get pangs of guilt concerning their environmental impact. Not only does it take a lot of water to fill them, but you often have to add hot water or else the kids will whinge it's too cold and not use the pool at all.
One pool we owned made me feel particularly guilty because of its size. The badly-manipulated image on the outside of the box showing a family having a party in the pool should have been a clue to its size. The picture was so ridiculous that we simply couldn't believe it.
This proved to be or downfall. The pool was absolutely massive, far bigger than we appreciated when we bought it.
It took forever to fill. To give you some idea of its size, I could lie in that pool and do a couple of swimming strokes to get from one end to the other.
I forget what happened to it in the end, but I'm not sorry it's gone. It required a ridiculous quantity of water and was far, far larger than we could justify.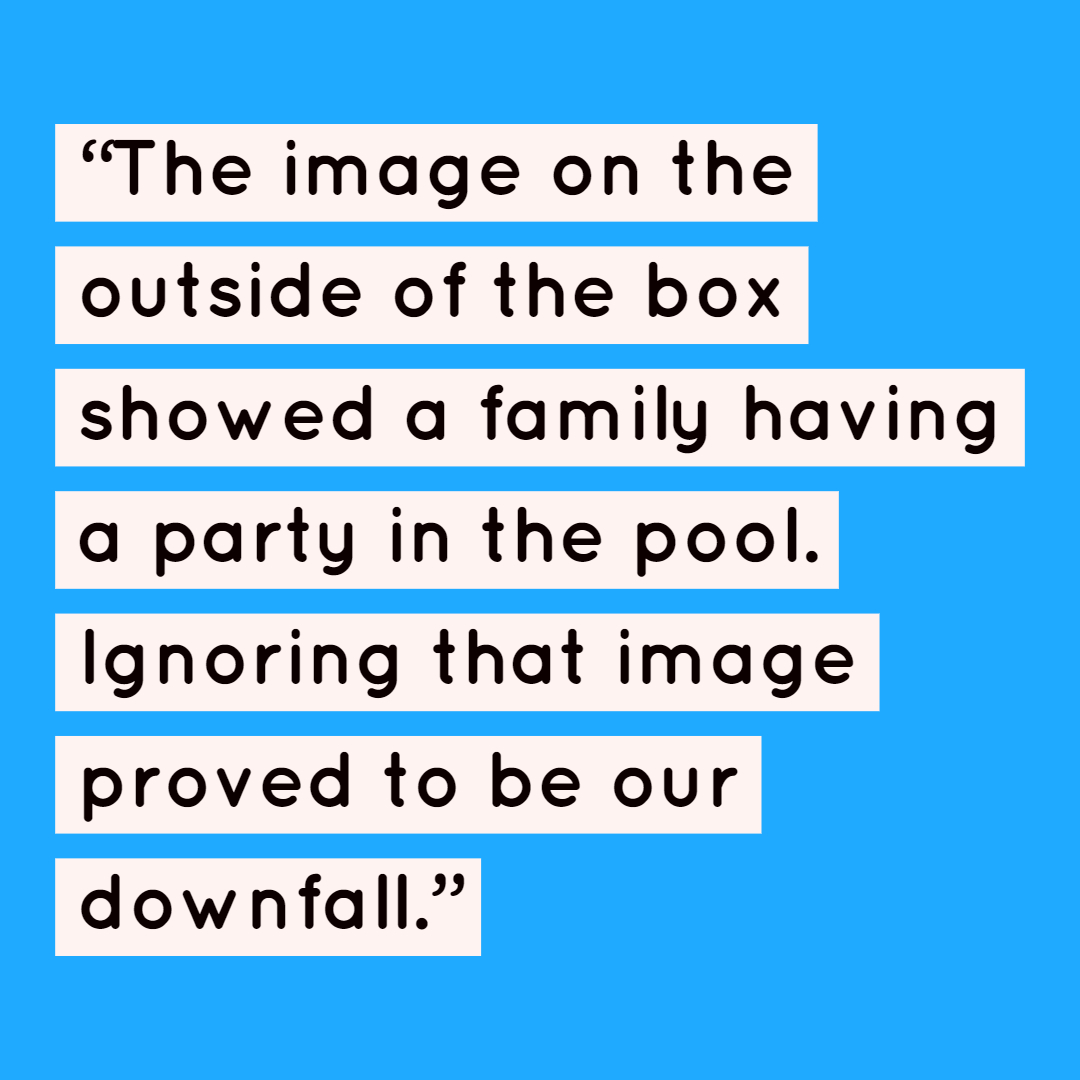 The pool party that got slightly out of hand
Talking of pool parties, we held a summer barbecue a few years ago. We invited a lot of friends, thinking that a third or so would be unable to attend. Oh no, they all came with their kids.
In our garden we had about 15 children, 20 adults, a trampoline, two paddling pools and a barbecue. It wasn't until everyone arrived I realised just how cramped the garden was and that there were a lot of dangerous garden items in the one small space. It was an episode of Casualty waiting to happen.
In fairness to the kids, the worst they managed to do was pull a plug out of the bottom of one of the paddling pools so all the water emptied out of it. It was one of the adult guests who ended up going to hospital after they fell over while leaving and knocked a couple of their teeth out! That party demonstrated that sometimes, just sometimes, children can be more sensible than their parents. And yes, okay, this was more of a story involving paddling pools than focusing on paddling pools, but I hope you'll agree it was a good one.
The exploding tap
Going back several years, we lived in a house with a slightly odd design. The only mixer tap in the property (mixer taps are the best for filling paddling pools) was up some steps in a narrow room underneath the bathroom (weird, I know). This was the most convenient tap to fill the paddling pool from because you could use warm water. Even so, it involved running a hose pipe several metres from the mixer tap, down the steps, through the house and out into the garden.
On this particular occasion, I wasn't keen on letting the kids play in the paddling pool. I can't quite explain it, but I had a bad feeling about filling the pool. It just felt like a lot of hassle and when the hose pipe was dragged through the house, a lot of muck and dirt inevitably came with it.
Mrs Adams, however, had already told the kids I'd fill the pool for them so with some reluctance, I set up the hose pipe, turned on the tap and things went awry very quickly. Water started spraying all over the place from the tap.
I'd failed to put the hose fitting on the end of the tap properly. Pressure had built up and, boom, the interior workings of the tap had been blown apart. Yeah, that was a good day.
What's your story?
Those are a few highlights from my history of using paddling pools. Do you have stories of your own? If so, please do share them. I have faith in you, my wonderful readers, and am pretty sure you can outdo anything I have done with a paddling pool.
Interested in this blog post? Well have a read of these...