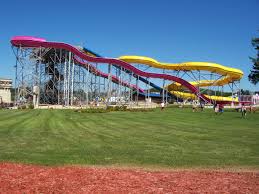 I recently came to a harsh conclusion; our garden was not child friendly. By this, I don't mean that it was dangerous. Far from it in fact. When we moved in to the house we went to huge effort to drain and fill in a pond and replace missing fencing. What I mean is the garden hadn't featured anything appealing that would encourage the children to play outdoors.
I'd always tricked myself into thinking the garden was just fine. The kids had a trampoline that does get played on quite regularly and a slide left behind by the house's previous owners. There was also a Wendy house, although the kids just didn't use it.
As spring turned to summer, I spent huge amounts of time in the park after school with both kids. They loved the swings and other attractions and it was great to see them running round, being active. Spending so much time at the park certainly helped to keep the house tidier.
It's only through doing this that I realised the kids had very little to play with in the garden. Okay, so they had some toys but they clearly weren't appealing. This probably explains why our eldest was always a little reluctant to play out side (fine anywhere else, just not her own garden).
What have I done about it? A lot, that's what. Not that we really had the money to spend, but I invested in a swing, a swingball set and a picnic table for the kids. I also bought a couple of outside storage units. Instead of outdoors toys being stored in the garage, they are now easily accessible and stored in the garden. The Wendy house has been given away. There was no point hanging on to it if the kids weren't interested in using it.
As we're at the beginning of the six week summer break, I wanted to make sure the kids had something to keep them entertained outside. It's where I want them to spend every possible moment. Thus far, it's worked perfectly and they're loving their new toys. I don't know why I didn't do this years ago.
Photo credit: Royalbroil Picture reproduced under Creative Commons 2.0 agreement. For link to the agreement, please visit my Disclosure page.
Interested in this blog post? Well have a read of these...