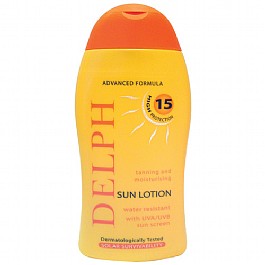 No matter how you dress it up, sun lotion isn't glamorous, but it is essential. As a child I don't think I ever went near sun lotion but those were the days before the hole in the ozone layer had been discovered. It's a parent I think we're all paying a different game now and have to think of these things. 
So what was it I was road testing? It was Delph's factor 15, factor 50 sun block and after sun gel. As a family we've been using the products for a few weeks now and found them to work perfectly well.
The products include some luxury ingredients such as shea butter and coconut oil. None of them has a particularly strong odour which is great as it avoids any clashes with aftershave or perfume.
I have found with many sun blocks that they can be very difficult to rub into the skin. This isn't the case with Delph's factor 50, it performs very well and doesn't leave a thick, oily mess on the skin (clothes, sofa, car seat etc).
The Delph range is well priced. Factor 15 and factor 50 are £.49 and £4.99 accordingly for a 150ml tube while the after sun gel is £1.49 for the same quantity. The Delph range is available from all good, independent pharmacies.
Interested in this blog post? Well have a read of these...