To many people pensions are not particularly sexy. I, however, find pensions fascinating.
Going back a decade or so I worked for two organisations that were at the forefront of alleviating pensioner poverty. I was privy to all manner of information showing that we're on the verge of a pensions apocalypse in the UK.
One of the major issues I used to deal with was female pensioner poverty. This tends to be a bigger issue for women because mums, as opposed to dads, often take five years out of the workforce when they become mothers and frequently return to part time work once their children are at school.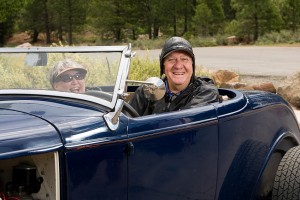 To be blunt women often pay less into personal pensions than men and miss-out on all important National Insurance contributions that would guarantee a full state pension. Divorce, widowhood and poor health frequently complicate matters.
But what of us stay at home dads? We may be a relatively small population but we face identical issues when it comes to retirement income.
Since I gave up full time work to look after the kids I've often wondered about my own pension. With my background it's something I actually lose sleep over because I know that I'm making all the classic mistakes that have led to generations of stay at home mothers seeing out their later years eeking out an existence on a tiny pension.
The other week I was pleasantly surprised to receive an email from the savings and pensions specialist Standard Life. I'll paraphrase but essentially the email said; "John, have you thought about writing a blog about stay at home dads and their pensions?"
Knowing that I'm personally making every pensions mistake in the book I had indeed given plenty of thought to writing just such a blog piece. Standard Life's email has basically spurred me on to write it.
As regards state pensions, the goal posts are about to move for everybody. In 2016 the Government will introduce a new single-tier state pension. In theory it will be more equitable and easier to administer but there are elements to it that all stay at home parents need to be aware of.  
At present you need to pay 30 years' worth of National insurance contributions to qualify for a full state pension. This will shortly increase to 35 years.
The state pension age will also increase in 2020 to 66 years of age, rising again to 67 shortly afterwards. The age will be reviewed every five years so further increases are likely within your lifetime.
Julie Russell from Standard Life provided me with the following advice for stay at home dads (although it applies equally to mums): "Finding the time to sit and review all your plans will be the challenge, but its importance cannot be overstated. Office for National Statistics data shows that we're living longer; more than a third (36 per cent) of people in 2013 will live to be 100. Retirement can now last for decades, which is a long time to fund your lifestyle
and family without a household salary.
"Making sure you save the right amount of money at the right time in the right place is vitally important, as is ensuring you're able to maximise your tax free saving and State benefits, such as the single-tier pension." 
On that note I'm off to sell all my personal possessions on Ebay. All profits will be poured into the Dadbloguk.com pension fund.    
For further help with planning your finances and for your retirement visit www.yourfuturemoney.co.uk.
Interested in this blog post? Well have a read of these...