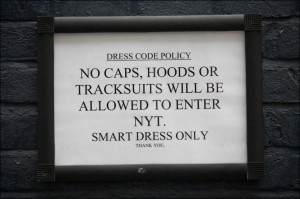 The other day I was driving through a nearby village at about nine in the morning. Casually strolling along the pavement was a mum taking a child to school.
Call me old fashioned, but I was slightly perturbed at her choice of clothing. She was wearing swimming costume bottoms, a crop top, sandals and nothing else. We're all familiar with the phrase if you've got it flaunt it, but I'm not sure this should stretch as far as the school gate (or any nearby streets). It just seemed a bit, well, inappropriate.
It got me thinking about what adults should and should not wear in the playground. I've produced a list of items that I think us mums, dads and carers should probably avoid. I challenge you to have a read and make some suggestions yourself.
Men:
• Men's leggings (weird)
• Skinny jeans (impractical if looking after young children)
• Hot pants (weird, but I've seen men try and pull this look off)
• Vest tops (just, no)
• Tank tops (as above)
• Anything PVC or rubberised (no explanation needed)
• Coldplay tee shirts (no, you don't look cool)
• Cuban heels (there's a time and a place, it's not the playground)
• Crocs (my blood is running cold)
Women:
• Swimming costumes (you may have an amazing tattoo to show off, but no, just don't)
• Any heels over four inches (health and safety risk)
• Uggs (should be outlawed)
• Cheap Ugg boot copies (should also be outlawed)
• Coldplay tee shirts (consciously de-coupled, I mean, really?)
• Anything PVC or rubberised (no explanation needed)
• Hot pants (just wrong)
• Daisy Dukes (there's a story to tell here, but this blog is not the correct place).
Over to you, what articles of clothing do you think should be left at home?
Photo credit: Paul Vlaar. Reproduced under Creative Commons agreement.
Interested in this blog post? Well have a read of these...