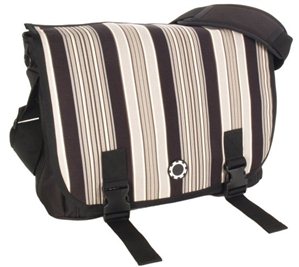 For some reason North Americans seem to excel at producing changing bags designed for men. The DadGear Messenger is the latest US-made change bag to be made available in the UK and it doesn't disappoint.
I've put our usual change bag into semi-retirement while I test this one out. Rest assured it has been given a thorough testing.
It has it accompanied me on a visit to an agricultural show with the whole family, a day at the beach with my two daughters plus a day trip to Paris, where I tested its qualities solely as a man bag.
The first thing that strikes you is its size. The bag measures 43cm x 30cm x 15cm. It isn't at all unwieldy, but you could easily stuff Western Australia inside of this thing. It comfortably accommodated all the stuff I needed for a day in Paris, not to mention two bottles of wine.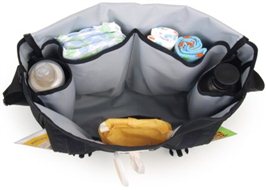 The publicity bumph states this is a "flexible" bag. It has numerous pockets, a padded changing mat, can be worn over the shoulder or held by hand and also has integrated buggy clips. On this basis I give it a big tick when it comes to flexibility.
The bag also has an interesting feature on the front. It's a holder and window for placing a pack of baby wipes. No more rooting through the bag to find wipes when you need them urgently; they're right there to be grabbed in an instant.
I've got on very well with this item. I like it a lot. At £62.95 it is a touch pricy compared to rivals. I think you are paying a small premium for a very flexible item. The size of it is also an added bonus so you may consider this worth paying for.
The DadGear Messenger is available in the UK from Happybags.
Interested in this blog post? Well have a read of these...