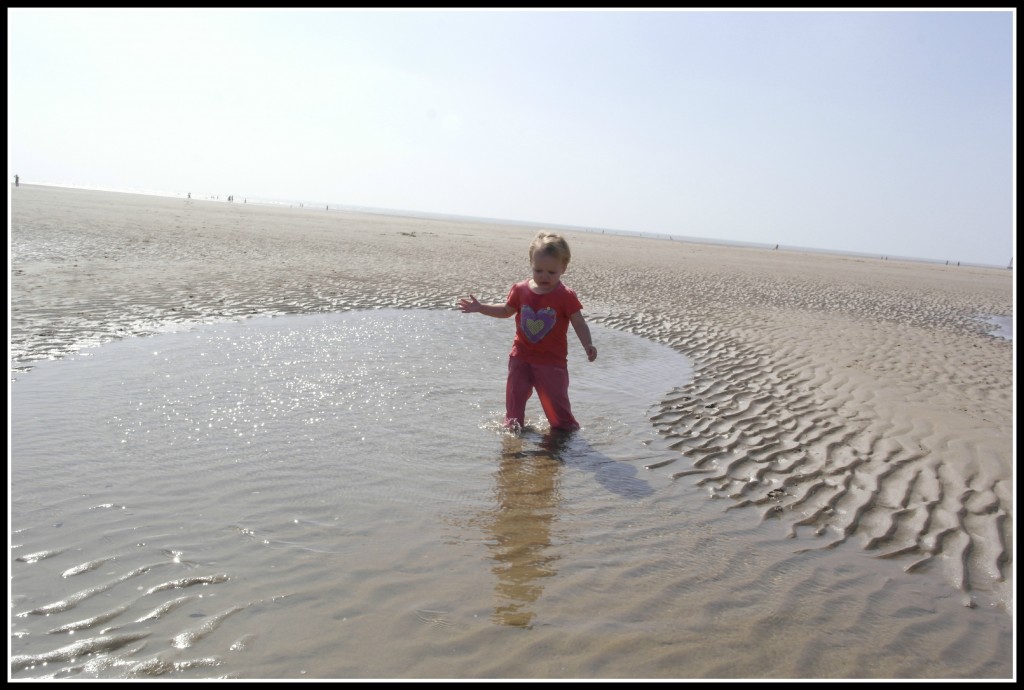 This week's My Sunday Photo is a particularly special one. It's an image I've taken as part of the online photography course I'm doing with Photography for Parents (…more about that in a moment).
The picture was taken at Camber Sands beach in East Sussex earlier this week. It was the very last day of the school holidays and so I promised Helen, who was going into Year 1 the next day, that we could go to the beach with her little sister. Thankfully it was a gloriously sunny day and the three of us had an amazing time.
It won't have escaped your attention that the girl in the picture is not five year old Helen. It is in fact my other daughter, Elizabeth. Within minutes of arriving on the beach she found this pool and charged straight into it fully clothed before I could intervene.
Luckily I came prepared with both a swimsuit and a spare pair of clothes for her. I say luckily, my efforts were pointless. Before we returned home she had fallen over in the sea while paddling so got the spare set wet as well. Don't ask how I managed to transport her to Chez Adams. It took some impressive improvisation.
Anyway, the image was an experiment as I was playing with the camera's aperture priority mode and ISO settings (see below for more info about both). I'm not entirely happy with how the picture turned out, but bearing in mind it was taken in very bright sunlight near reflective sand and water, it's not too bad. Apart from putting it in a simple frame, I haven't edited the shot at all.
How has the online course been going? The summer holidays didn't help so I'm a bit behind schedule, but it is going well. For the background to the course, please see this earlier blog post.
I've completed two of the six modules and it's taking me right back to basics. I'm dealing with concepts such as ISO, essentially measuring your camera's sensitivity to light. With the cameras I've used over recent years, I haven't even had to think about ISO settings so I'm glad to be studying them again.
With the advent of digital cameras, this particular aspect of photography has changed completely. Refreshing my skills in this area makes the course very worthwhile. I'll just give a quick overview of some highlights from the two modules.
In module one, I explored 'focal length', in other words how you can use your camera's lens to focus in on an object and how it affects what your camera sees. Lower focal lengths, say 14mm-24mm, are better for wide spaces and landscapes. Higher focal lengths, 70mm-105mm are better for portrait images. The closest to what you naturally see with your eyes is somewhere between 35mm-50mm.
The two images below demonstrate how different focal lengths can have an impact on a picture (please note, they were taken on a very overcast day so please don't judge me on the lighting!). The first shot is taken with a focal length of 20mm. The second image is taken with a focal length of 50mm. Note how much clearer the farm buildings are at the centre of picture number two.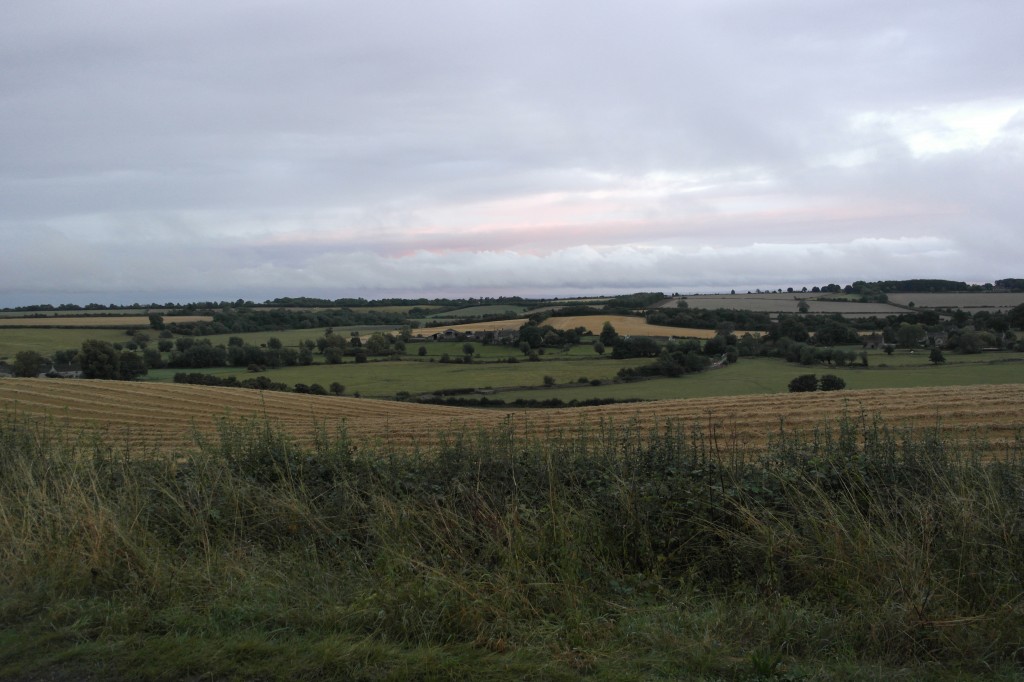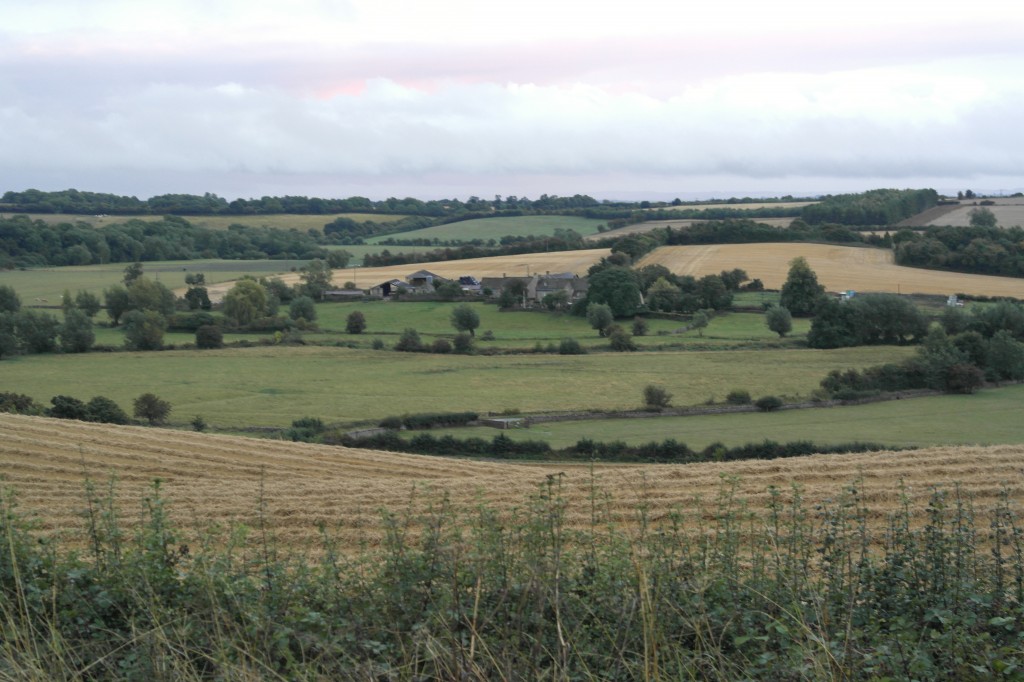 Module two was more technical. Much of it was focused on lighting. I'll be honest, I shall be going back and reading it over and over again as it hasn't all sunk in just yet.
The module also looked at shooting in aperture priority mode. This enables you to play with the f stops on your camera which regulate how wide open the lens is. It can help you add some blurring to an image or bring it sharply into focus.
If you look at the image below you will see Elizabeth is in focus, but the trees and hedges behind her are blurred. I achieved this effect by adjusting the aperture and it took me several attempts to get it right.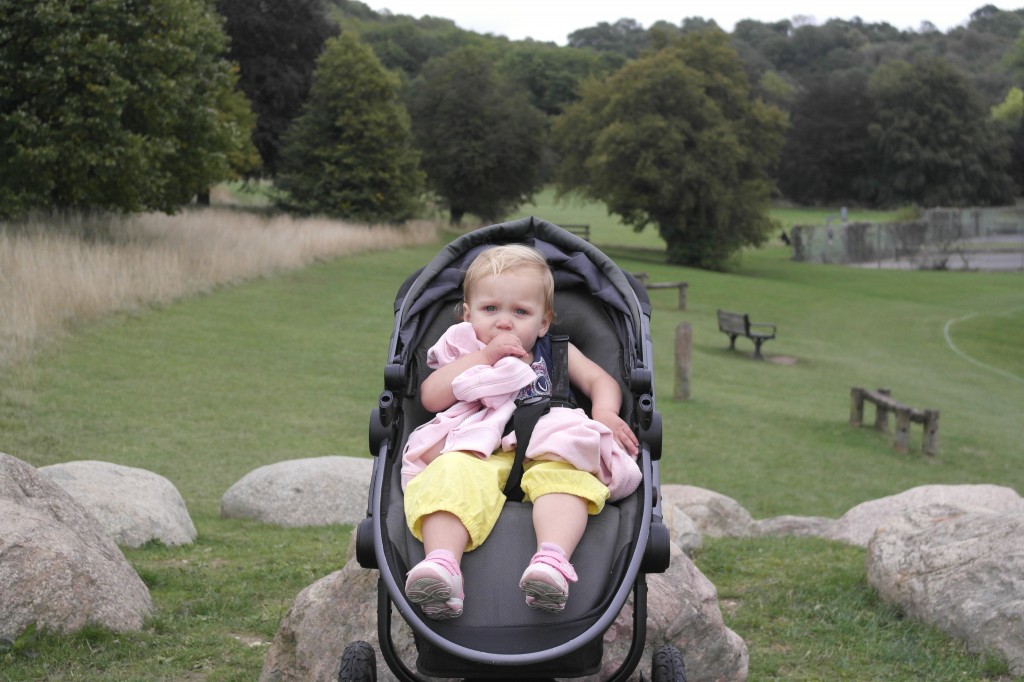 I'll write another post shortly about module three. If you are interested in Photography for Parent's online course, you can find details here. Just be advised it is filling up and the next course starts on 22 September so you may need to get a move on.
I've linked this post to the #MySundayPhoto linky hosted by the marvellous One Dad 3 Girls blog. Go take a look, see what other bloggers are up to. It's the law.
Disclosure: Photography for Parents is an advertiser on Dadbloguk and has taken photographs for this blog on other occasions. I have, however, paid to undertake this course and have chosen to write about it (ie there is no commercial obligation on me to do so). My Disclosure page can be found by following this link.
Interested in this blog post? Well have a read of these...