I was recently invited to the #harmandads event at which several of us dad bloggers got to test drive a number of Harman stereo products, among them the JBL Soundfly BT.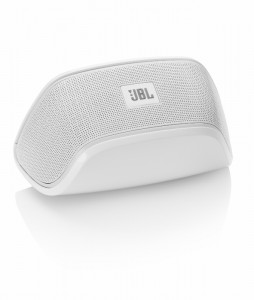 The Soundfly BT is a plug-in speaker that connects to your wireless device using Bluetooth. You can then select whatever music you wish to listen to and away you go; you are now free to dance round the living room with no wires or anything to get in the way.
The beauty of this product is its simplicity. It doesn't even have a "standby" button. You control the volume and everything from your wireless device.
I've been describing it to people as the natural progression to the docking station. It has all the same functionality but there are no wires and if the wireless device you're using is your phone then you can answer it without having to fiddle around and remove it from the dock.
The sound quality is very, very good. Okay, so this isn't a top of the range stereo system but bearing in mind the price of the product (RRP £149) you really can't go wrong. It certainly seemed to impress us dad bloggers.
As for technical specifications, it works on either 100v 240v AC, signal to noise ratio is 80dB and the frequency response is 60Hz – 20kHz. It is also a very compact at 71mm wide, 92mm high and 190mm deep.
I'm really enjoying using this product. I fear, however, that since it arrived in the house the docking station has gone unused!
To find out more and to purchase, visit the JBL website.
Interested in this blog post? Well have a read of these...