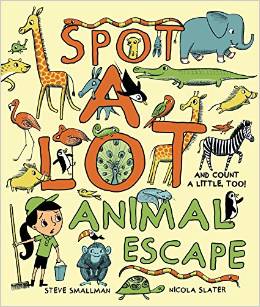 Spot a lot, animal escape is written by Steve Smallman and illustrated by Nicola Slater. It's a well illustrated picture story but with a difference.
On every page are drawings of a variety of animals. There is also a question in small print asking you to find a particular creature, or several creatures. You must look closely to find each animal.
My kids have grown to a stage whereby older sister sometimes reads her younger sibling a bedtime story. That's exactly what happened last night and this is one of the titles the two girls read together.
At 22 months old, Elizabeth wasn't very good at following the instructions, but she did her best! She certainly seemed to enjoy herself and it was a great way for Helen, her older sister to practice her reading and counting.
That is the beauty of this book. It doesn't just encourage good literacy but also numeracy.
This would make an ideal, small gift for a child. It's published by Parragon and at £5.99 it certainly won't break the bank.
The title is available direct from Parragon and also from Amazon.
For more information about my disclosure policy, please visit this page. 
Interested in this blog post? Well have a read of these...