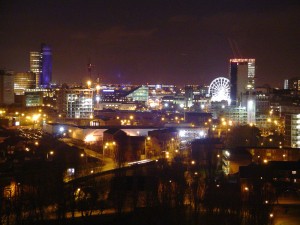 Over the summer holidays, we will make one of our regular family trips up to Scotland. When the air tickets are cheap enough, we prefer to fly but being in the midst of the summer break they're out of our price range and so we've decided to drive. I can hear you laughing now at the thought of travelling with children all that way in a car
We've done this several times in the past. If we leave at five in the morning I can usually look forward to a pint of Deuchars IPA in Glasgow at one in the afternoon (the single malt whisky comes out after the kids are in bed). If the children have DVDs to watch and plenty of snacks they're not usually too bad during the journey, although you have to plan lots of comfort breaks.
This time, however, I'm trying to persuade my wife that we should take a small detour and break the journey. I want to do an overnight stay in the Leeds area. It would give me the opportunity to relive my college days.
I also have a great friend called Chris who lives not too far away. Unfortunately we generally only get to see each other once or twice a year if we're lucky. This will be when his football team comes down to play a London-based squad. This has been the pattern of our meetings for some years now so for once it would be nice to visit him on his territory.
We would, of course, stay in a hotel. I'm not sure how Chris, who doesn't have kids himself, would take being invaded by all of us in one go. I suspect he'd find it quite challenging!
I've already earmarked the Holiday Inn Leeds Wakefield as a potential candidate. It's got the facilities to enable us to have a great family meal together but, best of all, kids stay free!
The kids would also think staying in a hotel was an adventure. If they're happy, my wife and I are also happy.
Of course that's only part of the journey. The end game is to reach granny's house on the other side of Hadrian's Wall.
Photo credit: Michael Colvin. Image reporduced under Creative Commons 2.0 agreement. See disclosure page for more info and link to this agreement.

This post was produced in association with IHG Company Managed Hotels.
Interested in this blog post? Well have a read of these...