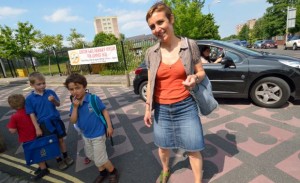 My experiment trying to avoid use of the car on the school run has come to an end. It's been an educational experience and I'm glad I made the effort to participate in Sustran's Safe To School campaign (#SafeToSchool).
Even if I say so myself, it has required a major effort on my behalf. This is because the school run is not a simple process for this family.
Allow me to explain. Most mornings I have to drop my oldest child off at school in one location. The school is not on our doorstep so it takes a while to get there, even by car. Some days my youngest child goes to nursery. The nursery is in a different location.
Added to this, the area we live in is very hilly so this rules out using bicycles and makes walking and scooting difficult in places. The school run is, therefore, usually done by car.
Making the effort to get out of the car has been a mixed experience. On the plus side, my eldest daughter really enjoyed scooting to school. Although she objected at first, she also liked walking. It gave us the chance to chat to each other and the time spent in each other's company was more personal than when we're separated by car seats with her in the back and me in the front.
On the negative side, leaving the house earlier to allow extra time for the journey has been stressful. I've also travelled down some paths so poorly maintained the toddler's pushchair was pitched off the pavement and into the road a couple of times. Thankfully these were quiet roads with no traffic on them at the time but the potential for a horrendous accident was there.
I hope my experiences have inspired others to walk, cycle or scoot to school. I also hope I've helped highlight how far there is to go to ensure every child has a safer journey to school. It's an important campaign and I'd encourage you to support it.
Interested in this blog post? Well have a read of these...