As half-term neared its end, we paid a family visit to Tower Bridge in London on Friday. Being something of an engineering geek, I was very keen to learn about the bridge's construction and how it works.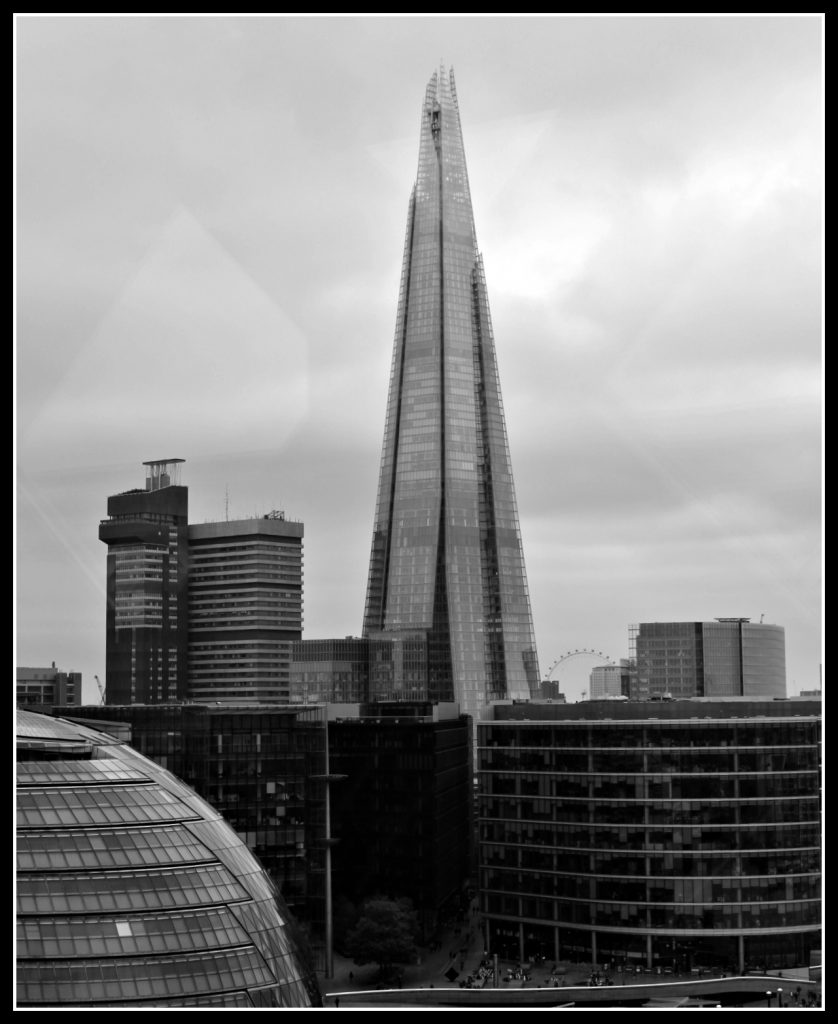 My kids seemed more impressed with the south and west walkways. These are enclosed walkways at the top of the bridge. They allow you to walk from one side to the other and each one is glass bottomed so you can look down and see the River Thames and road below.
Alas, I didn't have much luck with my photography during the visit. This was the one image that stood out from the day. It shows the Shard right in the centre. In the foreground on the left is City Hall, home of the Mayor of London. Look closely and you'll just see the London Eye at the bottom right of the Shard.
It wasn't particularly sunny and so I flipped the image to B&W. To be honest, it just completes the greyness of the day!
For those who like detail, shutter speed was 1/200 of a second, aperture f9, focal length 35mm and ISO 100. It's been cropped and put through a black and white filter but is otherwise unedited.
Although I didn't have much luck, largely because I had to keep my eye on our three year old, I was surprised at what a good spot Tower Bridge is for seeing London landmarks. It shouldn't come as too much of a surprise, but it's one of those locations that just doesn't spring to mind. You can see Canary Wharf in the distance, HMS Belfast is right in front of you and you can see the Shard, City Hall etc.
Have you taken photographs of London landmarks? If so, what locations do you recommend? Tower Bridge came as quite a pleasant surprise so I'm thinking I should explore some locations off the beaten track.
As usual for a Sunday, I have linked this post to the #MySundayPhoto linky hosted by the Photalife blog. Click on the link to see more photography from other bloggers.
Interested in this blog post? Well have a read of these...