When on the school run, I'm often surprised at the number of off-road vehicles I see. There is increasing demand from families citing safety as the reason they wish to ferry their kids around in a 4X4. With this in mind, I was delighted when asked if I would like to test drive a Jeep Renegade.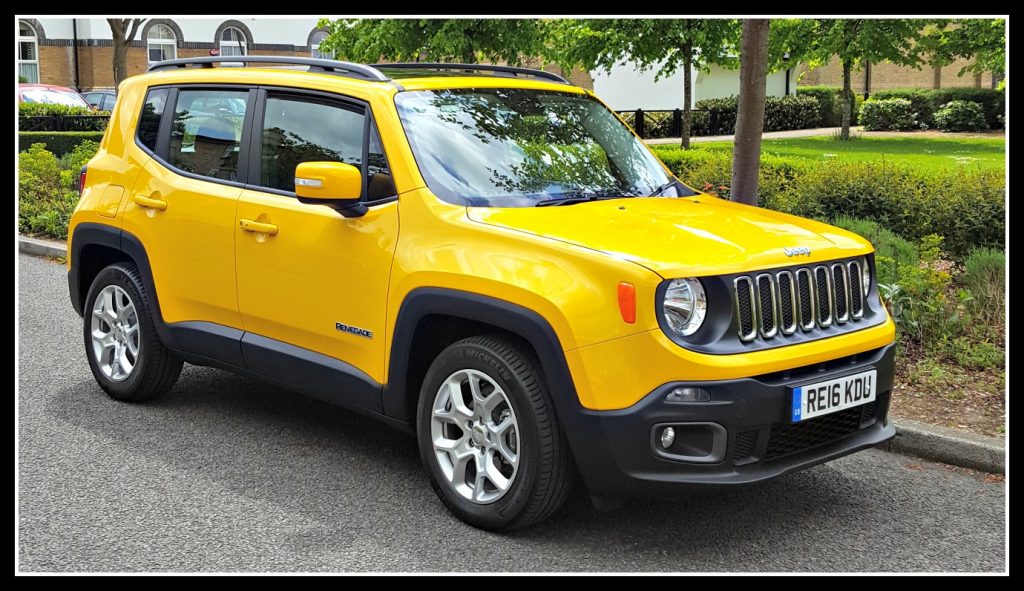 Only thing is, if you're test driving a vehicle designed for off-road use, well, you have to take it off road, right? I therefore set myself a challenge, just how dirty could I get the Jeep Renegade in the few days I had it? The picture below hopefully answers that question.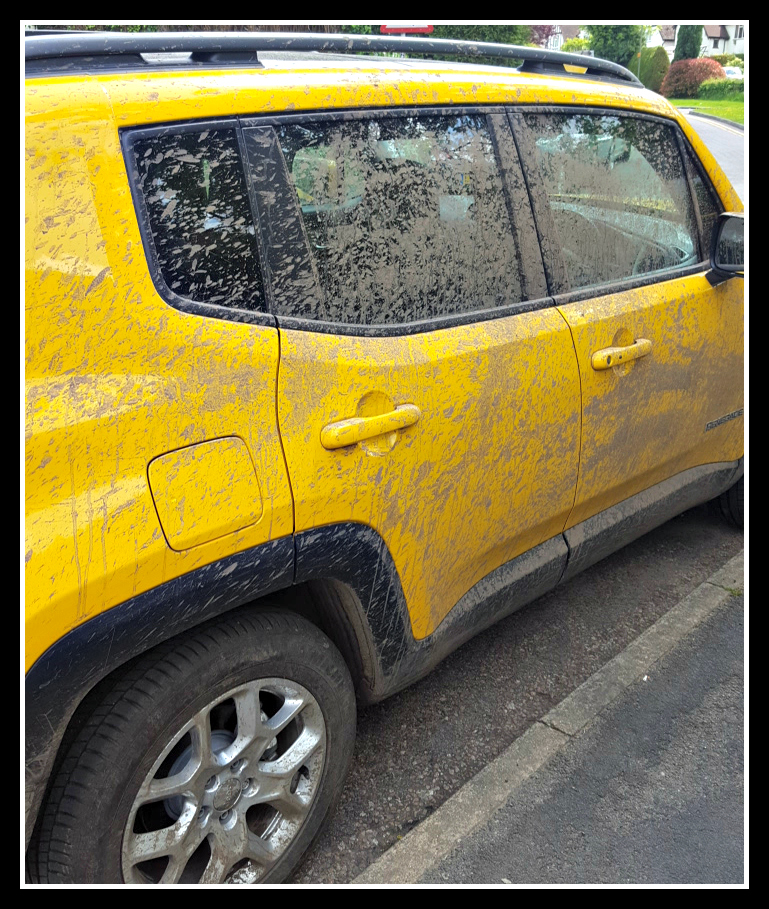 How exactly did I manage to turn the vehicle from eye-catching solar yellow to mud-brown? I recorded a short video of my antics. Click on the link below to see what I got up to. It's not all jolly japes, I do also provide a summary of my thoughts on the car.
What you need to know about the Jeep Renegade
Tomfoolery aside, what is the Jeep Renegade like? I was test driving the 1.6 litre, diesel engine Jeep Renegade Longitude Multijet II. The first thing to mention about this vehicle is that it is a two-wheel drive crossover. This, I think, increases its appeal to the family market and makes it more suitable for buzzing about town.
If you are in need of a vehicle with serious off-road capacity, four-wheel drive versions of the Renegade are available. I've watched a few videos of them in action and they look impressive, but I think 4X2 is more than sufficient for the usual business of family life.
The vehicle comes with ample storage for drinks or snacks should you be going for long drives with the kids. I particularly liked the fact the front passenger seat lifted up to provide a sizeable storage space.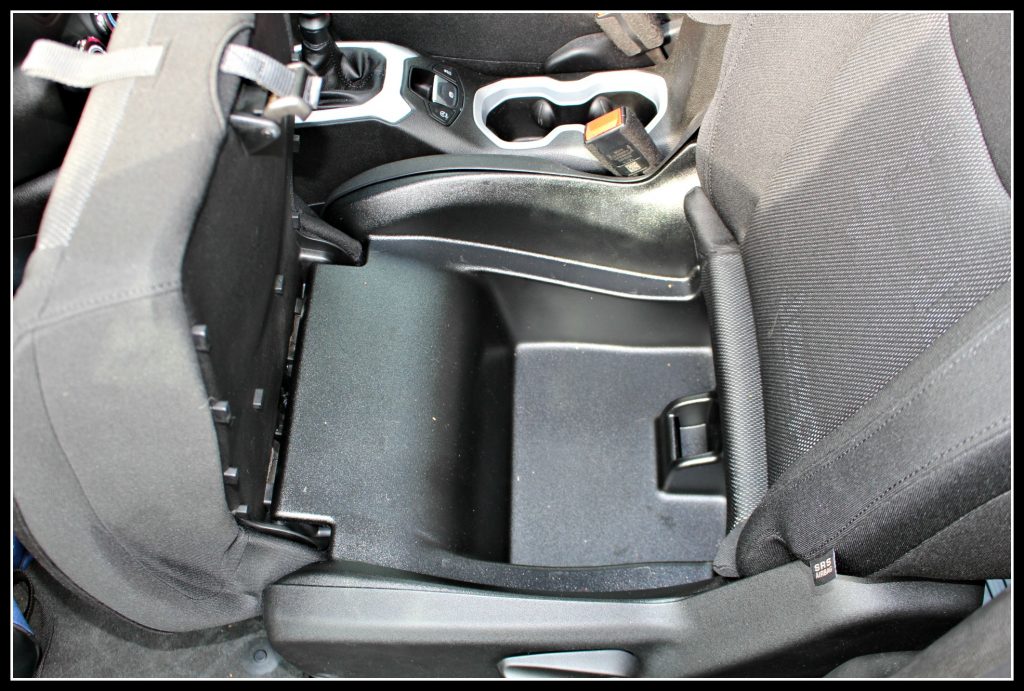 Much has been made of the styling of the Renegade. Pictured below is the rev counter. Note how you don't red-line the Renegade; instead the needle goes up into mud splatters. The trademark seven-bar radiator grill is also stamped all over the vehicle and the cross on the rear headlights is supposed to be reminiscent of the jerry cans used on early Jeep vehicles in WWII (see the video).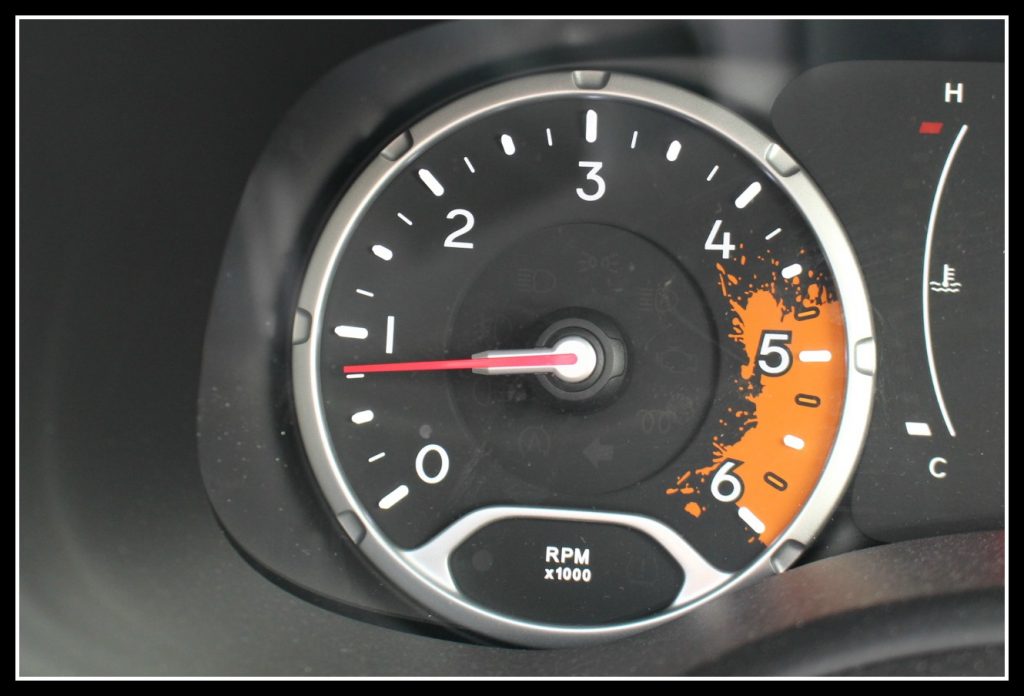 A good size and easy to manoeuver
If you're travelling with a family, you need space. Don't assume that simply because the Renegade is a crossover it will be large and cumbersome. Its dimensions are; (length, width, height) 4236mm x 1805mm x1667mm (similar to a Honda HR-V).
Although a completely different vehicle altogether, the Ford Mondeo is 4871mm long and 1852mm wide. In terms of size, this shows the Renegade is comparable with a typical family car. I found the Jeep very easy to park and the power steering was very sensitive making it equally easy to manoeuver.
Space
Internally there is some great space, although I am building up to a "but". There is bags of space in the front and plenty of storage solutions for drinks bottles, cups etc.
The back seat easily accommodated two children in car seats. Leg room in the back was okay, but not brilliant.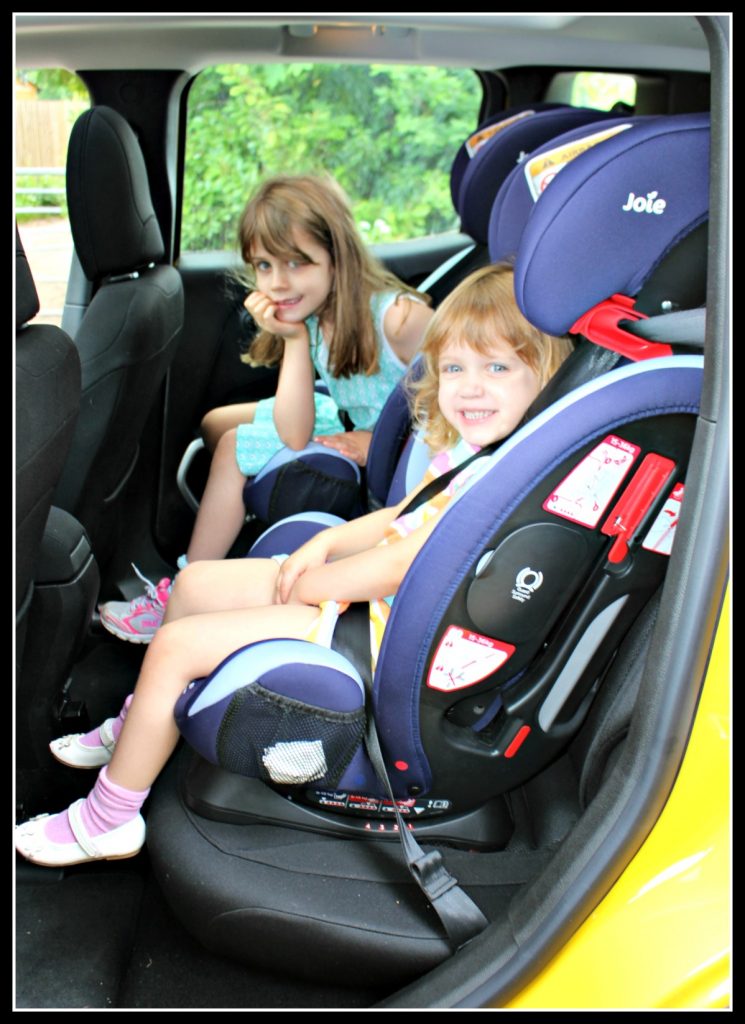 What issue am I building up to? It's the boot. From the outside the boot likes very spacious. As the picture below shows, it easily accommodated a supermarket shop. It wasn't, however, as big as I was expecting. To get kids' bicycles or other large items would have necessitated collapsing the seats. The boot was reasonable for day to day use, but I was expecting a bit more space.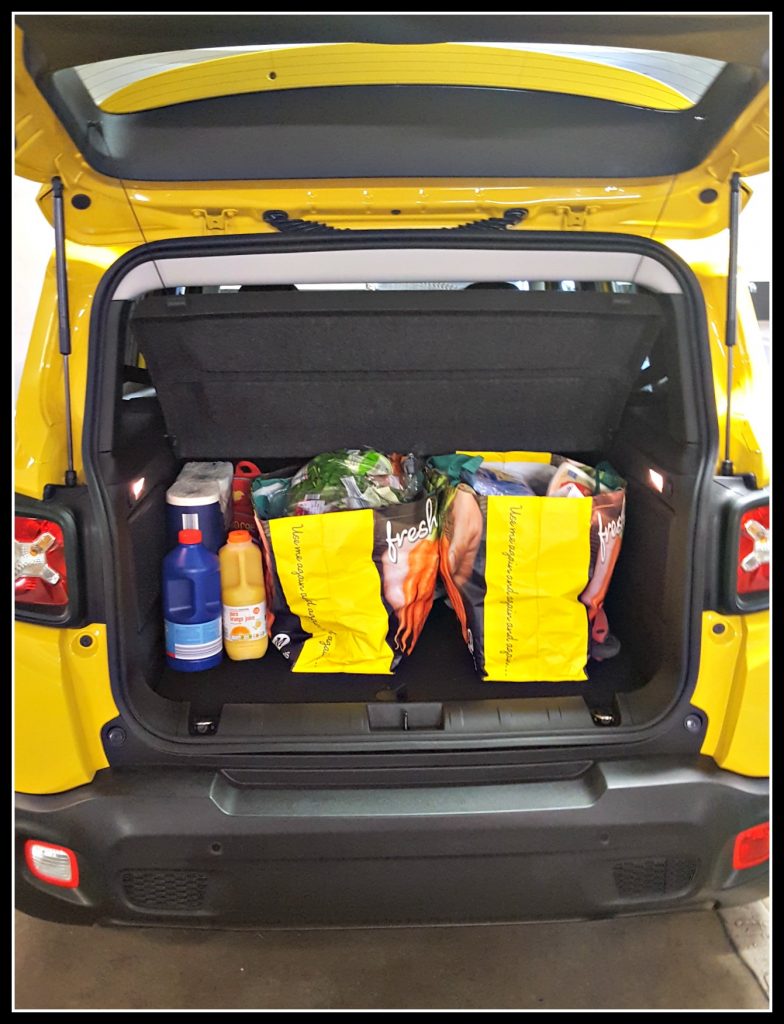 Performance on the open road
In terms of performance, the Jeep renegade was great about town and on the open road. Jeep claims it can do around 50 miles to the gallon (diesel). The six speed gearbox provided lots of opportunity for economical driving, especially when on A-roads and motorways.
The Renegade should be able to do 0-62mph in a touch over 10 seconds. I found acceleration was a little sluggish. That said, this is a crossover vehicle so I wasn't expecting it to perform like a sports car. It's not an issue that bothered me.
Features
The Renegade also boasts the following features;
Sat nav
Alloy wheels
FM / DAB radio
Several USB ports
12v charger
Air conditioning
Electric handbrake
Six airbags and
Electric tyre pressure monitoring .
All windows are electric. As you would expect, the driver can lock all windows, a very useful feature if you have kids in the back seat. Another function I would mention is the cruise control and speed limiter. These are mounted on the steering wheel and very easy to use.
The model I was driving had one awesome optional extra; a 230v three pin electric socket! I've seen this in campervans, but never in a vehicle of this class. Just imagine being on a long car journey with the kids and needing to charge up a battery powered device to keep them entertained. In the Jeep Renegade you can, although be advised the engine has to be running for it to work.
Off-road performance
What of off-road performance? The renegade was okay, but not brilliant. I took it up numerous dirt tracks, across farm land and by-ways. It did everything asked of it, but it didn't set my world on fire.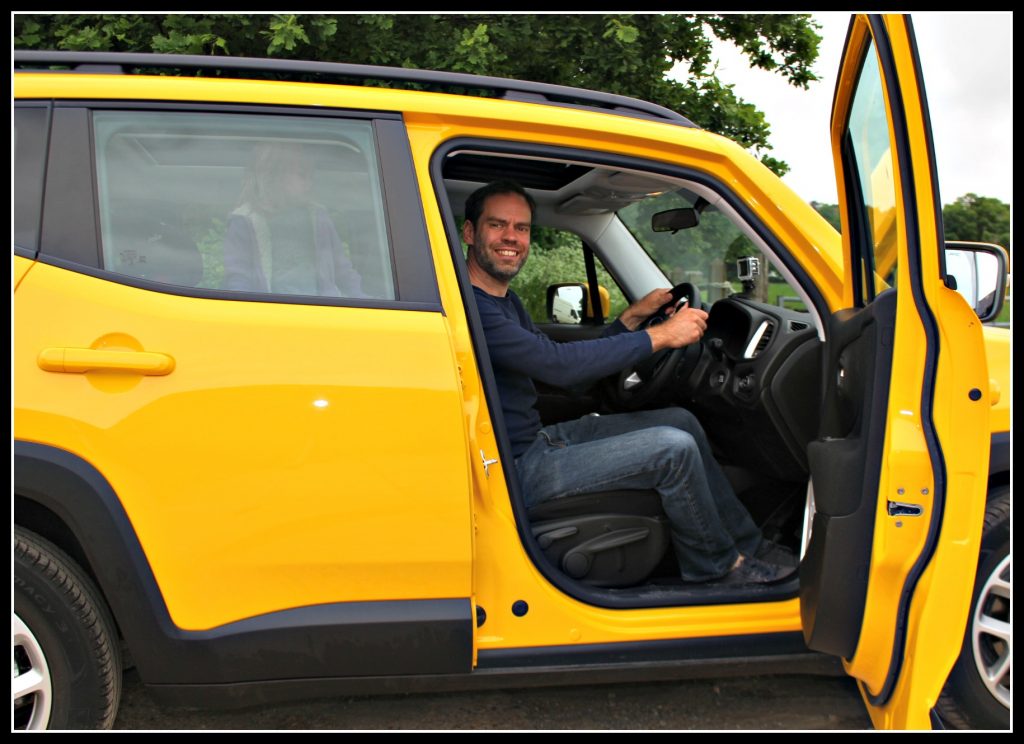 Ground clearance on this particular model is just over 17cms. This meant I couldn't take it over the roughest of terrain, which was my wish. To give a comparison, the Renegade's big brother, the Jeep Grand Cherokee, has 27cms of ground clearance.
Price
In terms of price, you can have the Jeep Renegade on the road of £21,395. If you want one with all the optional extras, it will set you back £32,570.
In summary
When it comes to off-roading, my experiences are largely limited to bombing around the Cotswolds in an ancient long-wheel base Land Rover. It was going to take a lot to change my belief that off-roading should be done in any other than a vehicle of that class. In fairness, the Renegade did all I asked of it, but I wouldn't feel comfortable taking it to remote destinations in Wales or Scotland. I think it would struggle with such rough terrain.
That said, it was great about town and on the open road. It turned heads on the school run, although that may have been the incredibly eye-catching colour! As a family vehicle it performed much better than I expected and I found it fun to drive. It lacks a little in boot space, although the same could be said for many family cars.
I think the Renegade is a great option for families. There's lots of interior space and some very family friendly features including those six airbags. It's not the kind of vehicle I would have considered, but when we come to change our car, and we will be getting a new one in a few months, I will be suggesting to Mrs Adams we consider a crossover vehicle.
For more information, visit the Jeep website.

Disclosure; I was loaned a Jeep renegade for review purposes. Thoughts and opinions entirely my own.
Interested in this blog post? Well have a read of these...