These are strange times we're living in and it's quite understandable people would be worried about the security of their family home. Mrs Adams has expressed a few concerns and while I can't honestly say I share her worries to the sames extent, it hasn't escaped my attention that we, like many other families, have been going out together and leaving the house unattended while we take our mandated daily exercise courtesy of Covid-19. With this background, I have been testing out the SimpliSafe home security system, a relatively new system to the UK market.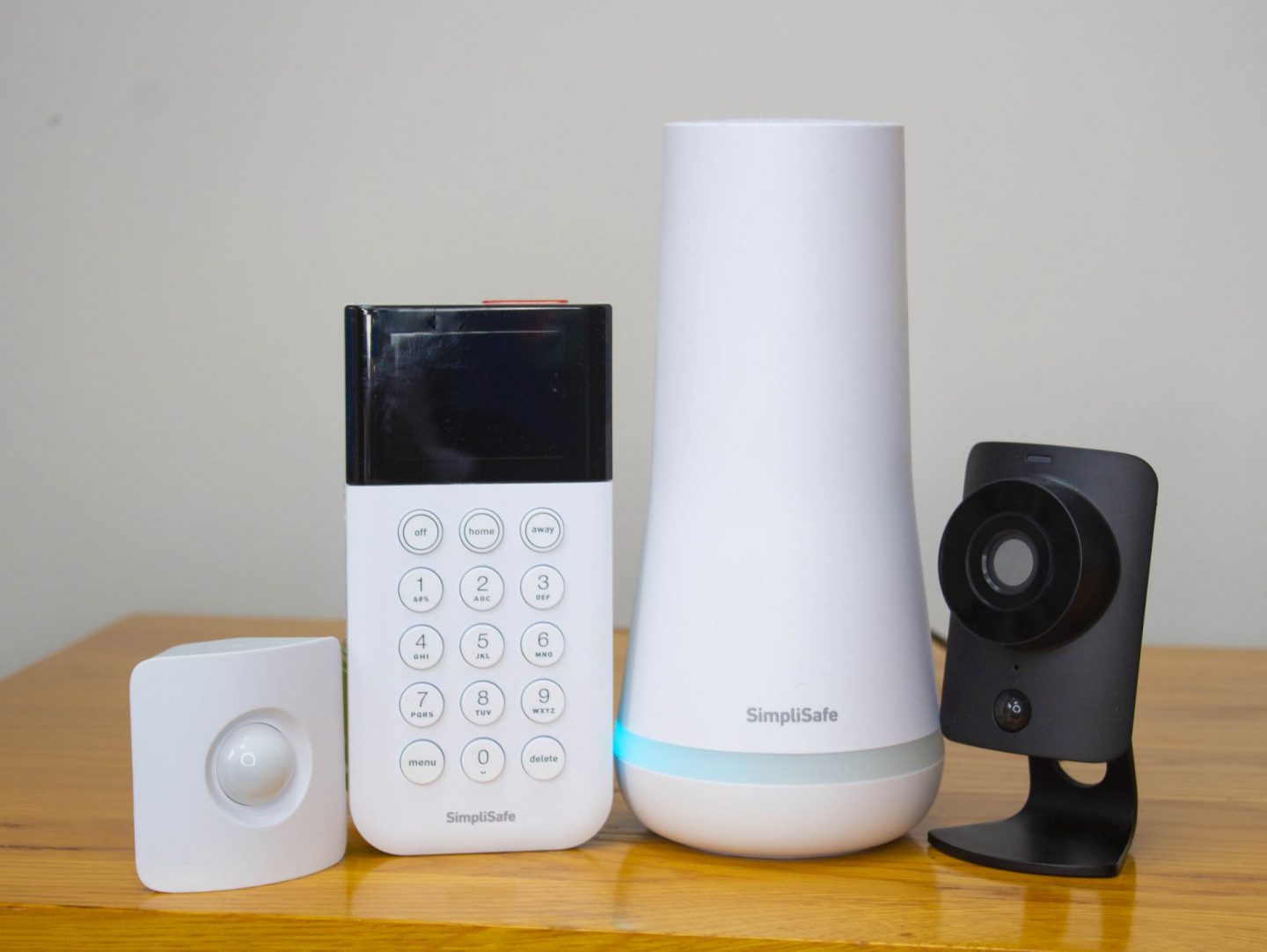 Introducing SimpliSafe and first impressions
SimpliSafe is a home security system that connects to your home WiFi and can be controlled via an app installed on your phone. You can also pay a subscription fee to have your system monitored so if your house is broken in to, the SimpliSafe team will alert the police on your behalf.
When I unpacked the base station from the box, I found myself questioning how good this system could be as it seemed a bit basic at first glance. It didn't look hugely impressive but my opinion swiftly changed. As I unpacked and set up the keypad and ancillaries such as security camera and motion sensor, I found myself becoming more and more impressed, more so when I got used to using the app.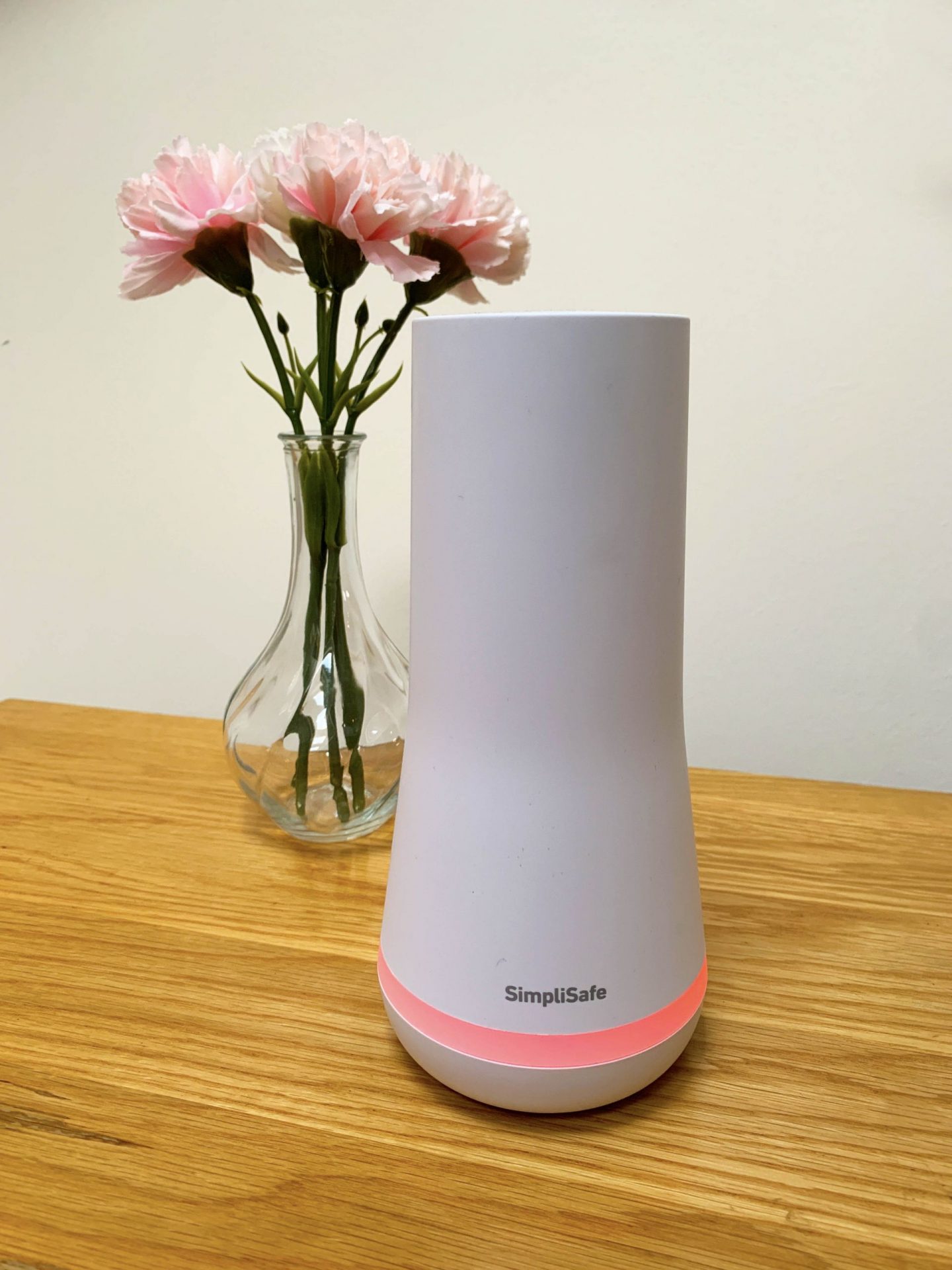 I was testing out The Foundation system which includes the base station, camera, motion sensor and door entry system. This has a price tag of £249 making it very competitively priced. If you are interested in the home monitoring subscription, professional home monitoring starts at £12.99 a month.
That's a brief introduction to the system. Before I go any further, you can follow this link to a short Instagram video I made showing the alarm going off.
Set up
The centre of the SimpleSafe solar system is the base station. It's the base station that emits a loud noise when the alarm is triggered. The base station is 21cm tall and 10cm wide at the base and not too dissimilar in appearance to a Google Home. Your first job is to configure the base station, the app and the keypad.
The keypad is a great part of this home security system. It's entirely wireless and you use it to arm or disarm the system when you vacate or return to your property. I've not seen a home security system in this price-bracket with a keypad, so I was very impressed by this feature.
I wanted to mention the positives before I got on to the one negative experience I had with the SImpliSafe system. Something went wrong when I was setting up the base station, keypad and app and I had to call SimpliSafe's tech support twice and reset the base station to get it working.
Once I'd crossed that hurdle, the SimpliSafe system was remarkable straightforward to use and adding the security camera, motion sensor and door entry sensor was incredibly straightforward. It wouldn't put me off investing in the SimpliSafe system, but was unfortunate the initial set up process wasn't smoother.
App
The SimplisSafe app comes as part of the system's bundle so is free to download. Using the app you can get notifications from the system and live updates from any security cameras you have set up.
You can also get an update on any activity in your house (see image below). You can see when motion has been detected, when someone goes in and out of any doors with any door entry sensors you have installed and so on.
The app can also be used to arm and disarm the system. It's very intuitive and straightforward to operate.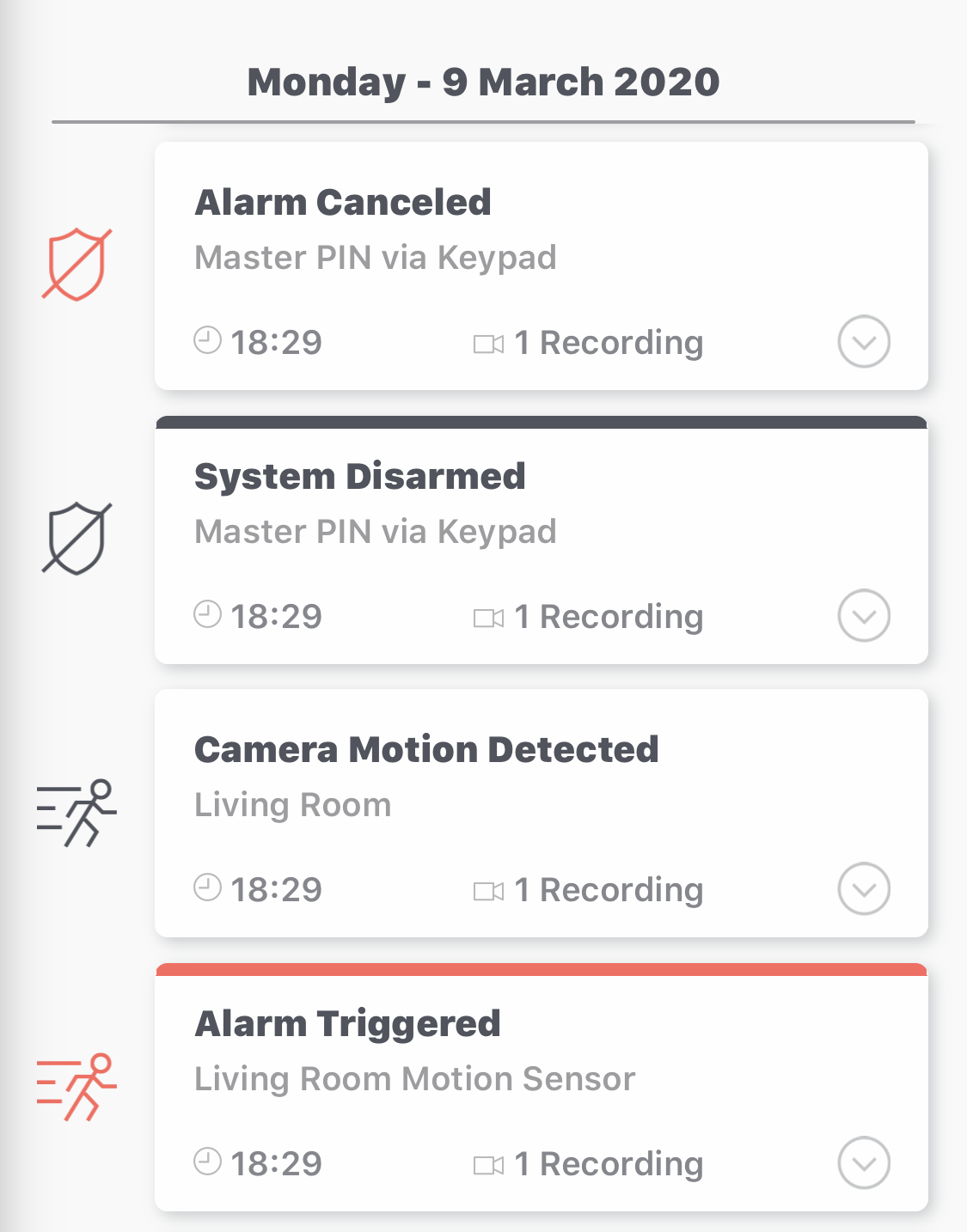 Accessories
As I mentioned above, I was testing out The Foundation system with a camera, door entry sensor and motion sensor. All were very easy to add to the system.
The motion sensor has proven to be very reliable. The camera has worked well but I noticed that it makes a clicking noise every time I try and watch a live view on my phone. This would make it difficult to secretly watch what was going on in your property.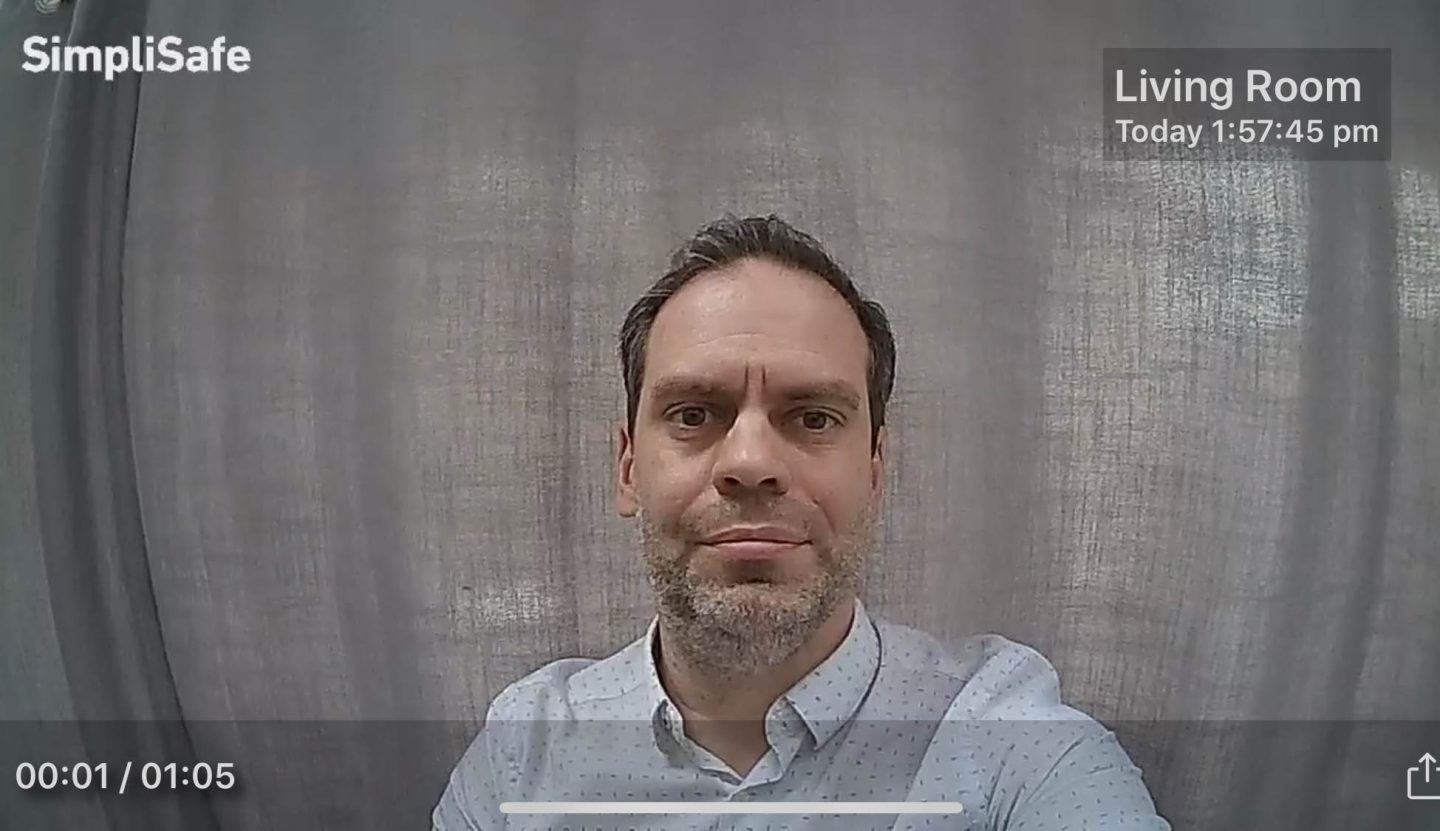 At first, I thought this was a flaw in the product design. Why would you want a security camera that makes a noise? It then dawned on me this is probably a safeguarding measure. As it makes a noise, the camera cannot be used for nefarious purposes as it alerts you to when you're being filmed so couldn't be used in a changing room or a location where camera should not be fitted. Far from being a fault, it's a clever feature.
One further point about the camera, it has an in-built microphone and speaker. Using the app, you can not only hear what is going on, but communicate with anyone who happens to be in your property.
The door entry sensor comes in two parts. You put a small magnet on the door frame and the sensor on goes on the door itself.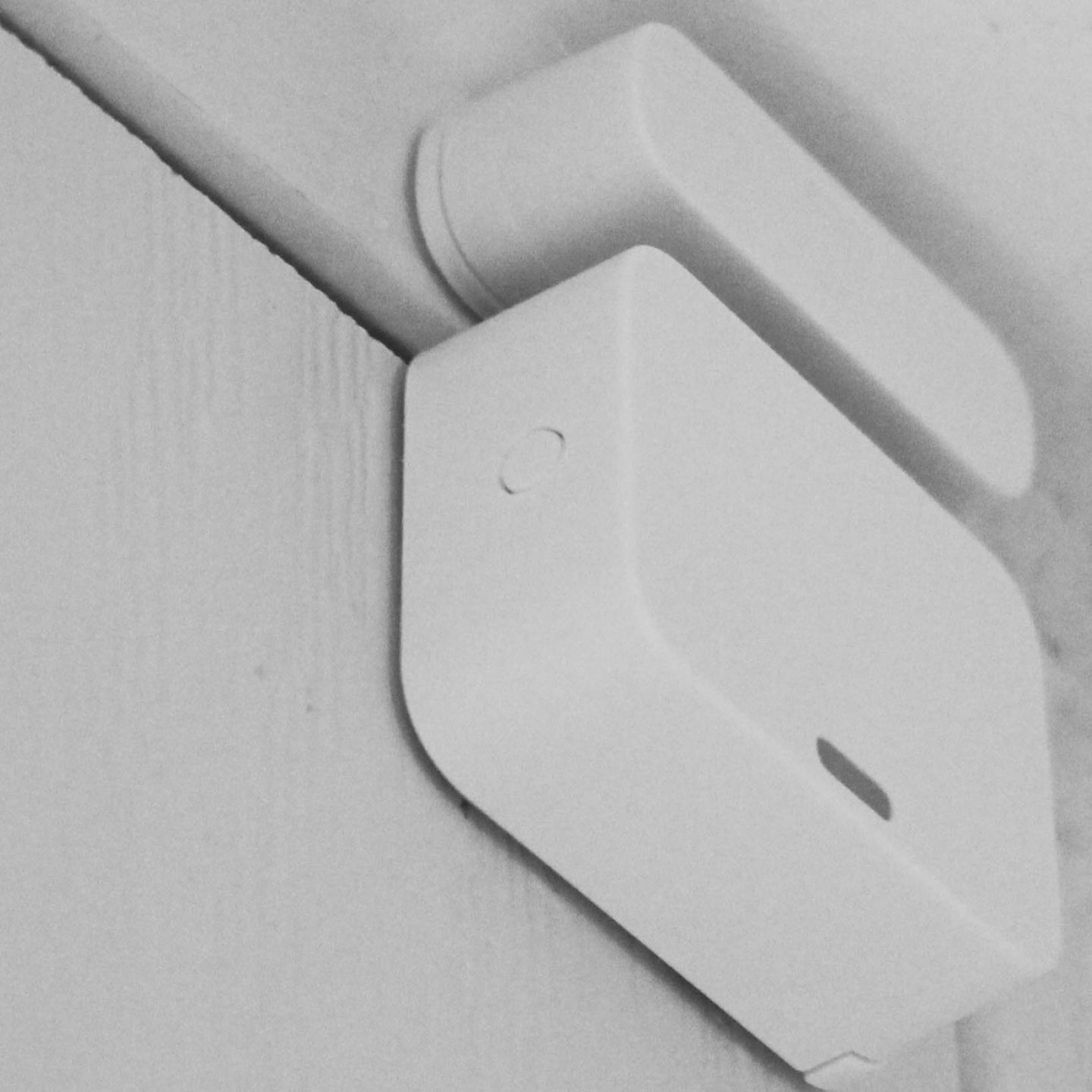 When the alarm is disarmed, the base station pings every time the door is opened. When the alarm is armed, the alarm will go off if someone goes through the door.
There are other devices you can add to the system including a water monitor and a smashed window monitor. I haven't tried these, but I mention it in case these functions are of interest to you.
Performance
Once up and running, I couldn't fault the system's performance. In fact, I've been very impressed by how well SimpleSafe has performed.
The motion sensor is very sensitive and detects movement from a very wide area. The door sensor hasn't failed once and the video camera works well.
The app is also easy to use and from looking at the updates, I can see the system undergoes a daily test. It's a great, all round security system.
Final thoughts
To conclude, I would have to agree with the comment that this is a "budget system that doesn't look like a budget system." Considering its capabilities, I'd perhaps say that comment does the system a dis-service. It offers great value for money.
If you want the peace of mind of the home monitoring, the fee of £12.99 a month is very competitive compared to rival packages. You also get a month to trial the system for free.
It's a shame the initial set up was such a pain. That said, that wouldn't put me off investing in the system. It works very well and the app means you will get updates if anything happens at your property while you aren't there.
At £249 for the initial outlay of The Foundation it's a great, well priced system. For more information or to purchase, take a look at the SimpleSafe website.
Interested in this blog post? Well have a read of these...