When the first lockdown was eased last summer, I took to the water, literally. Having been put off paddlesports by a horrible experience as a teenager, I bought a kayak and a Stand Up Paddleboard (SUP), undertook a two day paddlesports course and headed over to my local boating lake and learned a lot about SUP safety.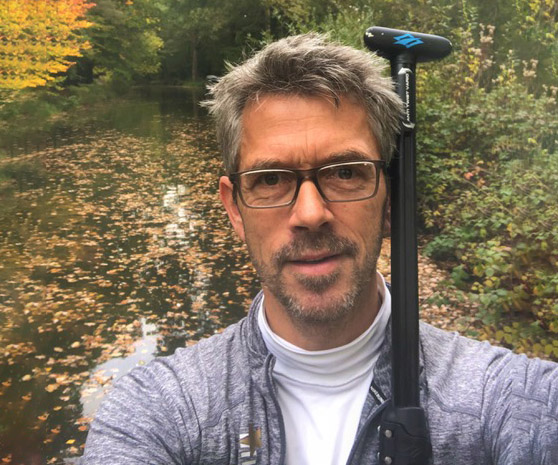 After months of home and remote schooling, I loved the peace and tranquillity out on the lake (read about it here). The cold winter weather, not to mention the third lockdown, mean I haven't taken either my SUP or kayak out recently but it's on the cards.
SUP has become a very popular activity for families over recent years. As the weather is getting warmer, I will be producing some SUP and kayak-focused content over the next few months. I'm kicking off with this Q&A with Nick, founder of JustSUPUK. The Q&A is focused on SUP safety, an issue that mums and dads need to know about if they're going to take their kids out on the water over the summer months.
I hope you find what Nicj says to be useful. If you have any questions about SUP safety or general queries about using a SUP, please do leave a comment at the end.
Can you introduce yourself and your role at Shark?
"My name is Nick and I operate JustSUPUK, a SUP Hire, Coaching and retail business on the Thames near Windsor. SHARK SUPS are my chosen board brand."
Are there common SUP safety mistakes that you see users making?
"The most common mistake, especially for newcomers to the sport, is not being aware of the conditions they are paddling in or not being familiar with the location.
"It's really important that SUPers check the weather forecast and sea/river conditions before they head out. And always telling someone where you're going and when you expect to be back is also very important. Take your phone too!
"Checking the weather means you can pick the right clothing to wear too."
Where should you use a SUP if you are inexperienced?
"Somewhere flat with no or light wind. The best place to SUP is somewhere sheltered and ideally with someone who is more experienced than you.
"Lakes are often a good place to start as you'll end up on a bank eventually! If on the coast, definitely only SUP in onshore winds (ie. the wind blowing onto the land).
"Or pop down to your local SUP centre or clubT here'll be someone there who knows the good spots and spots to avoid."
What is the purpose of the leash on a SUP? Is that to keep you safe?
"The leash is probably THE most important piece of kit as it keeps you connected to the board and the board is going to keep you afloat.
"That said, it is also very important to choose the right leash depending on the type of SUPing you plan to do and where.
"There are different sorts of leashes for different conditions. Coiled ankle leashes are great for flat, calm water such lakes, rivers, touring and exploring etc. Coiled waist leashes and better for moving water such as tidal, flowing rivers. Straight leashes are for surf conditions."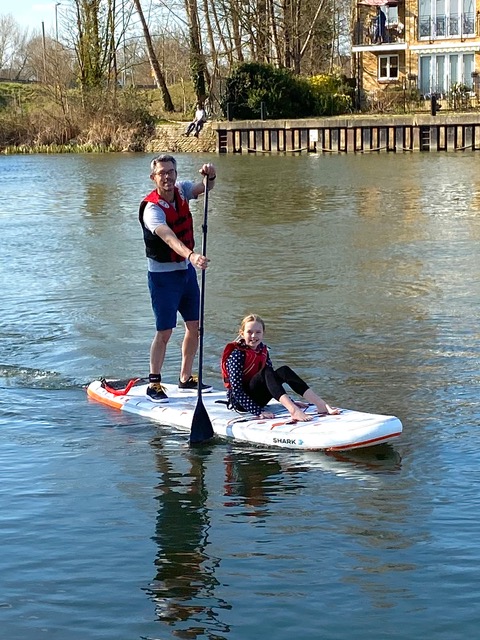 Is there a time of year when it is safest to use a SUP?
"You can SUP safely all year round if you have the right equipment and experience level but for sure the summer takes the sting out of falling in, especially as a newcomer to the sport.
"The winter is not only colder in terms of water temp (and effects of wind chill) but the inland rivers are often swollen and flowing much faster than in the summer. It's important to seek advice before thinking about heading out. The EA (environment agency) colour code all the stretches of the river Thames red/yellow/green to highlight if it's safe or not. Beginners should only head out when green if on their own."
Is there a minimum age limit you recommend for using a SUP?
"Good question. The answer is 'it varies.'
"To take a board out on your own you need a level of body mass/strength to be able to paddle and control the board so it really depends on the person.
"The minimum age range to do this seems is around 10-14. Different SUP centres may have different minimums so always best to check in advance. For just SUP uk it's 12years, but the weather also plays a part in whether we allow someone this young to go out.
"I have been paddling with my daughters on their own since they were 10 & 12."
Is it safer to SUP in shallow or deeper waters?
"Deeper water is safer for falling into."
Can you recommend anywhere SUP users can get safety advice?
"There is stacks of information online obviously but I'd recommend looking at British Canoeing (they represent all paddlesports), RNLI especially if you are SUPing on the coast. And again, your local SUP center."
Any safety tips regarding using the paddle?
"Yes, the height is important and there is a right and wrong way round to hold it. I like the 'shaka' method to getting the height right, i.e approximately six inches taller than you)."
In summary, what are your three top SUP safety tips?
"One; Leash, which is a must have. Two: Buoyancy Aid, this is highly recommended and most schools will insist on it.Three:Check weather and water conditions first."
To find out more about the recently updated SHARK SUP range, please do follow this link.
Interested in this blog post? Well have a read of these...