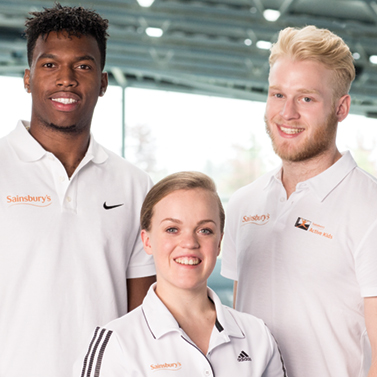 If there's one thing I always strive to do, it's encourage my children to lead an active lifestyle and eat healthily. I'm not going to pretend we're perfect as a family. Even so, we do try and get the kids to eat as much in the way of fruit and vegetables as we can, encourage them to cook and undertake activities such as swimming, cycling and playing in the park.
I think it's vital to have such an approach, especially when wireless devices and on-demand TV are such a temptation. For this reason I'm proud to be supporting Sainsbury's Active Kids 2015 campaign. On top of this, I've teamed up with Sainsbury's to run a giveaway for one reader to win £200 worth of Sainsbury's vouchers, although more about that in a moment.
The Active Kids campaign is a way for schools and groups to obtain activity equipment, cooking equipment or experiences. The idea is to encourage children to lead a healthier lifestyle and it's all funded by Sainsbury's. Even better, the campaign has the backing of Liverpool and England striker Daniel Sturridge, Olympic gold medal winning Paralympian Ellie Simmonds and Paralympian sprinter Jonnie Peacock.
It's a very simple campaign. If a school or group (such as a Scout group) takes part, parents will be encouraged to collect vouchers when they go shopping with Sainsbury's, either in store, online or at a Sainsbury's petrol station. The more vouchers collected between now and 5 May, 2015, the more equipment / experiences they will receive in return.
So how do my wife and I encourage our children to lead a healthy lifestyle? We do a number of things, but here are the key areas we focus on;
Swimming
When I first became a stay at home dad, one of the first things I did was start taking Helen, our oldest child, swimming. At the time she was our only child and she absolutely loved it. A fringe benefit was that a one hour swim in the morning would guarantee she had a three hour nap in the afternoon. It was blissful! Thankfully our second daughter Elizabeth has also turned out to be a little mermaid and loves the water.
Walks
My wife, Gill, works long hours. She often leaves the house before the kids are awake and returns at bath time. Family time is, therefore, very special. We've now got into the habit of going on country walks every weekend and we all enjoy spending time together.
Appropriate toys
This is where I learned from past mistakes. As a kid I played outside all the time but could never understand why our two showed little interest in doing so. I then bought swings, a swing ball, space hopper and a few other bits and spread them round the garden. Sure enough, when provided with the appropriate toys there were only too keen to play outside.
The paddling pool is the favourite outdoor toy. Needless to say, that's not been used for some months!
Cooking and food
There are certain foods the kids won't eat and it drives me to despair when other people offer them poor quality sweets to eat (the occasional bit of chocolate is one thing, but purple sweets that fizz in the mouth? Come on people, that's not good!). Even so, they kids are given fruit for breakfast, Helen's lunch box will always contain some fruit or raw vegetables and dinner is, as far as possible, home-made every day.
As a family, we also talk about eating healthy food. This builds on what Helen learns at school and over time I think she'll get the message.
The giveaway
If you want to win £200 worth of Sainsbury's vouchers, take part in the simple Rafflecopter giveaway below. In addition to the vouchers, you stand to win merchandise signed by the ambassadors (though can't guarantee which ones). To increase your chances of winning, you can tweet or post a Facebook update about the campaign showing a picture of your vouchers.
The deadline for entries is midnight on Saturday, 11 April 2015.
Very best of luck and keep active!
Disclosure: I have been compensated for working with Sainsbury's on this campaign. To see my disclosure policy, please follow this link.