I paid a visit to LEGOLAND Windsor yesterday with Helen and Izzy. I rattled off numerous pictures of this climer as they (is it a he or a she? I have no idea) neared the summit. When I got the images back home and had opened them on my desktop, I came to the conclusion there was only one way to enhance the picture and that was to highlight the model using selective colour.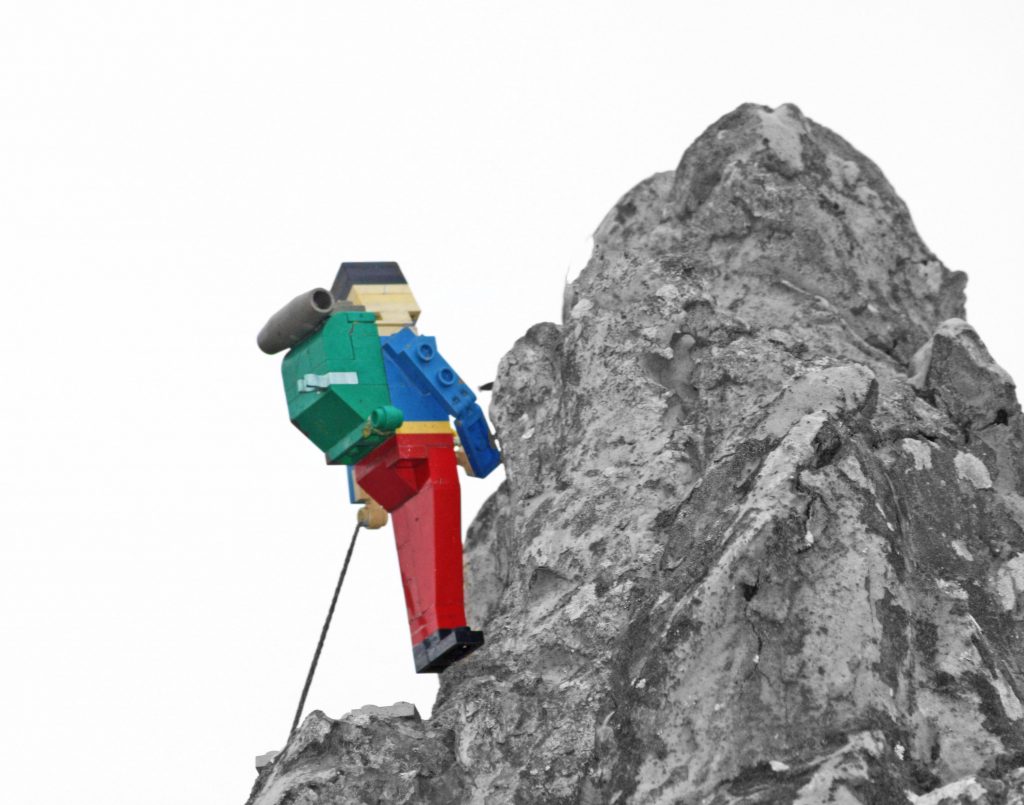 The lighting conditions at the time were awful. It was very grey day and the image I had in my mind's eye simply didn't come through in the pictures.
I tried numerous things to improve the image. I changed the background, enhanced the colours and so on. Nothing would work.
In the end I thought I'd use the bright colours of the LEGO model to my advantage. I simply flipped the image to black and white and then used selective colour to highlight the model.
It's simply a bit of fun and I think it works, even if this wasn't what I had in mind. I have added the picture to the #MySundayPhoto linky hosted by the brilliant Photalife blog. At the bottom of this post you will see a #MySundayPhoto badge. Click on the badge and it will take you to a magical world packed full of photographs taken by other talented bloggers.
May I also take this opportunity to wish all you mothers out there the very best for Mother's Day / Mothering Sunday (delete as applicable). It was once pointed out to me that we should celebrate anyone who has mothering responsibilities so may I extend that to grandmothers, aunts, carers, single dads, stay at home dads etc. I wouldn't want anyone to feel left out!
We took the decision as a family to postpone Mother's Day for one week so we'll mark the occasion next Sunday. Mrs Adams is in Scotland with her own mother this Sunday.
Having recently spent a lot of time north of Hadrian's Wall as a family, not to mention having missed several days of school courtesy of the snow, we didn't feel we could all go to Scotland. For us, the big day will be in a week's time.
Interested in this blog post? Well have a read of these...