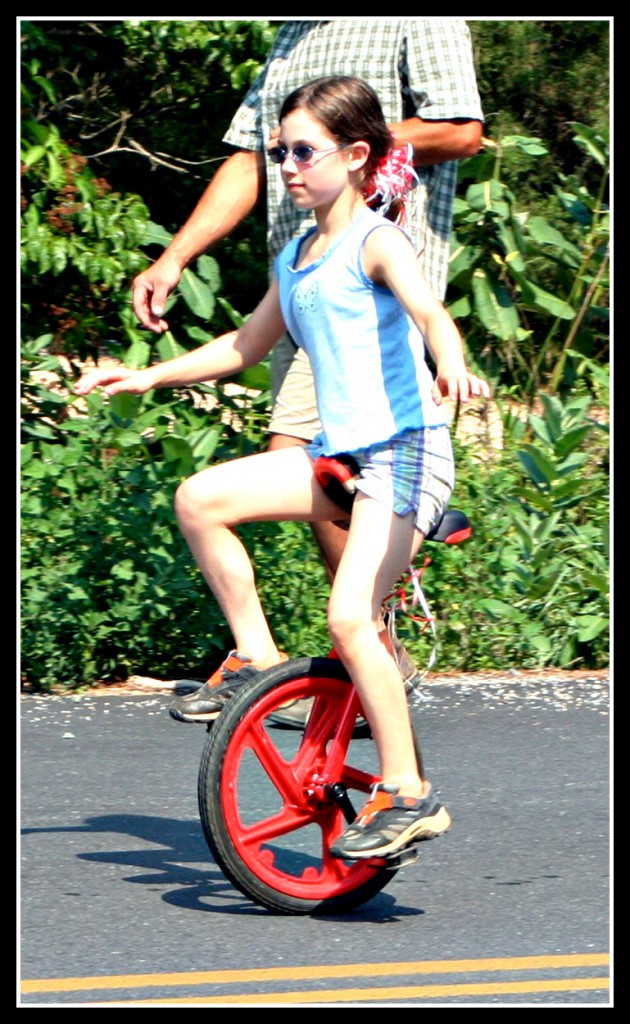 As I revealed in this blog post a few weeks ago, Helen, our six year old, has just learned how to ride her bike without stabilisers. Now that she's on two wheels, she has become the most avid cyclist and is always keen to take her steel horse out for a ride (apologies to all Bon Jovi fans).
This has created an unforeseen problem. Toddler Adams can no longer keep up with her older sibling. It's lead to a couple of disastrous outings where Helen has dashed off on her bike while Toddler Adams, who likes to go out on a Micro scooter, has been left behind.
When Helen had stabilisers on her bike, she never rode very far or very fast. This has all changed. It's like some kind of invisible umbilical cord has been cut. We've set limits; she never goes near roads and always stays within sight, but she's now so quick and determined that Elizabeth is left standing while Helen has already made it 25 metres or so down the path. I can feel the younger one's frustration at being unable to compete.
Just the other day I took both kids out and found myself carrying Elizabeth for a large part of our cycling / scootering trek. This was quite a challenge as she's now three and quite heavy. It was made worse by the fact that I had my adult scooter with me so I had to carry Elizabeth and carry / wheel both out scooters along at the same time. It wasn't much fun.
It's all very awkward. Both kids are at different developmental stages. Taking them out on my own with wheeled toys simply isn't going to be much fun until Toddler Adams can ride a bike, at least with satbilisers. When that day comes, I have a sneaky suspicion she'll catch up with big sis very quickly.
It makes me wonder what similar issues I will come across in the coming years. Will there be clashes when one is at secondary school and the other at primary? When one is old enough to go out for the night and the other isn't?
Do you relate to this? Have you had many issues like this with your own children being at different stages of development? Don't be shy, please do tell me what I'm in for.
Pic credit; Waldo Jaquith. Reproduced under Creative Commons agreement.
Interested in this blog post? Well have a read of these...