Exciting news! The kids and I have made a short video for the Harvester restaurant chain.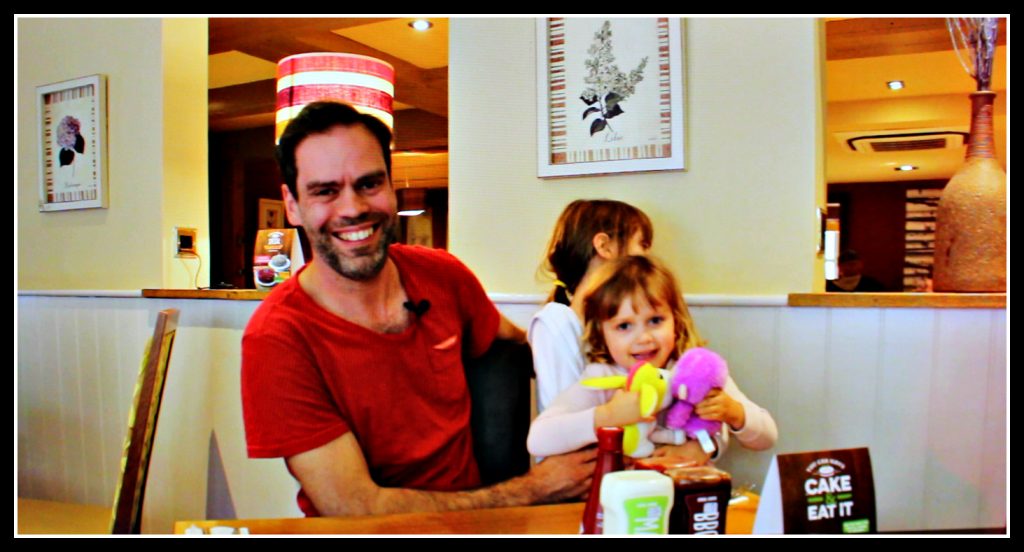 A short while ago, we were asked to have a meal at a local Harvester, try out the new children's menu and film our experience. You can watch the resulting video, which I worked on with the marvellous The Dad Network TV, by clicking play below.
I'll be honest, I wasn't sure what to expect. I hadn't eaten at a Harvester before and I didn't know much about the chain apart from the clichéd welcome all diners were supposed to receive; "Have you eaten in a Harvester before?"
The welcome, by the way, seems to have been consigned to history. I didn't hear it said once!
Back to the meal. There is an extensive children's menu and also crayons, games and colouring to keep youngsters entertained.
Helen, my eldest daughter, had a burger while Izzy, my three-year-old had fish fingers. After this, they made their own 'cookie pizzas' as an extra special treat. Both were very happy with their meals.
The thing I must mention is the salad bar. My kids are generally very good with fruit and vegetables but getting them to eat salad is a struggle. Not so at the Harvester. They had the novelty of being able to go up to the salad bar and help themselves. For some reason this was enough to persuade them both to eat salad and they loved it!
I treated myself to a medium-rare sirloin steak and it was cooked to perfection. I was very pleasantly surprised by the quality.
There's loads more detail in the video. The venue we ate at was full of families and Harvester seems ideal for this market. I may not have dined at a Harvester before, but I would go back.
Please, though, do watch the video. I hope you like it!

Disclosure; this post and accompanying video were produced in association with Harvester. Thoughts and opinions entirely my own.

Interested in this blog post? Well have a read of these...