A few months ago I wrote about the need to streamline the number of clubs and activities my children take part in. I have to confess, we haven't made huge progress in slimming things down, but there has been a significant change; our eldest daughter is to going to drop swimming lessons.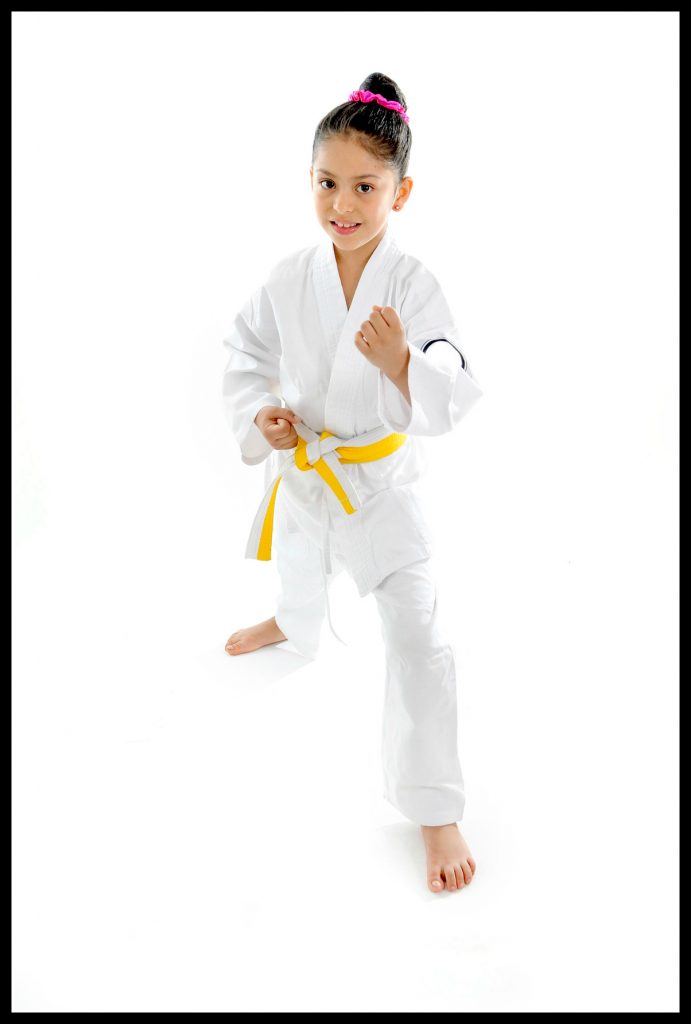 That said, it's more of a swap than a reduction in activities. While Helen will no longer visit the swimming pool each weekend, she has instead decided to take up karate.
More about the karate in a moment. First, let's tackle the swimming lessons.
Regular readers will know that we've always been big on swimming in this family. Subliminally, I think I was damaged when, at the age of eight, I moved to a new area and a school that encouraged all pupils to swim from day one. Every assembly my classmates went to collect swimming badges for completing 25 or even 50 metre swims.
When I started at the school, I was a complete non-swimmer. I learned quickly, but not before I was called up in assembly to collect a 10 metre swimming badge. I kept my eyes to the ground as I received my colourful, cardboard certificate, the school hall full of stifled gasps from my peers as I collected this lowly trophy.
My daughters were never going to endure such a fate. Helen has now been swimming for more than four years and Izzy, who soon turns four years of age, is coming along at a staggering rate.
Only thing is, we're building up to a "but". Helen is a strong swimmer and she enjoys it. And here's the "but". There's never been any indication she is good enough to join the swimming team or swim at county level. She loves swimming, but having got her 50 metre badge, how much further was there to go?
I spoke to her swimming teacher. I explained something had to give as she was doing so many other classes. Was Helen good enough to make the swimming team or had this become a folly? Shouldn't we be concentrating on getting her sister up to the same standard?
The swimming teacher was diplomatic, but confirmed my thoughts. Helen may be a good swimmer, but, no, she is in no danger of making the Olympic squad.
I spoke to Helen. She was happy to drop the lessons. In addition to doing karate, she still does gymnastics. This is a different thing altogether.
Helen talks about her gymnastics group quite often and she is forever doing cartwheels and handstands. I think swimming had become something she just did, albeit a vital skill she had to learn and develop.  Gymnastics is something she may take to a different level. Time will tell.
This brings us on to karate. It's an activity I could see Izzy thoroughly enjoying but Helen, well, it was a little bit of a surprise, truth be told. Although not a placid child, I thought this might be a bit too rough and tumble for her liking.
She's given it a go and enjoyed it. We're going to give it a few more weeks before paying for the uniform, or gi to give it it's proper name.
The other thing that surprised me, and it was a very pleasant surprise, was the gender split of her group. When I counted up I realised it was 60/40 male to female but the beginners was overwhelmingly female. I had assumed it was one of those activities that more boys would have done. I put my hands up: I was wrong.
To be honest, I'm all for my kids learning a martial art. It introduces them to a very different method of teaching to the one they experience at school. There's no mollycoddling at all!
It encourages physical activity and I confess, I do quite like the idea of having daughters who are black belts in a martial art. I certainly hope they would never have cause to use their skills, but, in later life, knowing self defence may come in very useful.
What's your experience? Have your kids taken you by surprise and developed an interest in something you never imagined they would? Do your kid do a marital art? If so, what do you think the benefits have been?
Interested in this blog post? Well have a read of these...