Here I am, lazing, on the ground in our garden. I was taking it easy having spent some considerable time clearing up after a barbecue we held at the weekend.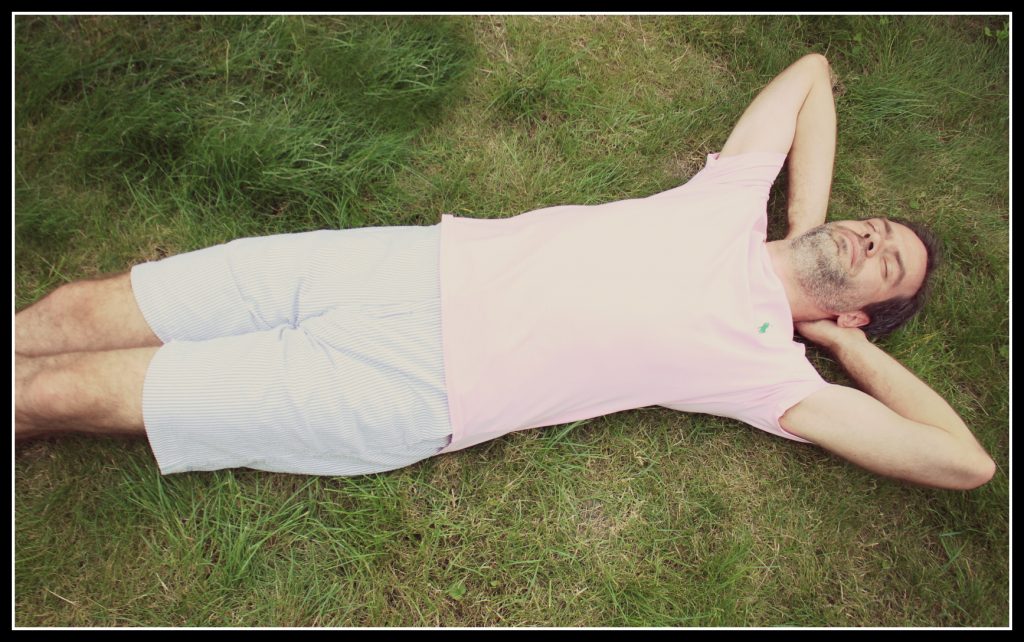 As you can see, this outfit of the day (#OOTD) features a rose-pink t-shirt. Not everyone is a huge fan of pink, especially on men. I, however, think it's a great colour.
Granted, I wouldn't wear this colour all the time. I think, however, this combination works well for a casual look. For a formal look, a smart, pink shirt with a dark suit and purple tie makes for an awesome combination.
This particular t-shirt is a Ralph Lauren number that I got from House of Fraser (get in quick, House of Fraser is presently having a clearance sale!). I've teamed it with a pair of linen/cotton blend shorts with a very fine blue and white stripe (which are from last summer and came from another store altogether).
I wore these very same shorts and t-shirt on the school run just a couple of weeks ago. I received a couple of compliments, a sure sign I had put together a good selection.
What do you think? Do I pull the look off? Can us guys get away with wearing colours like this? Possibly more importantly, can you tell I had spent a considerably period of time tidying up after a barbecue? Please leave a comment below with your thoughts.
Disclosure; this post was produced in association with House of Fraser. Thoughts and opinions my own.
Interested in this blog post? Well have a read of these...