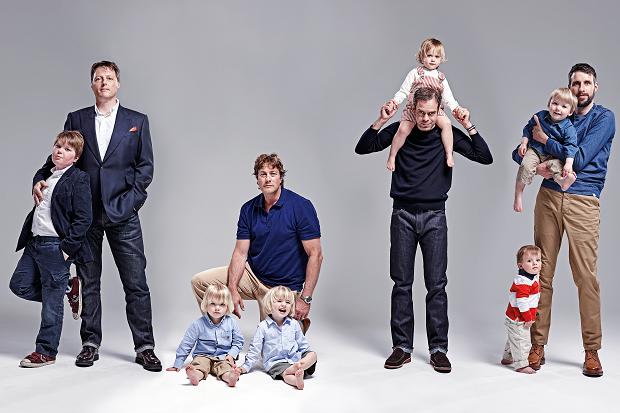 Read all about it! Read all about it! Yes, along with five other stay at home dads, I have today appeared in the Times magazine in a feature headlined Rise of the Alpha Dad. The feature is all about men who gave up careers to look after their children.
I thought this presented me with a great opportunity to write something a bit more detailed about what it's like being a man who has taken on the main childcare role. As some readers are no doubt first time visitors to Dadbloguk, I'll start with a little background and then outline what it's like (if you enjoy what you've read, please do take a moment afterwards to vote for me in the "family" category of the Brilliance in Blogging Awards).
How did I end up here?
My name is John Adams. I am married with two young daughters; one at primary school and one a toddler. In 2011 I gave up a well-paid, secure job to become the main carer for Helen, my eldest daughter. Up until that point I was part of the communications team for a Government regulator and Helen had been in paid-for childcare on a full-time basis for about 18 months.
I was uncomfortable with this and employed in a role I no longer enjoyed. Having worked out my wife and I could take the financial hit (see below), I proposed I leave my job so that I could spend more time with Helen and run the household. Although not in love with the idea at first, my wife agreed and we haven't looked back as a family.
In 2012, just before the birth of my second daughter, I started this blog to chart my experiences. I now write for a number of online and print publications and have even written a book. Essentially I do what many mum bloggers do; I have a cottage industry making a little money as a writer and fit this around my children.

What's it actually like?
It's a privilege. Very few men get to spend as much time with their kids as I do. I know I have a direct and massive impact on the skills they learn and how they see the world. There are two things I am very big on; nurturing a love of learning and playing outside. My girls consider a trip to the local library a huge treat and now the weather is getting warmer they want to go out into the garden after school. It's my influence that has made them like this and it's great to see my efforts paying off.

It is daunting
I touch on this in the final chapter of the book I recently published, A modern father (…and dad blogger). There are mornings when I have to bundle the kids into the car so I can drop my eldest off to school. If the traffic is bad, it can get a bit depressing because I know school runs will dictate my life for many years to come. When this happens, I have to remind myself that I chose this life and I simply have to get on with it.

It can be lonely
I think this is one of the biggest challenges of being a stay at home dad and one mentioned repeatedly by the other fathers in the Times article. Parent support networks almost always serve an exclusively female audience. Sometimes they're actually set up to exclude men (If you were male, would you feel happy attending a "mother and toddler group"?).
Mums can feel awkward approaching a dad and striking up a conversation with him. Likewise, it can be daunting for a dad to strike up a conversation with a woman he has never met before.
While it's easy to over-state the amount of socialising that goes on between parents, the invites to coffee mornings etc. are fewer and further between. As a result, building up your own informal network of supportive friends is more difficult. I do have supportive friends I can call on in an emergency, but my network is smaller than the majority of mums. I have also often wondered if my kids have missed out on play dates because some mums aren't 100% comfortable with approaching a stay at home father.
The impact on the relationship with my wife
I am asked about this from time to time. There seems to be an expectation that I will respond by saying that I have somehow been sissified by taking on the main childcare and household management role. Every relationship is different, but this is not the case in ours.
If, for some reason, I had to hand the reins over to my wife the results would be, well, interesting. Of course she would cope, but it would be chaos. This is simply because she is out of the family home for 12-13 hours a day during the working week and I am much more experienced at it and know what I am doing.
When I first became a stay at home dad, we had the one daughter and we both knew the routine at nursery. That daughter has grown up and is at school and I'm the one that's had to get to grips with the school system. Our family has also expanded and I have been the main carer for our second child practically from day one. In other words, our responsibilities have diverged. I feel uncomfortable admiting it, but I am reponsible for the majority of the parenting and have a better idea what is going on in the kids' lives.
I am going to expand on this point in a moment…

It's not easy financially
At the beginning of this blog post I said I'd made calculations showing we could survive on the one full-time salary. My calculations were wrong and it is very tough financially. This is the one area of our relationship where there can be the occasional bit of friction. Even so, my wife has been able to concentrate on her career because I stay at home. I accept I am not always the best with money, but she wishes to concentrate on her career and I'm afraid that means she has to support me and the kids. That may sound tough but that's simply the way it is.
I am less judgemental and more tolerant
Have you ever seen a dad struggling with his kids? Maybe he can't quite sooth a crying toddler. Maybe he's having trouble putting down a pushchair in the pouring rain while temperamental kids in wet clothing look on? Suddenly there will be a gasp of exasperation as mum swoops in and takes over the task because she knows how to do it properly. Be honest, we've all seen this happen, right? I certainly have.
It may just be me, but I would never react like that. As a stay at home dad, I am only too aware that I'm in a minority. As a full time working mum with young children, my wife is also in a minority and I respect this. She doesn't spend as much time with the kids and so I accept that she sometimes needs things explaining to her or has a different approach to dealing with the kids. In fact my wife often remarks that, because of our situation, there is more equity in our relationship than many of our friends.
In summary
Being a stay at home dad has its challenges. If I meet with healthcare, education or some other professional, I have to explain in the first few seconds that I am my children's main carer. If I fail to do so, I usually get treated like a second class citizen. In fact I have had some horrifying experiences with various professionals in the past (though not at my daughter's school, the staff there are superb).
As I have alluded to above, establishing and engaging with formal and informal support networks is more difficult. In addition to this I know the needs of my children will dictate my life for many years to come and this is daunting.
Even so, being a stay at home dad is fun. I love spending time with the kids. I also derive a bizarre sense of achievement knowing the entire family has clean and ironed clothes prepared for the week ahead.
Being a stay at home dad has its unique challenges. That said, it is a sacrifice. In that sense, it's not that different to being a stay at home mum.
Interested in this blog post? Well have a read of these...