What does the business world need to do to accelerate change and get women involved at senior ranks? This was the vexing question asked at a panel discussion organised by drinks company Diageo earlier this week.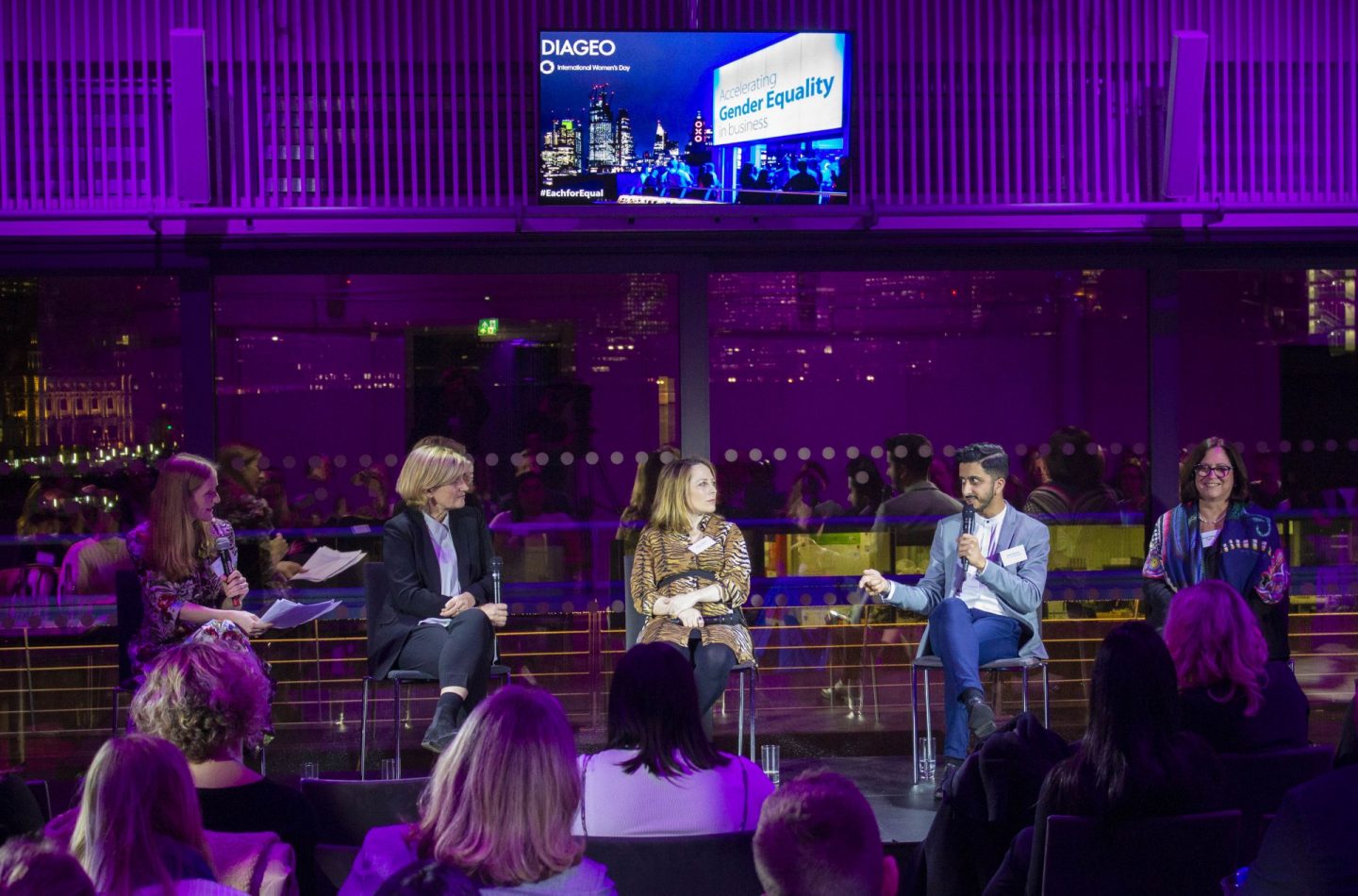 It is an interesting time to ask this question. In 2019, women headed up the European Central Bank and also the European Commission for the first time. Following the December general election, a record number of female MPs were elected to the UK parliament (34% of the total).
While those signs are promising, the Fawcett Society's 2020 Sex and Power Index found only 6% of FTSE100 companies have a female chief executive. The Index also found just 21% of national newspaper editors are female. Women from ethnic minorities, meanwhile, are drastically underrepresented in all sectors.
With this background, Diageo bought together an interesting group ahead of International Women's Day to have a panel discussion about what could be done to advance women in business. The panel was made up of: Susan Kilsby, Diageo Senior Independent Director, Naomi Kerbel, Global Head of TV and Radio Scheduling at Bloomberg and Asad Dhunna, founder of communications consultancy The Unmistakables. Also on the panel were Dame Cilla Snowball, a former chair of the Women's Business Council and the event was chaired by Diageo's Chief Human Resources Officer Mairéad Nayager.
What wasn't discussed
Before I tell you highlights about what was discussed, I was fascinated at what the panel didn't talk about. I felt there was one gaping hole in the discussion: How you encourage men to do with more with their families and on the domestic front so that women have more freedom to pursue careers, be they in business or elsewhere.
There was a very cursory chat about Shared Parental Leave and an even briefer mention of flexible working, but aside from this, the role of fathers and men in the home wasn't mentioned. I was staggered this didn't come up in conversation.
I live and breathe in this world. I was previously a stay at home dad and these days I'm a work from home dad. I know that by choosing this lifestyle, my wife is free to follow her chosen career.
I have long felt that women have the role of carer forced upon them. If a woman chooses to be stay at home parent and it works for their family, then I'm very happy for them. All too often, however, it simply seems to be the default position that 'man works and woman cares' and I was amazed this wasn't discussed.
I think society at large underestimates how willing many men are to do more at home, but they don't have the opportunities. This has to be a huge barrier to getting more women involved in the business world or following other careers.
I think I have made my opinion very clear. Alas, I wasn't on the panel so I'd better tell you what was said by the panel members!
Representation of women in the media
Kerbel made some fascinating comments about women's representation in the media. She said women need to be seen in the media for change to happen. An organisation like Bloomberg, which specialises in producing business related news, can only represent those making the news who are, all too often, male.
Kerbel said there is a need to offer women media training and said it is necessary to "track" who is appearing in the media. If you don't track whether the same, male faces are appearing time after time, you won't identify any issues and change simply won't happen. She added that she has created a database of female spokespeople that Bloomberg's reporters can use when they need comment on an issue.
Dhunna went a step further, He said "the system of media is fundamentally broken." He said he often gets asked to go on TV shows to "have a row" with someone but he isn't prepared to go down that route.
Setting quotas
Enforcing quotas to ensure companies employ a certain percentage of senior female staff (or similar) has always been contentious. While Snowball said quotas could be a way to "get things done quickly," she said she generally "resisted" them. The panel as a whole were lukewarm to the idea.
Nayager said the most important thing was to have "the best talent" for the job regardless of gender while Dhunna yet again went further. He said that if you rely on quotas, "people will feel like they're being excluded."
He said the losers when quotas are used are likely to be lower middle class or working class men. He made the very interesting point that this group of individuals were having a major impact on the political scene because they have long felt disenfranchised.
Mentoring and sponsorship
The panel seemed unanimous in the belief women would benefit from having mentors to advise them about their careers and sponsors to advocate for them. Kilsby explained her career had benefited from having a sponsor advocate for her some years ago.
It was also mentioned that men could have an important role to play as mentors and sponsors. Older men with well established careers or nearing the end of their working lives have lots of knowledge and experience to pass on to younger staff, particularly younger women. This is a resource that companies could make better use of to advance their female staff.
Why Diageo?
You may be wondering why an organisation like Diageo, best known for producing bar room staples such as Baileys, Guinness and Smirnoff vodka, would be hosting such an event. For many years Diageo has pursued a policy of encouraging and developing female employees and promoting equality and diversity in its workforce.
For instance, the company provides 26 weeks of fully paid parental leave to both male and female staff. Diageo has a policy of recruiting 50% of women on its graduate training scheme and aims to have a global senior leadership team that is 40% female by 2025 (it presently stands at 36%).
Concluding thoughts
This was a fascinating discussion. The idea that women would benefit from having greater access to sponsors or mentors is something that had never occurred to me before. I can also see that men, especially older men, could have a big and positive role to play on that front.
I'm not particularly surprised that quotas received a lukewarm response. They're a very blunt tool and Dhunna's point about the impact of disenfranchised men on the political system was very compelling as an argument against them.
The representation of women in the media is something I have long been interested in. As a former journalist myself I know the issue news reporters have to represent women more equally. In time I think this will rectify itself, but we are a long way off and it was interesting to hear the steps Kerbel is taking to try and write the balance.
Without wishing to sound repetitive, I am still very surprised at how little was said about the role men could play at home. I think men could be empowered and encouraged to do much more on this front but maybe that's a discussion for another day.
Interested in this blog post? Well have a read of these...