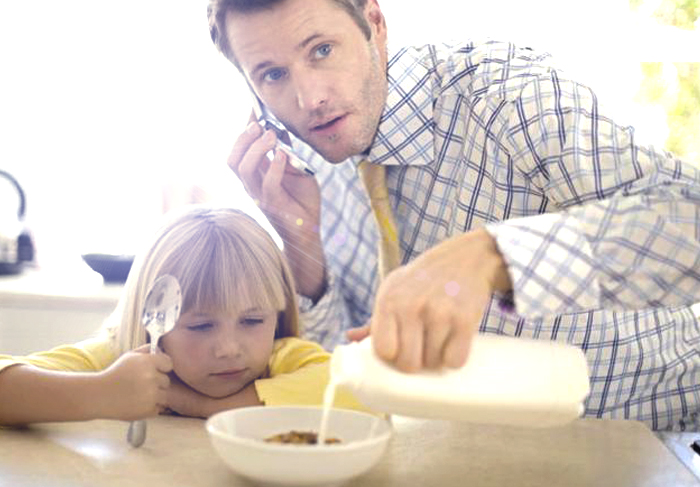 Over recent weeks I've read a few articles about the pressures of being a working mother. Regrettably I've seen very little balance in what I've read. I've found myself wanting to scream "dads feel exactly the same pressures too ya know."
Yesterday I read this post from Katherine Zaleski who is president of a company called Power to Fly. I don't mean to single out what Katherine has written. Her post is just one of many I've read that have failed to acknowledge the pressure felt by working fathers as they try and acheive a good work life balance.
For me, however, the post stands out because I could relate to so much of it. It was very relevant to my former working life and the experiences I'd had with various managers…and yet I am a dad.
These days I am a stay at home father. There are various reasons for this, but a major one was the pressure of having two full-time working parents in the house. It just didn't work.
During my time as a father I've had three employers (one where I worked full time and two part time). The irony is that all have generally been incredibly flexible and understanding to my needs as a father. Even so, the pressures were just too much. I just about managed to hold it together as a part-time employee when we had the one child but when Elizabeth came along it was game over.
In Zaleski's post, she mentions organising meetings late in the afternoon and questioning the commitment of anyone who failed to attend. I clearly recall having a discussion with one of my managers about this subject. It was one of those awkward meetings that took place behind closed doors.
Things were not going too well and it had been noted I wasn't always available for meetings after 4pm because I was doing the nursery run. Conversely, it hadn't been noted I was generally in the office an hour or so earlier on those days to compensate for the fact I wasn't available in the afternoon. I eventually had to concede things weren't working out and I resigned.
Dealing with the children when they fell ill was another massive stress. There was one time when I had to drop everything and bolt out of the office because the nursery thought our child was possibly presenting a meningitis rash (thankfully a false alarm).
On another occasion I had to stay away from work because my eldest had been exposed to a minor and easily treatable childhood illness. This in itself wasn't the problem. The real issue was that there were two pregnant women in my office and I had to stay away from them. As I'd been exposed to the bug, I was a theoretical risk to their unborn children.
Time and again I had to either work from home or take an emergency day's holiday. This, in turn, made me feel like a bad employee. I genuinely felt guilty. Eventually my wife and I decided part time work wasn't tenable and so I gave this up. Now I am a stay at home parent my wife says she's glad I'm here and that I can pick up the reigns when one of these unexpected scenarios crops up. She doesn't have to get stressed about it.
I often speak to involved fathers who feel these pressures. They are not the sole preserve of mums. I'm realistic to the fact that in most households mum fulfils the main childcare role. Even so, trust me when I say men also feel huge pressure as they try to strike the balance between work and family life. Keeping a career on the go isn't necessarily straightforward when you're a dad.