Although it may not be immediately apparent, this photograph is possibly one of the most experimental I have ever taken. As is often the case with such images, I had something entirely different in mind when I set out with my camera equipment in my bag.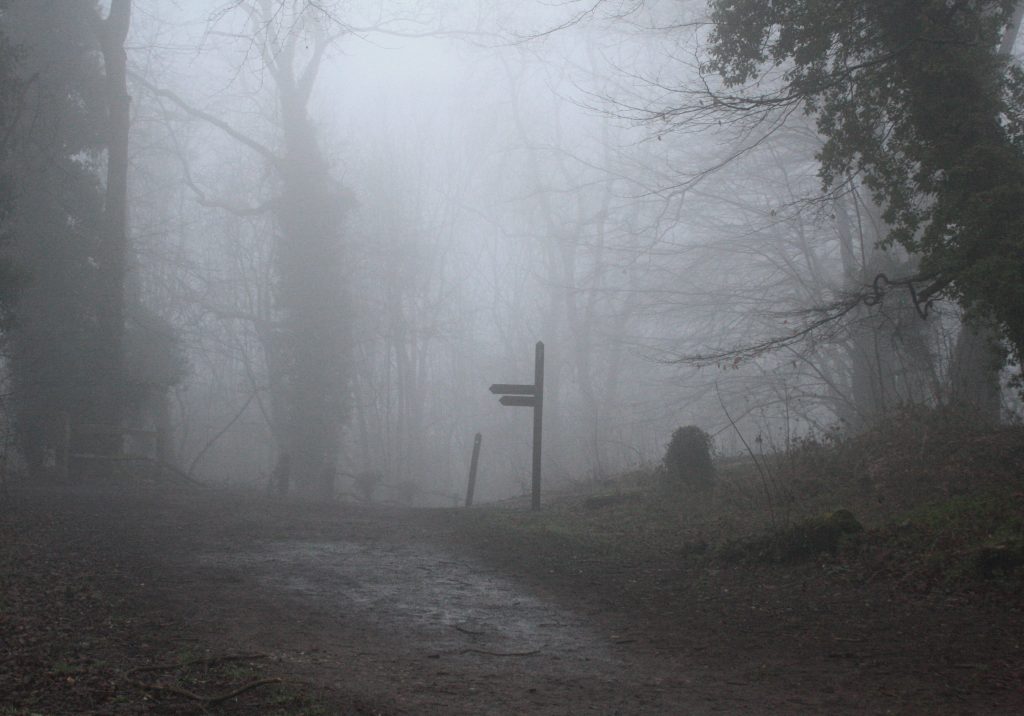 Having had a ridiculously busy week (you can read why here), my camera had been left, largely unloved. I therefore decided I would get up extra early at the weekend and take some photographs in the wonderful lighting conditions that usually occour as the sun rises.
I woke up early as planned and looked out of the window to discover there was some mist. I thought this would either clear, or it would add some atmosphere to the photographs I was planning to take.
I jumped into the car and headed off to a photogenic location in some nearby woodland in Surrey. As I tackled various back roads, it became more and more apparent that the mist was, in fact, a very thick fog and there was absolutely no way the sun was going to break through.
I parked the car and gave this some thought. I was about to give up but my eye kept being drawn to this footpath. I felt it looked very atmospheric and oddly welcoming.
I knew the camera would struggle to focus in these conditions but but I gave it a go anyway. Knowing the camera would struggle to focus, I put into manual mode, something I don't do often enough. It took a few attempts to get the shutter speed, aperture and ISO settings right but I got there eventually. I was concerned the slow shutter speed might result in camera shake so I balanced the camera on a gate and used the timer to release the shutter. When editing, I reduced the saturation ever so slightly, but that was the only change I made.
As you can tell, there was a bit more to this photograph than simply pointing the camera into some mist! I also hope you'll agree it looks atmospheric.
Out of interest, what is the most experimental photograph you have ever taken? I'm looking for ideas so do please leave a comment below as your experiences will no doubt inspire me.
I will be adding this blog post to the weekly #MySundayPhoto linky hosted by the amazing Photalife blog. It's weel worth taking a look if you enjoy photography. Simply click on the badge below to visit the linky.
Interested in this blog post? Well have a read of these...