With a blazing sun sitting low in the sky, river traffic travelling towards the camera and distinctive silhouetted spires in the distance you could be forgiven this photograph was taken in Venice. Alas the location was a lot less romantic: I was stood on the back of a Thames Clipper catamaran travelling down the River Thames in London.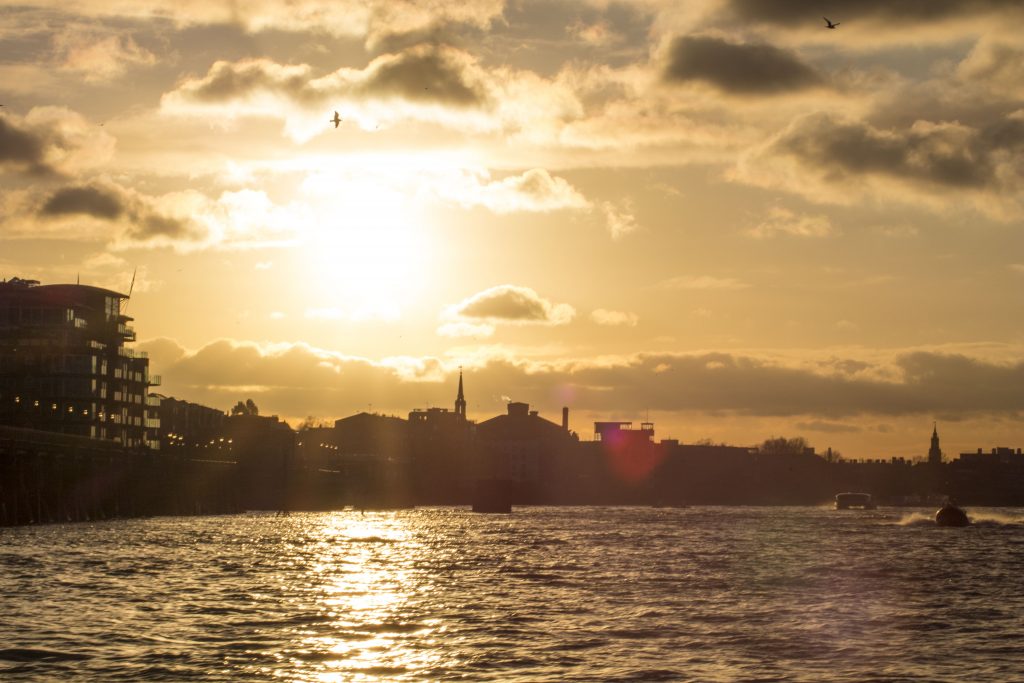 On Friday, Mrs Adams took the afternoon off work so we could have lunch together. Having just invested in some new photographic equipment, including a 70mm-300mm telephoto lens, I couldn't resist taking my camera with me, you know, just in case I had an opportunity to try out my new toy.
The opportunity came when we decided to take the Thames Clipper into the centre of the city so we could catch the train home. I fired off a number of images of the Tower of London, City Hall, Tower Bridge and so on as we passed them. As I'm inexperienced using lenses of this size, some images came out better than others but this was probably the best photograph I took.
With the birds in the sky, the boats on the right hand side and the sun low in the sky illuminating the River Thames, it does, I think, look very 'London.' Even so, it does, bizarrely, remind me of Venice. It's been many  years since I visited Venice, but it does look a bit like it could have been taken from the lagoon on the edge of the city looking in. The one thing that ruins that illusion is the modern building to the left of the picture.
Does this image look like London to you? If you are familiar with Venice, do you think this looks a bit the famed city? Also, have you experience of using lenses of this size? if so, have you any hints and tips for doing so as it's all new to me.
Interested in this blog post? Well have a read of these...