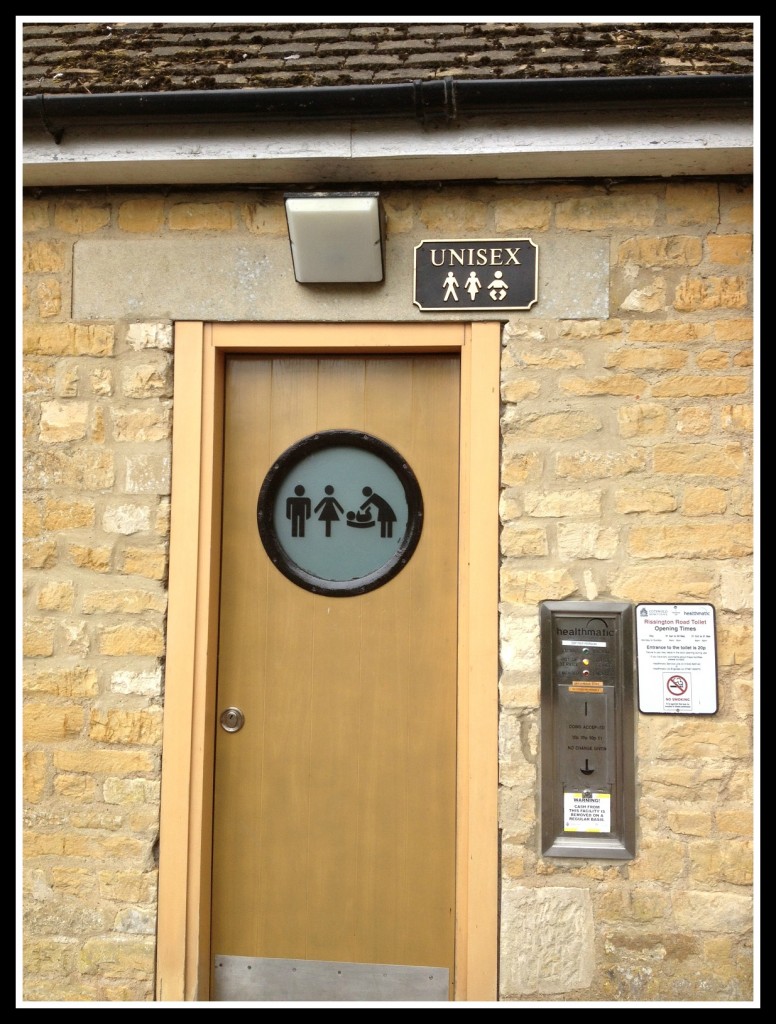 This week's baby change facility promised so very much. At the end of the day, however, it delivered absolutely nothing.
What you see pictured here is the door to a coin operated, unisex, baby change facility. It is located in the tourist-trap town of Bourton on the Water in Gloucestershire. We paid a visit to Bourton on August Bank Holiday Monday.
There was no baby change facility whatsoever in the gents but there was a simple, wall-mounted table in the ladies. I should add the table was visible to the world, I didn't need to venture inside the ladies to see it.
Needless to say, I wasn't impressed. On casually strolling round the corner, however, I discovered this door.
Despite the fact a dress-wearing stick figure is engraved on the door, my spirits lifted (okay okay, the whole dress thing is a minor irritation in the grander scheme of things but it is annoying). I then noticed something very disappointing indeed. The amber "out of service" light was lit up on the steel panel to the right of the picture. Look closely and you'll just see it.
Seconds after taking this shot, a mum, dad and two young kids arrived on the scene. They needed to get in but the mother was wearing sunglasses and didn't notice the light. She placed money in the slot but couldn't gain entry. I was about to step in and break the news when she lifted her glasses and saw the light for herself.
Luckily she was a woman so had the option to skip round the corner with her child and use the ladies. I couldn't have done that.
Anyone familiar with this part of the world knows the August Bank Holiday Monday is a massive day for the tourist trade. It was disappointing enough to discover it was out of service and plain wrong that the convenience's operator hadn't thought to leave a notice directing people to the closest baby change. Oh, yeah, and then there's the issue of leaving us dads with nowhere to change our children.
On the basis a change table had been provided for women, I give this 0.25 out of 10. What do you think?
Oh, one further thing. This is the second week in a row where I've published examples of bad baby change facilities. Wait until you see next week's. It is an example of exactly how things should be done. A shining beacon in a world largely full of duds.
Like this post? To see my previous Baby Change Facility of the Week blog posts, go here or here.
I've linked this post to SuperBusyMum's Mad Mid-Week Blog Hop. Do take the time to have a read and see what other marvellous bloggers have been up to.
Interested in this blog post? Well have a read of these...