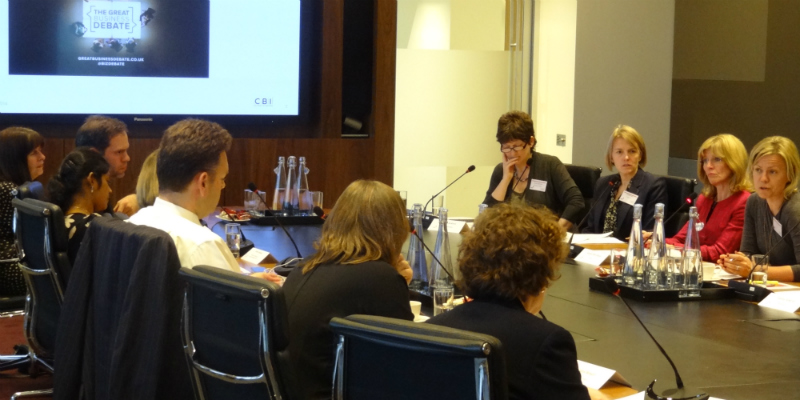 The Great Business Debate is a Confederation of British Industry (CBI) led campaign designed to build public confidence in business. It was launched following the financial crisis when UK plc realised it had something of an image problem.The aims are to:
Give businesses a chance to set out the contribution they make to society
Encourage people to give the CBI their views on business and how they could improve their practices and
Provide businesses a form to discuss what they does and how they do it.
On this occasion the CBI had teamed up with Mumsnet to discuss flexible working. The title of the event, which took place yesterday, was What more can employers do to help parents balance work and family life? The discussion was chaired by CBI Deputy Director General Katja Hall and Mumsnet Chief Executive Justine Roberts was on hand to deliver the views of Mumsnet and Mumsnetters.
Participants included senior managers and HR and recruitment specialists from organisations including Siemens, Barclays, PwC and Centrica. There were also representatives from voluntary sector organisations including the Fatherhood Institute and the Family and Childcare Trust. In other words, there were some very big hitters in the room (a full list of participants is below). I was one of two Mumsnet bloggers in attendance, the other being Rishi Malar from Mummyandthecuties.com.
The discussion
Many themes came up during the discussion, which lasted for an hour and a half. Here were the main points that came up time and again:
Flexible working is not just for mums
Even before the debate started this came up. I found myself in a lift with Justine Roberts, introduced myself and remarked I was delighted to be there as a Mumsnet blogger. Justine's response; "This isn't an issue just for mums." The same words were used time and again throughout the discussion by various participants, although it was recognised that men are either reluctant to request flexible working or are more likely to arrange it informally.
Corporate culture is a legacy of the baby boomers
Carol Rosati, of the Inspire business networking group, said the corporate culture we live in today was created by the baby boomers. For Generation X and Y, work life balance is paramount and nine to five hours are of little interest. If you wish to recruit the best talent, you have to provide flexible working from day one. It was also noted that organisations with flexible working policies also had better staff retention.
This was echoed by Andrew Kail of PwC, who hosted the discussion in its Embankment offices in London. He said; "We are in a war for talent. Employees assess us on a number of factors and flexibility of working life is one of them."
I raised the issue of shared parental leave, which comes into force in April 2015 (more info here). I expressed the opinion that employers had better prepare themselves for the next generation of fathers to take an extended period of leave following a child's birth. It was accepted there is more to do in terms of preparing older managers for this change as they don't necessarily appreciate the implications.
Managers can create bottlenecks
There was widespread agreement that managers don't always recoginse or interpret their organisation's family friendly policies. More should be done to make sure managers react appropriately and see the benefits of flexible working.
On a similar note, Rishi Malar said jobs with flexible working often seemed to go to internal candidates. Rishi also remarked that it made women feel uncomfortable to be asked "how long was your break?" following a spell on maternity leave. This was considered an unfair question that implied an individual's skills were not good enough.
Summing up by CBI and Mumsnet
Both Katja Hall and Justine Roberts summed up proceedings. Here are the main points each concluded with;
Katja Hall
Recruitment should be more flexible. When considering flexible working, employers should think "why not?" instead of "why?"
Dads should be happy to ask for flexible working and
Managers should be happy to deal with flexible working requests but equally be happy when to say "no".
Katja added the CBI had supported shared parental leave. The organisation has also pushed for Government funded childcare for one and two year olds. 
Justine Roberts
We have to make sure managers really get the benefits of flexible working and understand it and a transparent, formal process should be in place for requesting it.
A positive case should be made for flexible working; it's not just about business and it's not just about mums.
Better paternity pay is needed so dads can actually afford to take paternity leave. Dads are needed in the early years and if they're not involved with their children from the outset, it is difficult to get them involved later on.
My thoughts
I found the level of debate to be very high and the benefits of flexible working were recognised by all in the room. As noted above, certain themes came up repeatedly suggesting there are a handful of issues that need addressing by employers.
You never know if this kind of policy discussion will actually translate into change. Even so, the fact the CBI is having such a public debate on the issue of flexible working suggests it genuinely wishes to see change among its members.
As the debate wrapped up, I was reminded of something that happened following the birth of my brother in law. His mother had spent a week or so in hospital following the birth, as was standard practice in those days.
The time came for mother and child to return home. The proud new father asked his boss if he could nip out for a couple of hours to get them.
His wish was granted, but only very reluctantly. It's hard to imagine any manager behaving in such a way today. They would quite rightly be verbally flagellated by the water cooler if they did show such a lack of understanding.
There's much more to be done to get businesses and employers to recognise the benefits of flexible working. That story, however, shows that we have come a long way over the past few decades.
For more information about the Great Business Debate, visit Greatbusinessdebate.co.uk. You can also follow the hashtag #bizdebate on social media channels. For further reading, you may also wish to visit this web page.
Full list of particicipants;
Katja Hall, Deputy Director General, CBI, Justine Roberts, Founder and Chief Executive, Mumsnet, Andrew Kail, UK Assurance Financial Services Leader, PwC, Carol Rosati, Director, Global Head Inspire / Harvey Nash, Caroline Artis, Managing Partner, London Market, EY, Jill Rutter, Head of Policy and Research, the Family Childcare Trust, Jill Sheddon, Group Director, Human Resources Centrica, Jo Page, Human Resources Policy Manager, TfL, Rishi Malar, Mumsnet blogger, Sarah Churchman, Human Capital Director, Diversity and Inclusion and Employee Wellbeing. Sarah Jackson, Working Families, Wendy Jepson, HR Policy and Compliance Partner, Siemens Plc, Wendy Papworth, Director, Global Diversity and Inclusion, Barclays, Will McDonald, Public Policy Director, UK and Ireland, Aviva and Fatherhood Institute trustee.