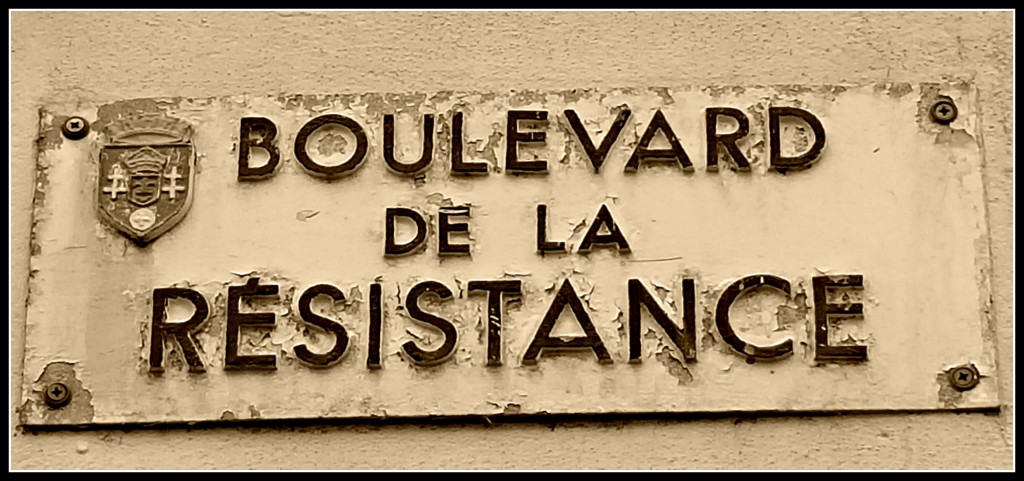 There's not a huge amount to tell you about this photograph, other than I love the uncompromising image conjured up by the street name.
I took the picture a couple of weeks ago when my wife and two daughters went on a family day trip to Calais. It was a last minute thing, we didn't plan our jolly jaunt in advance.
We went to a seafood restaurant for lunch and it happened to be on this street; Boulevard de la Resistance. When I saw the street sign, I just had to take a snap of it! Based purely on the name, it's the kind of street I'd like to live on.
I assume the street name is a reference to the French Resistance movement of WWII. During our day trip, we visited the Phare du Calais, a famous lighthouse that has stood in the town since 1845.
In the lighthouse is a photograph of North Calais taken in 1944. The only buildings left standing in that part of the town at that time were the Phare du Calais and a watchtower, thought to date back to 1302. The surrounding streets were rubble and there was certainly nothing left where Boulevard de la resistance now stands. It made me realise how vicious the fighting had been in that area.
I've added this photograph to the #MySundayPhoto linky hosted by the award-winning Photalife blog. If you like photography then please do click on the badge below and visit the linky. You won't be disappointed.
Interested in this blog post? Well have a read of these...