I have spent a lot of time recently experimenting with my photography. I've been trying out new camera settings and equipment and had great fun doing so. Sometimes, however, it's simply about capturing the moment, like this one on Brighton Beach.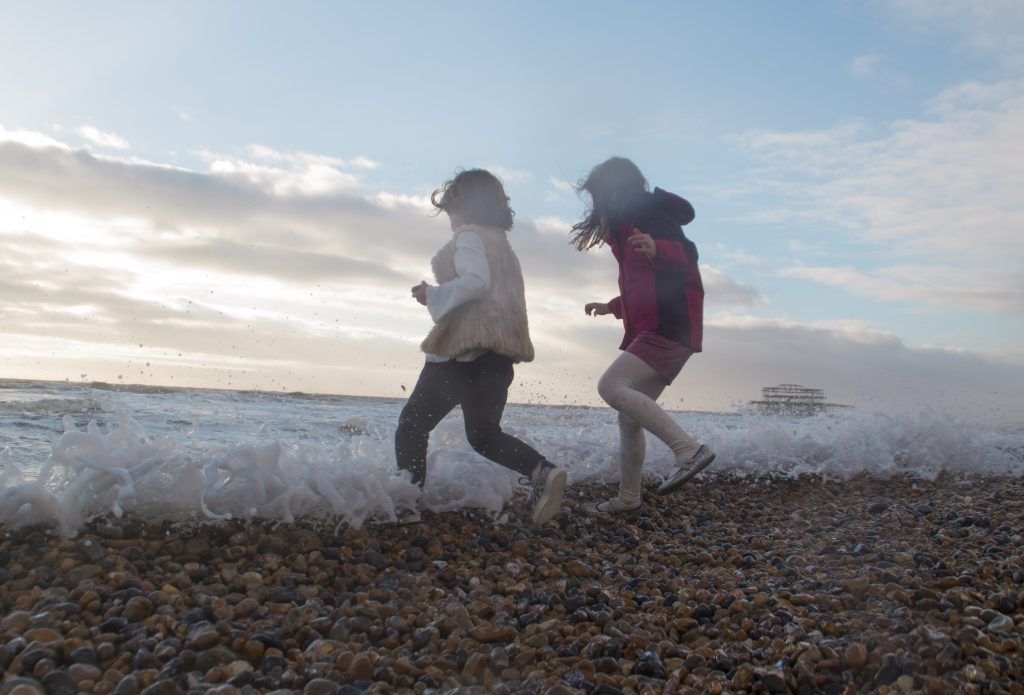 I took Helen and Izzy to Brighton last Sunday. It was cold and windy but they wanted to go on the beach.
Once there, the girls created a game. It involved chasing the waves as they went out to sea and running back as quickly as possible before the waves came back in again.
I could have stopped them from playing this game. I could have highlighted the fact that we didn't have a change of clothes with us.  I could have pointed out it was cold and that we had a long walk back to the car. I didn't because they were having so much fun. The sad truth is, I had scooped them up and taken them to Brighton because we had experienced a bereavement and I wanted to get them out the house.
Despite the backstory, it was a classic childhood moment: Two young kids exploring the outside world. It may have been a cold, dreary day in January but they were enjoying themselves and I didn't want to stop them, especially under the circumstances.
As you can tell, this photograph shows the moment the sea fought back. The kids got their timing wrong and they got wet. This was just the start of the madness. Within a couple of minutes Izzy was soaked from the waist down and Helen had fallen over backwards in the water.
Not that I managed to stay dry. I got too close to the sea as I was taking close-up images of the breaking waves so my lower half also got saturated.
The image itself was down to luck. I had the camera in burst mode and this was the best of the bunch: No setting up, no lighting equipment and no practice shots.
I love the fact both girls are trying to jump backwards and avoid the waves. I think the action and movement really comes across. If you look closely you'll also see the ruins of the West Pier to Helen's right. The photo is slightly blurred because I was close to the waves and some sea water got splashed on to the lens. I think this adds to the drama of the picture.
I hope you like the image. It was really good fun capturing a raw moment like this. Maybe I should use burst mode more often!
I've added the image to one of my favourite blog linkies. It's the #MySundayPhoto linky hosted by the Photalife blog. Do please click on the badge if you enjoy photography and want to see more images.
Interested in this blog post? Well have a read of these...