Today is a significant day for myself and a merry group of vlogging dads. Today, you see, marks the official launch of Dad Channel on YouTube.
Led by blogging superhero Al Ferguson of The Dadnetwork UK, we've come together to provide regular, engaging content. The aim is to give real fathers a voice.
Those of us involved in the project come from a variety of backgrounds. There are first time fathers, experienced dads, stay at home dads, working dads, blogging dads and dads with children that have acute medical conditions. The videos offer brutally frank and honest reactions to the world and their experiences as fathers.
On the channel right now, you'll see dads talking about their experiences in the labour room. There are also introductory videos focusing on the individual fathers, dads enjoying days out with their kids plus a plus smattering of product reviews.
Please do join the party and watch some of the videos. Better still, subscribe to the channel!
In terms of my own involvement, following the death of my old Samsung camera, I am in the process of getting used to a shiny new Canon (excitement levels are off the scale). I shall be recording footage over the next few weeks and will start contributing to Dad Channel in December.
As a blogger, I've noted the rise of vlogging with interest. I love watching vlogs. I think they're a vital part of the media mix can see the impact they're having on the blogging scene. I think Dad Channel is a fantastic project and I'm very excited to be involved.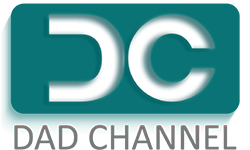 Mr Ferguson says the following about the channel; "Dad Channel is the voice of fatherhood. It provides a platform for dads to share their inner most thoughts, the highs and lows of parenting and an honest account of fatherhood. Plus, it gives mums the chance to see and hear what dads really think"
To watch and subscribe to the channel, please visit the Dad Channel website. You'll also find Dad Channel on twitter; @dadchanneluk.
Please do visit the channel, watch, comment and subscribe! If you have any ideas for volgging content, please do leave a comment below.
Interested in this blog post? Well have a read of these...