This photograph was taken with the help of my youngest daughter, Izzy. She very kindly agreed to hold up this old picture frame so I could take a shot of a colourful market as we looked down at it from a bridge overhead.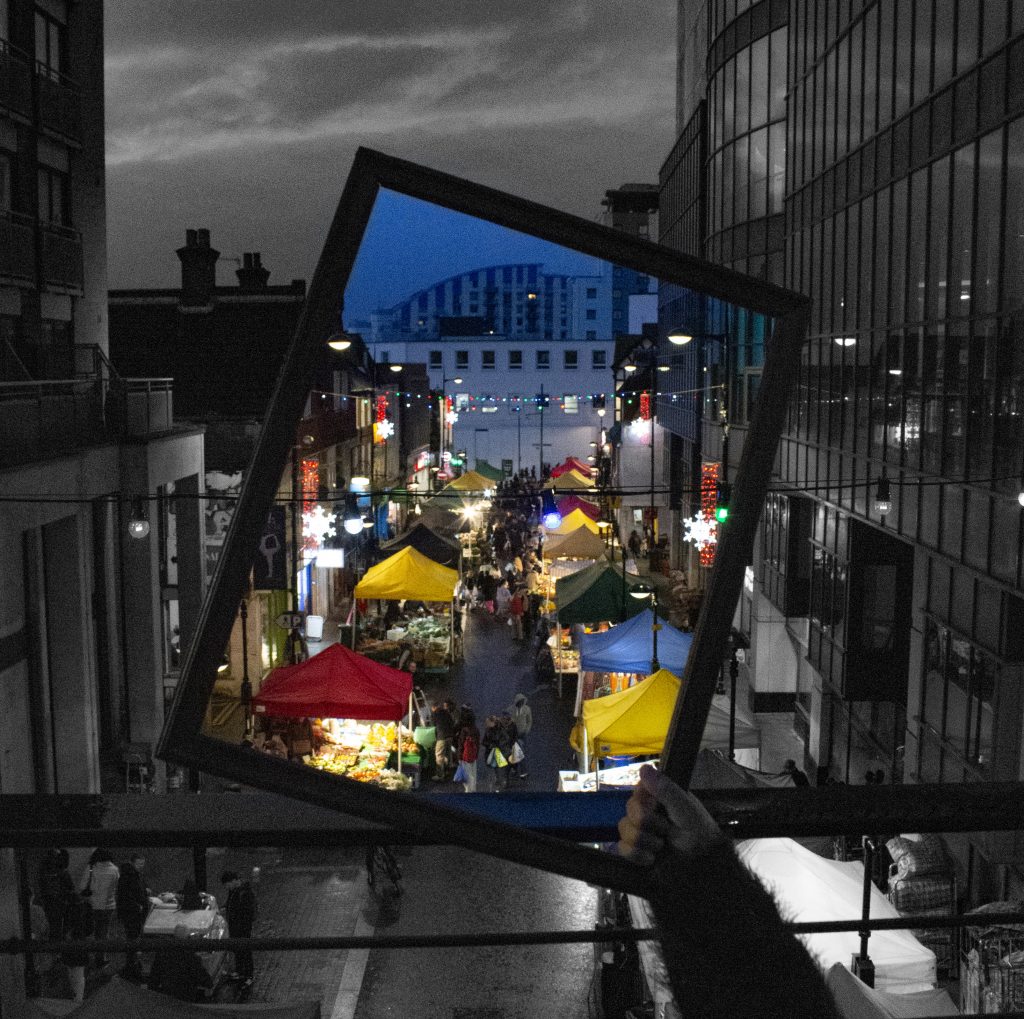 This was the ideal scene for the effect I wanted to achieve. Izzy was certainly impressed with the results and framing a photograph like this is very straightforward.
Even though I am very happy with the result, this shot was my 'reserve' image. All week I have been playing with Photoshop trying to create a clever typography-style portrait of my family. I cannot deny the harsh truth: the results were dreadful. I instead resorted to this very easy, but effective photographic trick.
Taking this image was very simple. I bought an old picture frame from a charity shop for £1. I then looked around for good locations that would give me a good, colourful subject that I could highlight within the frame.
The picture was taken at dusk with a shutter speed of 1/100 of a second, aperture set to f7 and ISO was 6400. As you can see, my young assistant did a marvellous job of holding the frame in place.
Once back at home, I opened the image up in Photoshop and created a black and white adjustment layer. This converted the entire image to black and white. I then selected the 'paint brush' tool and carefully painted the colour back-in, within the boundary of the frame. Aside from cropping the picture, I have done nothing else to it.
I hope you like the picture. I think this is a very simple but effective way of creating a fun photograph. It's an approach that could be adapted for all sorts of scenarios. 
Have you ever attempted taking a picture this way? have you any tips for framing an image? if so please do leave a comment below. I'd be especially keen to hear from if you try this trick yourself.
This post has been added to the #MySundayPhoto linky hosted on the Photalife blog. Do follow the link and take a look at the linky yourself.
Interested in this blog post? Well have a read of these...