You could be forgiven for thinking I have a thing about bees. This is the second 'bee' photograph I have posted on the blog in recent months but this particular bee was so obliging and the image so detailed I felt the need to share it.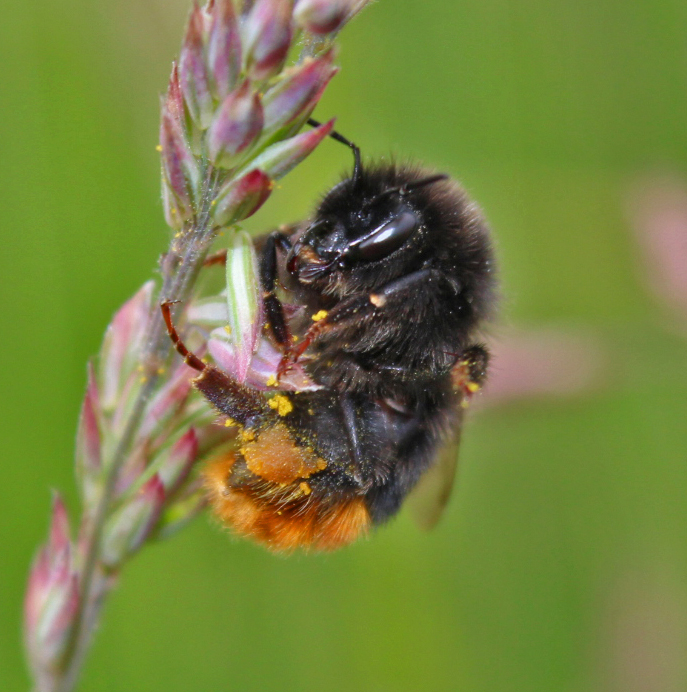 I had set myself a challenge to photograph something locally, within a short stroll of our house. At first I struggled, but then I found this bee.
Insects are normally very difficult to photograph because they move so fast. This bee stayed in place for several minutes allowing to shoot pictures in auto, sports and manual mode!
When I zoomed in on the bee, I realised I'd caught some amazing detail. I could stare at this picture for ages and take in the detail around the eyes, the pollen on the leg and the mandibles.
Unfortunately I made a classic photographer's error. it was only when I downloaded the image from the memory card that I realised I shot the picture in a low-quality jpeg format instead of a larger RAW file, hence its size on the page here. At least the file was big enough to capture the detail hey?
As I mentioned at the start, this is the second bee image I have recently posted. Just so you can do a bit of a comparison, here's the one I recently posted.
As I often do with my photography posts, I'm adding this pic to the wonderful #MySundayPhoto linky. If you click on the badge below it will take you to the Photalife blog which hosts the linky and you'll have the chance to see awesome photography taken by other bloggers.
Interested in this blog post? Well have a read of these...