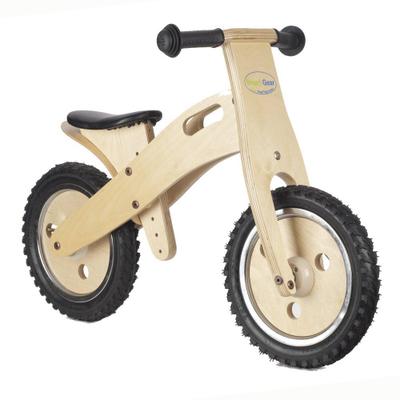 I've recently published a couple of posts about our six year old, Helen, learning to ride her bike (see here and also here). Toddler Adams won't be that far behind and one option to help her get on two wheels is a balance bike. Some of the considerations you need to think about when buying a balance bike are outlined in this guest post from from balance bike aficionado Michael Codd.
Children love nothing more than exploring the great outdoors, and one of the most exciting ways to do this (and to get some exercise at the same time) is on a balance bike.

Balance bikes have increased hugely in popularity over the last few years, as they are the perfect way for children to learn to ride. A balance bike is a normal bike but without the pedals and chain, so children can concentrate on learning to principles of balance and steering while propelling themselves with their feet. This means they don't have to worry about pedalling while learning to balance, as they can easily use their feet to break a potential fall.
Just like pedal bikes, balance bikes come in all shapes and sizes, and there are bikes available from children as young as 18 months up to older riders aged 5 or 6, by which time they should be ready to graduate to a 'proper' pedal bike. There are even some balance bikes for experts up to the age of 12 who want to take their skills to the next level!
However, most bikes are designed for children age between 2 and 4, as at this age the child should be confident enough on their feet and will love the independence of their own balance bike!
How to choose a balance bike
There are many factors to consider when choosing the best balance bike, and bikes are available to suit any budget from around £30 to top of the range models which can set you back around £150.
One of the leading manufacturers of balance bikes is the German company Puky, who offer a range of bikes suitable for children between the ages of 2 and 6. Puky balance bikes offer child friendly, step though frames on many of their models and they also feature very child friendly ergonomics.
The Puky LRM Learner bike is a great model for younger riders aged around 2, as it features a very low saddle height (a very important factor), it is very lightweight and the low platform helps the child to mount the bike and rest their feet as they scoot along. The Puky LRM will be too small for older children aged 3 or 4, but there are plenty of larger models which feature higher saddles, kickstands and brakes.
The majority of balance bike manufacturers (including Puky and other leading companies such as Strider) favour steel or metal frames, as these bikes have the appearance of a 'grown up' bike and they are also easy to maintain. However, there are also some excellent wooden balance bikes available, especially from manufacturers such as Kiddimoto who were featured on Dragon's Den!
Kiddimoto bikes come in a range of exciting styles ranging from Pastel Dotty and Evil Knievel to Police bikes. Early Rider also provide superb wooden balance bikes.
Saddle height
There is a lot more to consider than just the frame when choosing a balance bike, as you will need to make sure you buy a bike that is the right size for your child. You will need to measure the inside leg measurement of your child, and then decide upon a bike which has a lowest saddle height at least 2.5cm lower than their inside leg. This will allow them to get on and off the bike easily, as well as sit with their feet flat on the floor.
Almost all balance bikes have adjustable seats, so you can raise the seat as they grow but the measurement of the inside leg is crucial so their feet can touch the ground and they have a comfortable ride.
You can also choose between different tyres, colours and all sorts of extras, and also don't forget the helmet to keep your child safe. However, the main thing is to choose a bike you think your child will enjoy using as balance bikes are a great way to enjoy the great outdoors – and they really help your child to learn to ride!
Disclosure; this is a collaborative post produced in association with a sponsor.
Interested in this blog post? Well have a read of these...