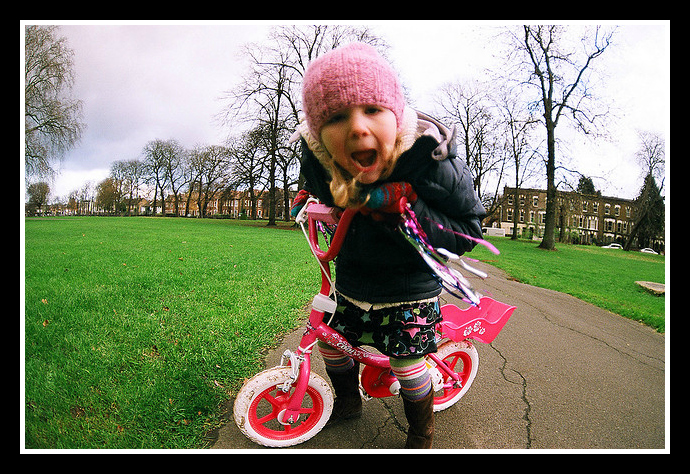 The kids have been hitting a lot of milestones recently. Helen has started Year Two at primary school and been teaching her mother and father maths concepts they'd never heard of, Toddler Adams has given up wearing nappies and is expressing an interest in learning to read. The biggest milestone, however, must surely be the removal of stabilisers from Helen's bike.
She did it for the first time last Sunday. Once Helen had got her balance, she was away, but needed to be held while she got going. I took her out again last night and she's now taught herself how to get going from a standing start.
If there's one thing I don't like, it's boastful blog posts or Facebook updates about child's success. I therefore think this achievement has to be put into perspective.
I'm really proud that Helen is now on two wheels, but my word has taken a lot of effort to get to this point. I think the majority of her peers have been riding bikes without stabilisers for about a year. Every time I've tried to encourage her to take this step, I've met with resistance. I don't think it helps that we live in an incredibly hilly area so for her own safety we have to jump in the car and go somewhere flat to ride bikes (that's no exaggeration; when I say hills, think ski slopes).
Credit must also be given to a family friend who invited us out last week. Knowing that Helen was reluctant to ride on two wheels she said "come out with us. My kid's not had stabilisers for a while, I bet that'll be enough to encourage Helen to take them off."
I'd been here before and was very cynical. So cynical in fact, that when Helen asked to bring a bag of toys cycling with her I agreed because I thought we could attach them to her bike as she rode along on four wheels.
Within 30 seconds of seeing her friend without stabilisers, Helen took me completely by surprise and wanted them taking off her bike. As a result I was left chasing after her with tools, obsolete stabilisers and her toys. I didn't look at all elegant.
I eventually gave up and left them on the side of the path in the hope they wouldn't get nicked. My faith in human nature wasn't misplaced, all items were left untouched.
The only thing is, now Helen's on two wheels that metaphorical umbilical cord tying her to mum and dad has been stretched that bit closer to breaking point. When I was out with her last night, she zoomed off down the path, leaving Toddler Adams and I way behind.
Helen demonstrated good common sense and stopped before disappearing out of my sight. When I saw her several hundred metres away having got there under her own effort, I realised the next time I feel like this she'll be in a car and have a driving licence. At that point there really will be no stopping her.
Pic credit: Jonny Hughes. Sourced from Flikr.com and reproduced under Creative Commons agreement.
Interested in this blog post? Well have a read of these...