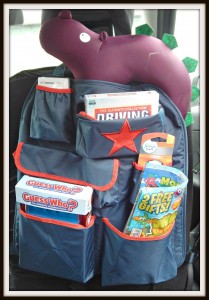 I have a strange feeling someone at Febreze has been reading my blog. I recently uploaded a post about how messy the family car is. As if by magic, a Febreze #drivehappy car kit was couriered to me a few days later.
The odour-killing specialist has done some research and discovered that a smelly car is a huge turn off for many Brits. The smell of a wet dog was the most common complaint with 24% of respondents saying it was their pet hate (no pun intended).
With many of us embarking on road trips over the summer break, you have the chance to win a Febreze #drivehappy car kit of your own.  This is a great giveaway with a superb prize.
Each kit contains:
A backseat organiser to help keep the car tidy (desperately needed in this family)
Febreze car fresh clip to keep your vehicle smelling nice
A £50 shopping voucher to buy snacks, drinks etc at a supermarket
A CD compilation of driving music that features everything from the Stereophonics, Stereo MCs and Bachman Turner Overdrive (yes…really!! The music on these CDs is so bad it's good)
Travel sized games to help entertain the children
A universal car charger so you can keep your mobile and other devices powered-up on the go and
A travel pillow so your passengers can get some sleep during the journey.
Taking part is really easy. Simply watch this video and leave a comment answering this question: Who handed the drivers the challenge envelope?
The video is the first in a series that follows three people as they journey across Europe in a car. Along the route they are set various smelly challenges. After each challenge they have to thoroughly clean the car using Febreze products.
Good luck to everyone that takes part! Don't leave it too long though, the giveaway ends on 20 July. I also hope anyone going on a road trip over the next few weeks has a very pleasant journey.
a Rafflecopter giveaway

Interested in this blog post? Well have a read of these...