A car valet is the ultimate treat for your car. There's nothing quite like getting every inch of your vehicle cleaned, and it's important too. Why?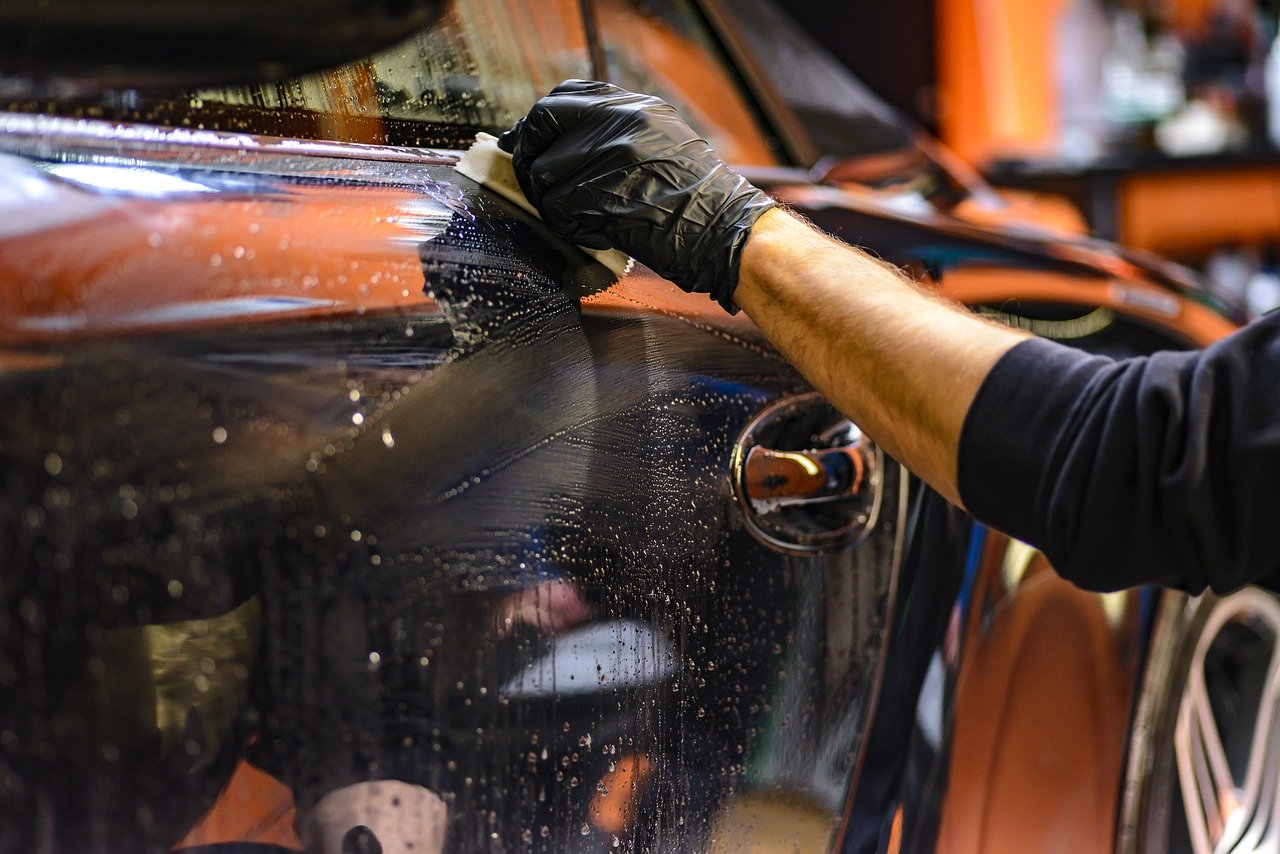 Your car is most likely the second biggest purchase you've made after your home. It is also one of the fastest depreciating assets on the planet, and failure to take proper care of your car will affect its resale value in the long run.
We hear you, professional car valeting is expensive. If, like many of us, you can't fork out for a professional car valet, use this guide to do it yourself just like the pros.
You will need to invest in some car valeting and car detailing products, but this is far cheaper than taking your car for regular valets throughout the year.
Step One – Wash the wheels
The wheels always come first because they're the messiest to deal with. Leave them to the end and you risk getting your car dirty again and undoing all your hard work.
To wash the wheels like a pro, you'll need an appropriate wheel cleaner (not car shampoo), an alloy wheel brush, a detailing brush kit, and your hose or pressure washer.
First, you need to use your wheel cleaner by spraying it all over the wheels and making sure you don't miss a spot. Let the product do its work at lifting any grease or dirt.
Then, using your alloy brush and detailing kit, you can scrub any hard-to-reach places such as the spokes and rim screws.
Finally, thoroughly rinse the cleaning product off the wheels. Make sure you remove all the suds, and your wheels should now be gleaming.
Step Two – The pre-wash
Have you seen those great photos of cars covered in what looks like snow? This is the work of a pre-wash product known as snow foam. The product is specially formulated to lift grease and dirt from the paintwork of your car. The pre-wash is actually the most important part of the entire car wash.
To use snow foam, you will need a snow foam lance. This is the applicator that allows you to spray the car with that fantastic snow effect. Many people opt for the famous Karcher snow foam lance for the best results.
Once the car is completely covered with the product, let it sit for a couple of minutes before rinsing thoroughly with your hose or pressure washer.
If you don't fancy investing in the snow foam craze, you can opt for a traditional pre-wash product like a citrus pre-cleaner.
Step Three- The big wash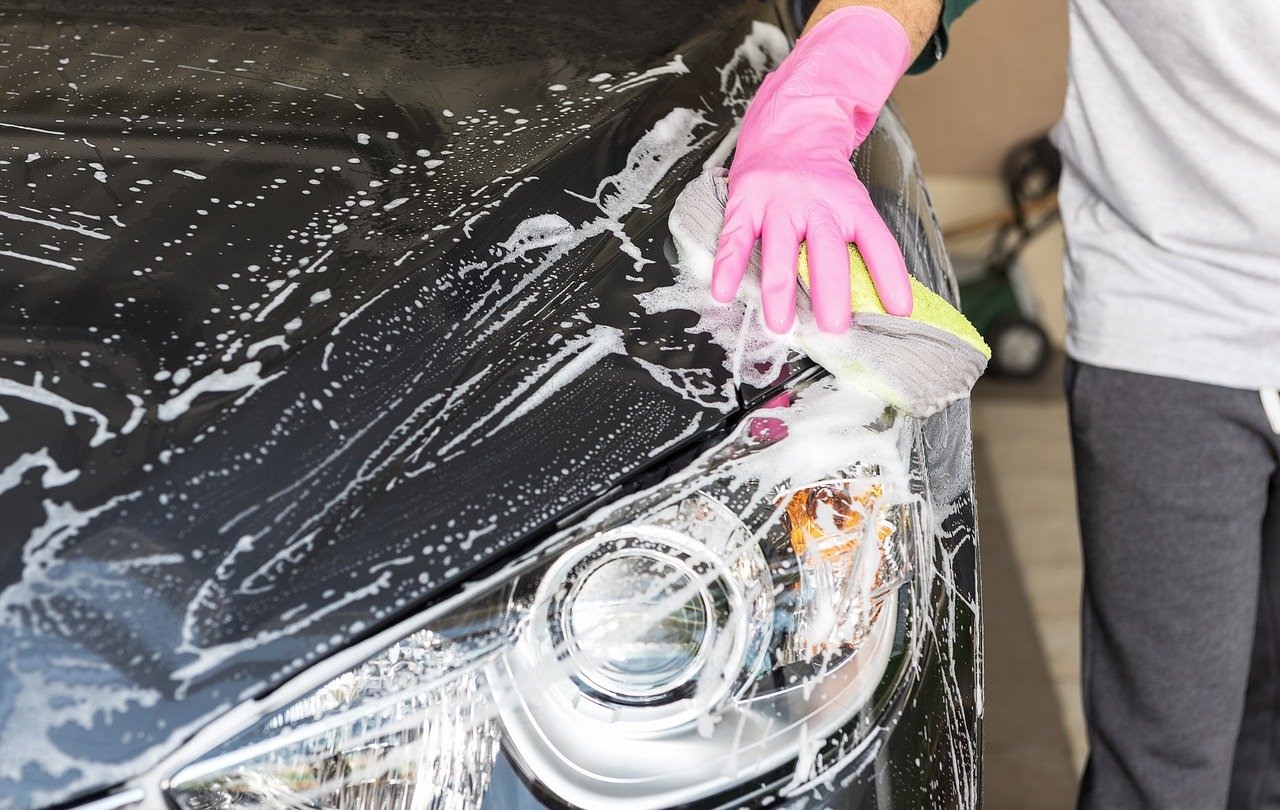 The big wash is simple. Choose a high-quality car shampoo and use a mitt to gently wash each panel of the car, ensuring you get into all the hard-to-reach places.
If you're still using a sponge, stop now. Sponges cause minor scratches to your paintwork, so use a proper washing mitt instead.
Once done, rinse again and get ready to dry.
Step 4 – Removing contaminants
It doesn't matter how good you are at cleaning, you're bound to have some stubborn contaminants that won't budge from your paintwork. To solve this issue, two products can assist you.
Tar and glue removers typically come as spray-on products that, when used with a microfiber car-drying towel, can budge even the most stubborn of contaminants.
Iron fallout removers are also useful. Simply spray on the intended area, leave for a couple of minutes, and then gently rub away with your cloth.
Step five – Drying
The best way to dry your car is with an air dryer. Some people invest in professional air drying gear, while others utilize their leaf blowers if they have one.
If you don't have either, don't despair. Using a thick or twisted pile of microfiber cloths, you can dry your car effectively. Always dab with the cloth, and never swipe to avoid damaging the paintwork.
Step 6 – Ultimate protection
Now your car is sparkly clean, you need to add a layer of protection to the paintwork. A car sealant should first be applied to create a deeper and high-gloss effect. A car sealant will protect the paintwork from elements such as bugs and road salts.
Next, you can wax your paintwork to give it the ultimate shine and protection. When applying the wax, it is wise to use a wax applicator, and not a standard cloth.
Remember to avoid waxing in the sun, avoid over-applying the product, and only wax every two to three months.
Step seven – The interior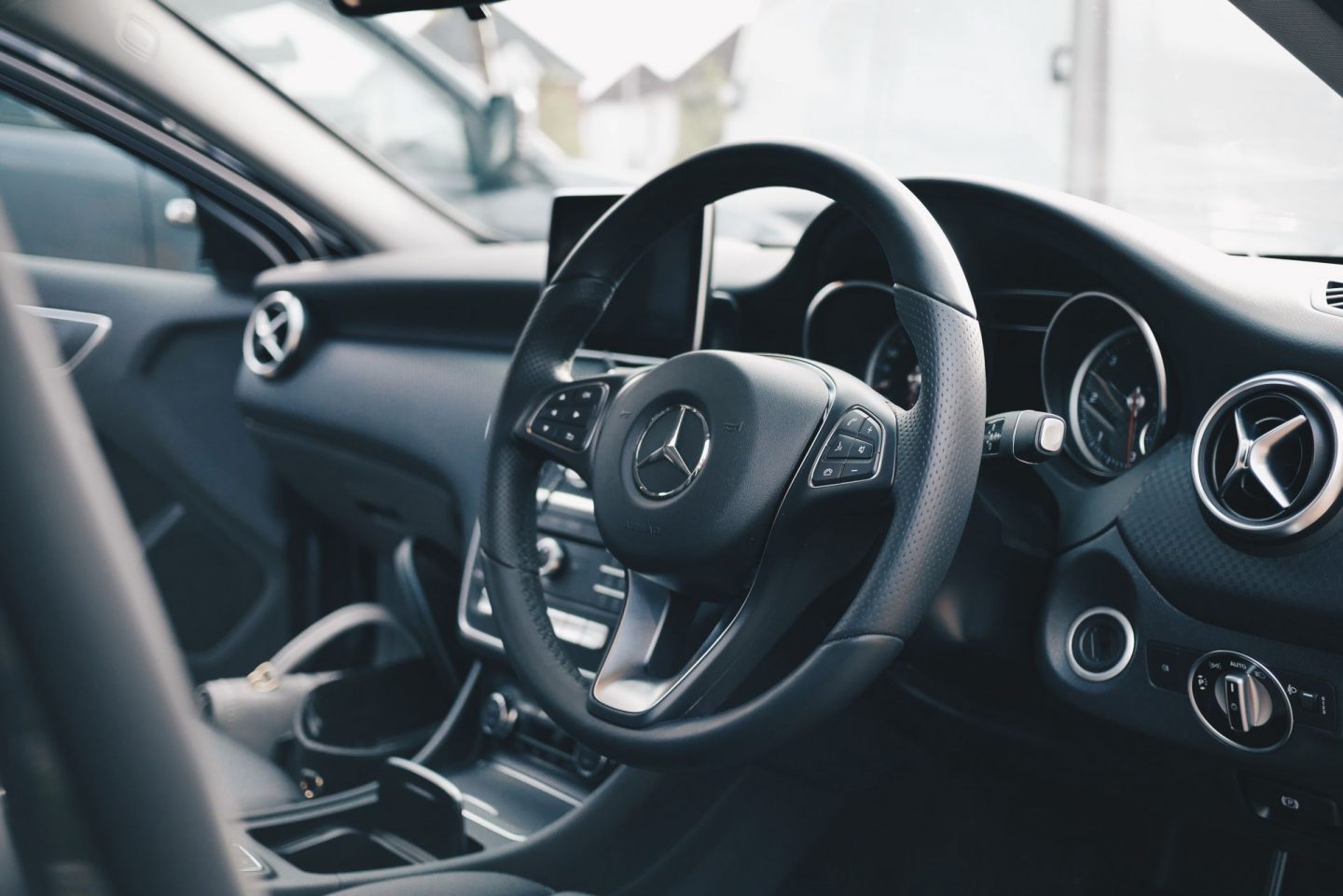 Now your car looks brand new on the outside, it's time to move inside and create the same effect. To do this, you will need a vacuum cleaner, microfiber cloth, seat cleaner, and a detailing brush kit.
Before you start, remove all your mats and any trash or objects. Then, using your vacuum cleaner, clean the entire interior of the car, and use the smaller detailing vacuum attachments to get into all the nooks and crannies. Clean the mats outside, far away from the vehicle.
Using your detailing brush kit, thoroughly clean all the small and hard to reach areas of the seats, dashboard, and side doors.
Then, use your seat cleaner to wash the seats thoroughly. If you have leather seats, you will need a special cleaner just for leather.
Dry your fabric seats off by opening all the doors and windows and parking in the sun if possible. To dry your leather seats, use your microfiber cloth, gently rubbing them down.
Finally, you will need to clean the windows. Using a glass and window cleaner, clean each window thoroughly using a microfiber cloth. Spray the product into the cloth, and then wipe your windows down. Often, people miss the top of the side windows, so make sure you roll them down and clean the part that sits in the top of the door frame.
Now, you should have a car that looks like it just left the showroom. Follow this procedure regularly, and your car will stay in top shape. You'll fight off the depreciation as best as you can, improve the resale value, and you'll also have a great looking car.
Interested in this blog post? Well have a read of these...