Take an over-excited blogger, give him a camera, a tripod and some Christmas lights and see what happens.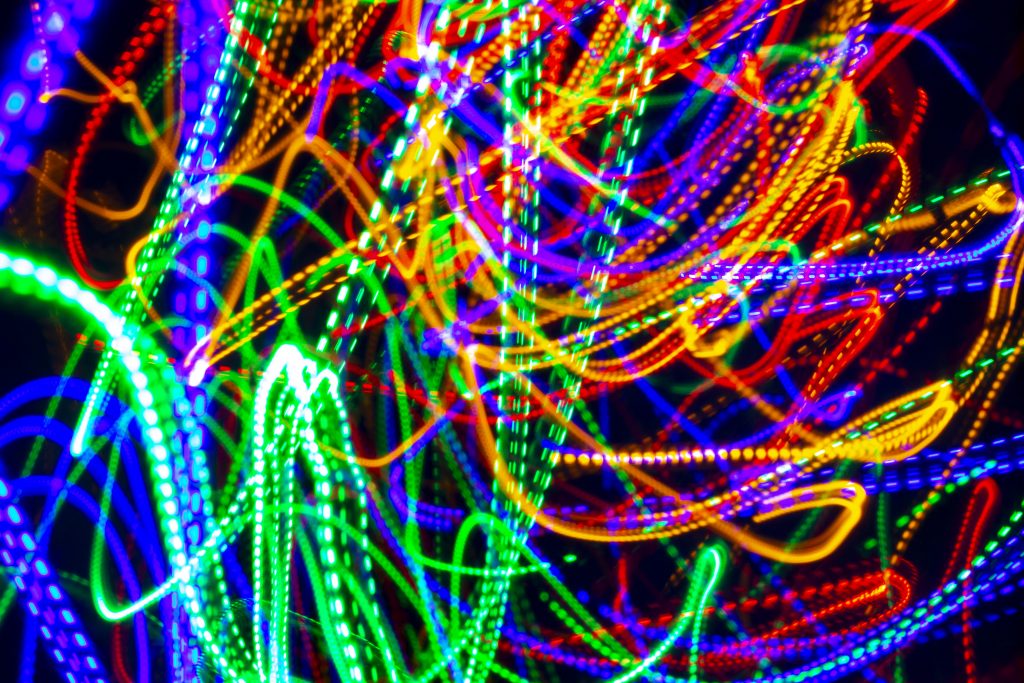 Okay, as I was the individual in question, I'll tell you what happened. I snuck off to the garage while the kids were busy, locked myself in there and photographed the lights using long exposure times!
The above image was the result. I appreciate it's abstract, but it's kind of fun, don't you think? It's quite captivating, I find myself getting lost staring at it. 
Here's the story behind the picture. For the first time ever, we have hung Christmas lights on the outside of our house. It's taken a lot to persuade me this was a good idea, but the kids really wanted us to do it and so we bought some colourful LED lights. 
Needless to say, it was my responsibility to fit them on the outside of the house while my daughters, Helen and Izzy 'helped'. At one point I was fixing lights to the outside of an upstairs window. A long section of lights hadn't yet been fixed in place. As they moved in the wind I thought the lights would make a great picture if captured using a long expsoure time.  
As soon as I had a spare moment, I took myself off to the garage where it was dark. I mounted my camera on a tripod, switched the Christmas lights on and simply waved the lights around in front of the lens. 
For this particular image, I used an exposure time of eight seconds. The
ISO was 160 and aperture was set to f22. This is a very narrow aperture so not what you'd typically use in dark lighting conditions, but it was ideal for getting the camera to focus on the lights. 
If you wanted to replicate this picture, you would need to use a tripod because camera shake would be an issue with exposure times of this length. I'd also suggest playing with the aperture as the image would look very different using an aperture of a different size.
This is a very simple photography technique and one that requires little preparation. Here's another example of where I used along exposure time photographing traffic outside the Palace of Westminster in central London. 
I'll be adding this post to the #MySundayPhoto linky hosted by the Photalife blog. Do follow this link and take a look as there will be some great photography on display from other bloggers. 
Interested in this blog post? Well have a read of these...