This is a photograph I've been wanting to take for some time. It's of part of the London skyline but I very much doubt you'll recognise it.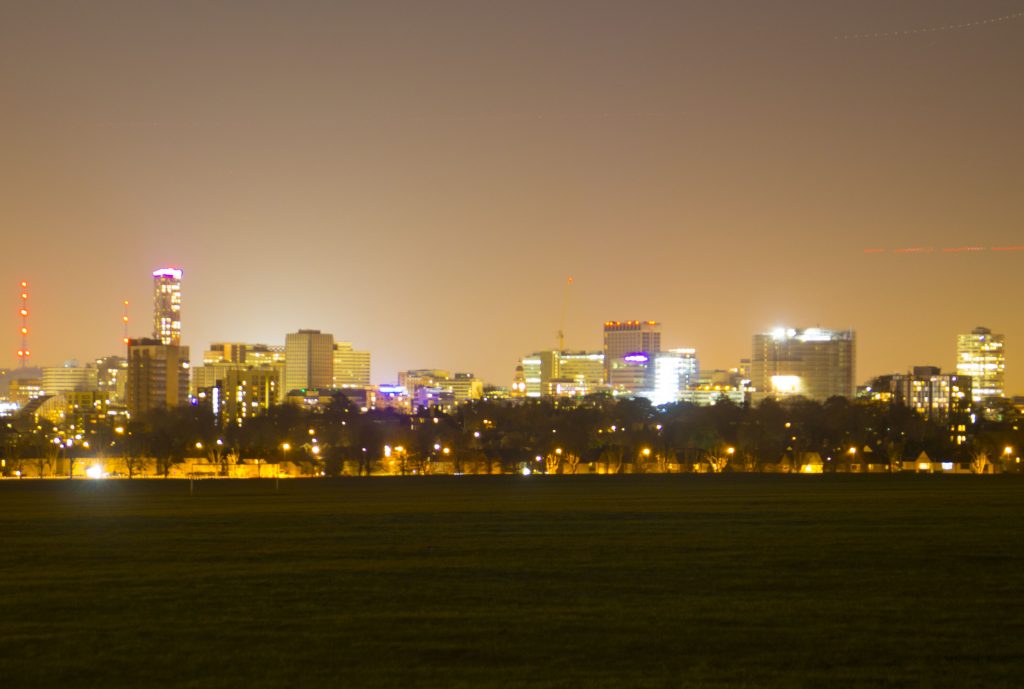 This, my friend, is a photograph of the London Borough of Croydon right on the fringes of the city. For any readers in South East England, it was taken a short hop, skip and jump from the Ikea outlet.
I noticed that Croydon, or the Cronx as some call it, put on a good light show at night some time ago. I'd been meaning to try and get an image of the skyline for ages but was never in the area at night. It's an area I know well as, many years ago, I lived in the centre of the borough.
One evening earlier this week, Mrs Adams went to bed early and it was such a clear night I simply couldn't resist grabbing my camera and driving up to Croydon to see if I could get the image I wanted.
As soon as I parked the car I began to regret my decision. To get this view I had to park in a relatively isolated spot near an expensive looking Mercedes Benz with tinted windows. Goodness knows what was going on inside, but the female occupant gave me a very strange look when I left.
There was no street lighting whatsoever. Over the road were a number of light industrial units, recycling facilities, storage units and downtrodden warehouses. It's the kind of place petty criminals go to die and here I was, on my own, in the dark with my expensive camera equipment.
It takes quite a bit to make me nervous of my surroundings, but on this occasion I confess I did feel on edge! On the plus side, it didn't take me long to get my picture and I left very quickly.
It is a long-exposure shot and for me, one of the most fascinating elements is in the top right hand corner. Look closely and you'll see I've captured the navigation lights of two aircraft in the sky.
Before I sign off, here's some detail about Croydon that may come in useful one day (I doubt it, but you never know). Croydon does not sit on the clay that most of London is built on. Until modern building techniques were developed, London couldn't have really tall buildings because the ground wasn't stable enough.
As Croydon doesn't sit on clay, it was never bound by the same building restrictions. High rise buildings have been in the borough for much longer than the rest of the city, hence why it has a distinctive skyline of its own and why it has been dubbed 'Mini-Manhattan'.
Have you a favourite city skyline or urban landscape? More to the point, would you risk your safety and camera equipment to take an image like this? Please do leave a comment and if you want to see some great photography from other bloggers, click on the badge below and visit the #MySundayPhoto linky hosted by the Photalife blog.
Interested in this blog post? Well have a read of these...