The photograph below is one I could stare at all day long. It's not so much the content of the image, but the many stories behind the couples who added these padlocks, or love locks, to the bridge.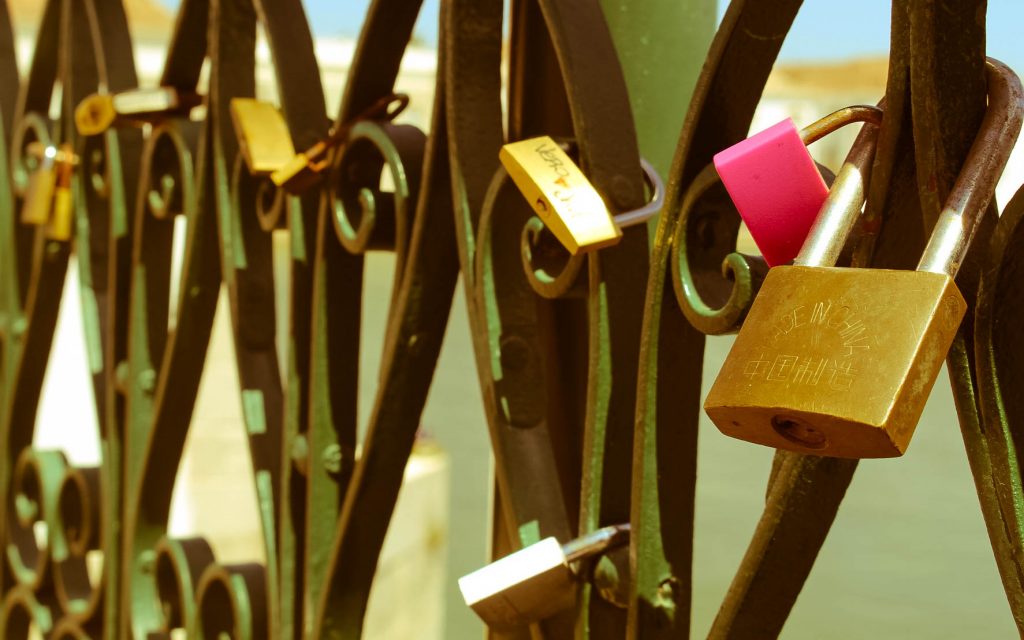 The image was taken on the Ponte Romana bridge in Tavira, Portugal when we on holiday in August. I knew I had it on a memory card and decided to experiment and see what changes I could make using Adobe Photoshop Lightroom, software I'd not used before.
The image was taken in the harsh, midday, Portuguese sun. I've softened the lighting but running it through a cross process filter and this has also accentuated the padlocks, but enough of the technical stuff.
When I look at the image I can't help wondering who placed the padlocks to the bridge. Are the couples still together? Did they get married? Were they already married? Why is that pink padlock attached to the large padlock? I imagine the answer is no, but could it symbolise some crazy polyamorous or adulterous relationship? The mind boggles.
Apparently the tradition of attaching padlocks, or love locks, to bridges is a relatively modern phenomenon. Although there's a theory it stretches back to World War I, it didn't really start happening in major cities until the mid-noughties. I thought it was quite harmless but it seems to have created all sorts of problems for the authorities in various destinations. Apparently the weight of love locks fixed to the Ponts des Arts bridge over the River Seine in Paris led to the collapse of a parapet.
What do you think of love locks? Are they harmless fun, or do you frown upon it? Maybe you've taken part in the tradition yourself.
I've added this picture to the #MySundayPhoto linky hosted by the Photalife blog. Do click on the badge below to visit and see amazing photography from other bloggers.
Interested in this blog post? Well have a read of these...