Brighton is a place that brings back very fond memories for me as a father. It's a destination we've taken the kids many a time. Despite Izzy, our second daughter, being a winter baby, it was somewhere we visited from time to time while Mrs Adams was on maternity leave following her birth.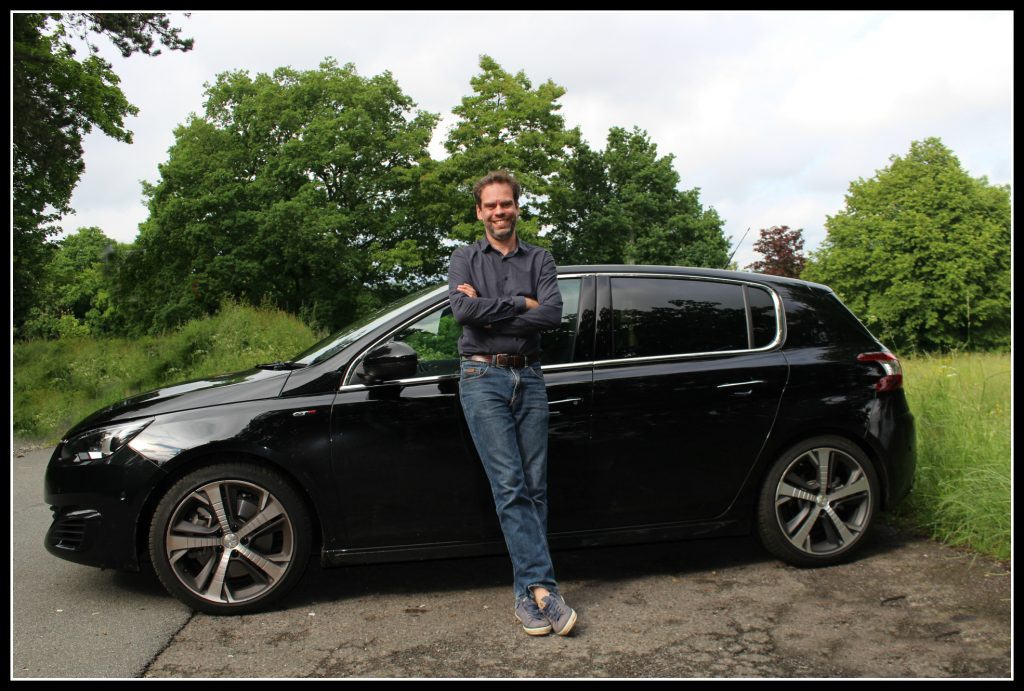 Memories are made of this
Just a few months ago we visited the city on what was a glorious but cold day. The kids were adamant they wanted to visit the beach. Mrs Adams, the more cautious parent between the two of us, wasn't too sure of the wisdom of this, but I was all for it.
Several minutes later we found ourselves taking shelter in a family-friendly seafront pub. There were two reasons for this; firstly so we could strip wet clothes from our two cold children and secondly to order lunch.
The kids had been very good at following our instructions to only go ankle deep in the water. Ankle deep water, however, is more than enough to leave you absolutely saturated if you fall over in it. I hardly have to tell you this is exactly what Helen and Izzy did. Luckily we'd had the foresight to bring a change of clothes for them both.
Mrs Adams was slightly fractious at being proved correct (her mood improved when the barman gave her a glass of white wine). I was entirely unrepentant thinking such experiences are part of childhood. Helen thought the whole situation was hilarious and Izzy, after a bit of moaning about being cold, soon bounced back to her lively self when presented with a hot chocolate to drink. Voila, a new memory of Brighton was born and one I shall never forget (I'm still unrepentant, by the way).
Father's Day
To celebrate Father's Day, Peugeot asked me if there was somewhere I could take the family that was of special significance. Perhaps there was somewhere with special memories for me as a father?
Various options came to mind but eventually I settled on Brighton. Armed with a Peugeot 308 GT BlueHDi 180 A, that's exactly what we did.
On the day itself, the weather was, shall we say, a bit squiffy. In fact thunderstorms were forecast. Mrs Adams and I were quite keen to see a coastal thunderstorm but we didn't get our wish as the weather wasn't quite that bad.
Luckily, we had a plan in place should there be bad weather. We went to see Zootropolis at the cinema and then had lunch. The rain held off long enough for us to visit the beach and also the pier where we all went on a carousel. Click on the video below to see what we got up to.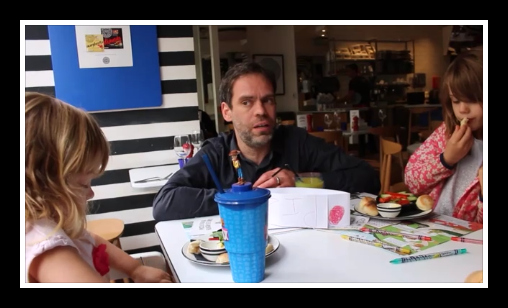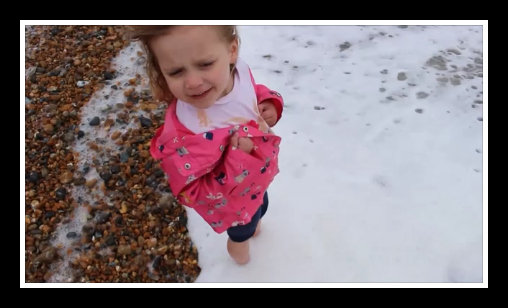 Tell us about the car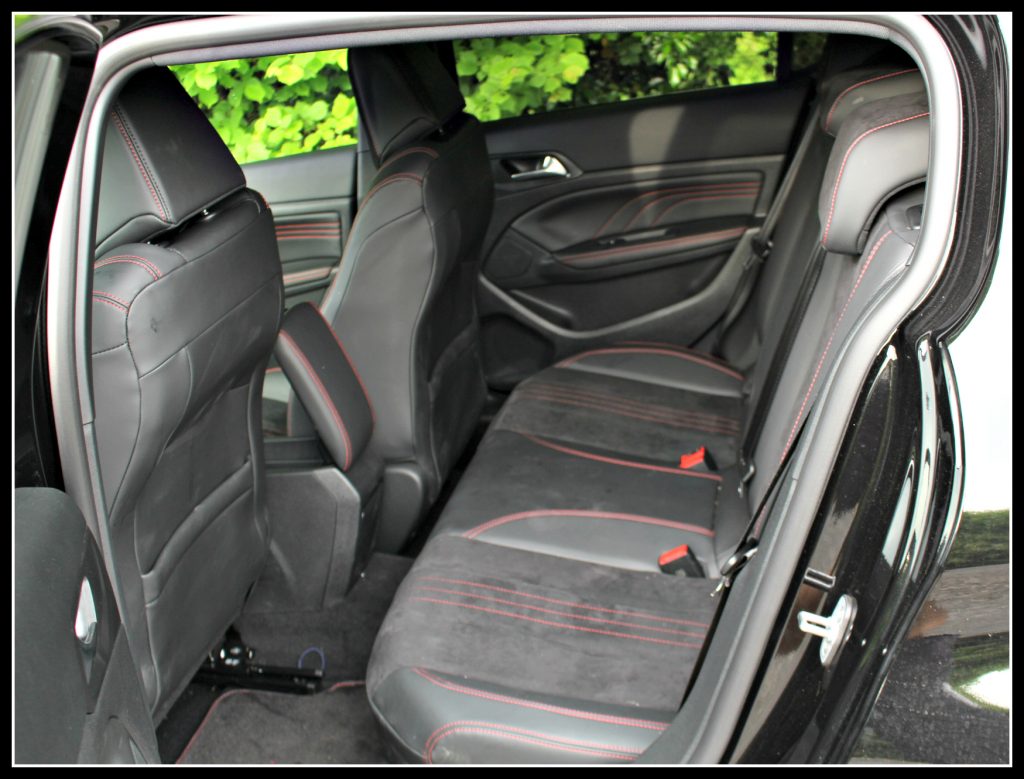 Petrolheads are no doubt reading this thinking "what about the car?" Now seems a good time to tell you all about it.
The vehicle I test drove had a 2 litre diesel engine. It had a six speed automatic gear box plus a sports mode.
In terms of styling, there was great attention to detail. Rather like the Peugeot 308 SW I tested a few months ago, it had a small, steering wheel. There was also red stitching all around the interior and the Alcantara trim was very nice indeed, if not entirely suited to the abuse our kids threw at it, although more about that in a moment.
On the exterior there was a twin exhaust and very attractive alloy wheels. The car looked very sleek indeed. Mrs Adams spent a lot of time swooning over the 308 GT while it was in our posession. The on the road price is £26,145 which didn't seem too bad for a car with such high specifications.

First impressions
This is a car that can shift. In terms of acceleration, there was no difference to a petrol car with manual transmission. Peugeot claims the 308 GT can do 0-62mph in 8.2 seconds and I don't doubt it. The sports mode was great on the open road, the instrument panel lighting up bright red and the steering becoming more sensitive.

Features
Blind spot indicators on the wing mirrors (optional extra fitted on this vehicle)
Proximity indicators
Video camera for reversing
ISOFIX points for car seats
USB port and 12v chargers (including a 12v charger in the back)
Air conditioning
DAB and FM radio
Back massager (great for long journeys I found)
Other dada (Peugeot's own figures)
60.1 miles to the gallon (urban driving)
53 litre fuel tank
Length 4253mm x width 2043mm X height 1457mm
Insurance group 29A
A couple of quirks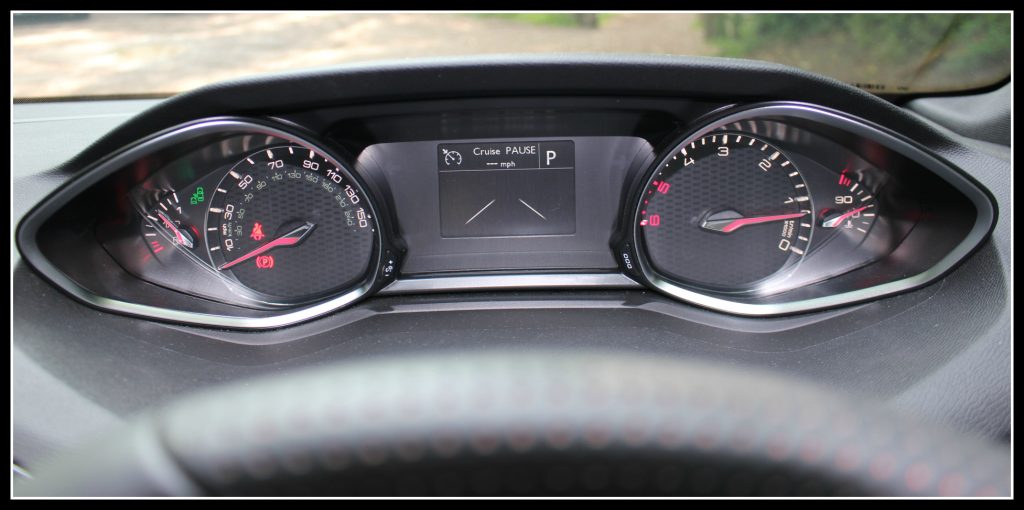 There are a couple of unique touches to 308 GT. Firstly, the rev counter is on the right and moves from right to left. I quite liked this. It was slightly easier to keep a look on both the rev counter and speedometer at the same time.
Secondly, the engine noise you hear inside the car is synthetic. I have absolutely no idea why this is, but it is slightly amusing. This is especially the case when you go into sports mode. To my ear, the engine noise immediately changed from a diesel in the normal mode to a petrol engine in sports mode!
There's one other point I would mention, and that's the speed limiter and cruise control. It's in exactly the same place as the 308 SW, behind the steering wheel at about the eight o'clock position. It's not particularly easy to use and this is exacerbated by the act you can't actually see it unless you turn the steering wheel.
In conclusion
I always look at cars and try to figure out whether they would make a great family vehicle. What the 308 GT has going for it is that five star NCAP rating so you have assurance it is bursting with safety features.
Even so, when Helen got in the car for the first time she said; "Daddy, two things I would say. Firstly, there's no sun roof and secondly there's not much space in the back footwell."
The first comment says more about her expectations of cars! The second comment, however, was very astute. Even for a seven-year-old, there wasn't much space in the back and, being a hatchback, boot space is also limited. The Alcantara trim was also a bit of a dirt trap, not ideal if you have a three-year-old who thinks car seats make for good climbing frames.
If you are a one car household, you'd probably be better off considering the Peugeot 308 SW with its superior size. For a second vehicle, one that wasn't going to be used for ferrying bikes, camping equipment etc. around, the 308 GT might make for a good choice.
For the boy or girl about town without children to think of, well, the Peugeot 308 GT would be an awesome choice. It looks great, drives well and is enormous fun. I had great fun driving it and really enjoyed putting it through its paces.
The Peugeot 308 GT is maybe not the first choice for a family vehicle. Nonetheless, it is a great hatchback, really enjoyable to drive and both Mrs Adams and I loved it.
For further information about the Peugeot range, go to Peugeot.co.uk.
Disclosure; A vehicle was provided for review purposes. Thoughts and opinions entirely my own.