This week has been a bit of an emotional one for this family. Our youngest daughter, Izzy, started school. As a result, much of my time has been spent dealing with Izzy and getting her prepared and I haven't a huge amount of time to get out with my camera.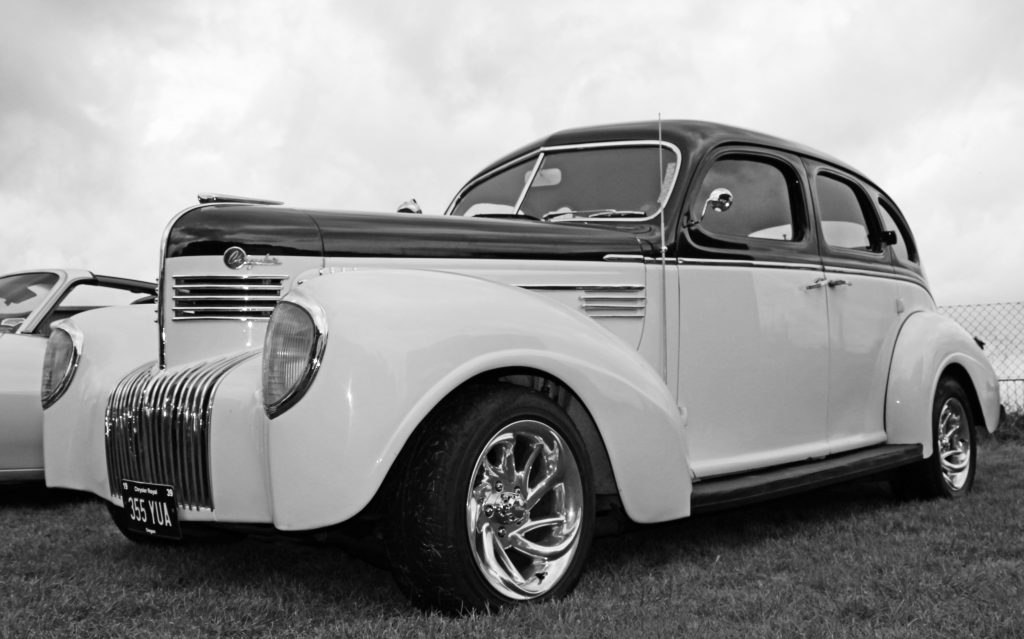 The photograph above is of a vintage car that was on display at a car show I visited with Helen and Izzy a couple of weeks ago. It was a spur of the moment thing. The children were being exceedingly lively and Mrs Adams was trying to cook Sunday lunch so, knowing this event was on, I took them for a brief visit.
I took a lot of pictures but this particular image stood out. It is of a Chrysler, although I have no idea what the model is.
The particular vehicle certainly turned heads. It had a black and white paint job and the skies were very grey so once I flipped the image to B&W, I felt it looked very moody and atmospheric. I also quite like the fact I took the image from a very low angle.
Ideally I'd like to spend a little time editing out the fence in the background and the other car to the left. I just need to find a little time to do it and with the summer holidays ending and Izzy starting school, time has been in short supply.
I'd love to know what you think. Do you think it makes for a moody and atmospheric image? Does it work in black and white? As I usually do on a Sunday, I've linked this image to the #MySundayPhoto linky hosted by the Photalife blog. I encourage you to click on the badge below so you can visit the linky so you can see photography from other bloggers.
You may be wondering about Izzy's first day of school. I'll be adding a proper update on the blog tomorrow, suffice it to say she did exactly what her sister did: walked into the classroom without even looking back!
It's been a huge change for her but so far things have gone well. If you have a child who has just started school, I hope it's gone well for you and your offspring also.
Interested in this blog post? Well have a read of these...