Just after Christmas I took my five year old daughter into London to visit the Natural History Museum and Buckingham Palace,. It would have been nice if the rest of the family could have joined us but our baby had chickenpox and my wife drew the short straw and stayed at home to look after her.
Despite this disappointment, it was wonderful for the two of us to spend some time together, something that rarely happens these days. It was also great to see just how inspiring she found all the sites she saw, especially at the Natural History Museum.
The first section we visited was all about geology. Thinking Helen would find it boring, I tried to bundle her through as quickly as possible. To my surprise she loved the rocks that were on display and so I backed off, giving her all the time she wanted to look at the various delights around us. I'm glad I did because she thoroughly enjoyed it and I found it very educational.
We made our way through various sections until we eventually came across Dippy, the famous dinosaur skeleton in the museum's Central Hall. This is the sight she'd really come to see and with the obligatory photographs taken, Helen was happy to have lunch before moving on to Buckingham Palace where she was fascinated by the soldiers standing guard outside.
Roll on a few days to Monday, 6 January. Helen's school was shut for a training day and little sister, recovered from chickenpox, was booked in to attend nursery for the day. Mum, meanwhile, had returned to work following the Christmas break. With time to kill and after two weeks of constant battling to keep the house tidy, I took the initiative and the two of us once again went to London, this time to visit the Science Museum.
Yet again we accidentally strolled into an exhibition that I thought Helen would find boring; flight and aviation. Yet again I was proved wrong; she was fascinated at the early and primitive flying machines on display, in particular the model air ships.
We were a bit pushed for time on this occasion but managed to get around several other displays, including the section dedicated to rockets and space exploration. Helen was transfixed by all the various rockets and space-related paraphernalia .
To my great surprise, when we returned home she immediately got to work building a space rocket for one of her toys plus made a paper cut out of the moon. There was a plan to make space suits for several of her toys and also to make a pie so they had food to eat on their interplanetary journey. For some reason she never got around to making these items.
On both trips to the museums, it was amazing to see her flitting from display case to display case, asking pertinent questions along the way. It remains to be seen how much she actually learned but it was a delight, an honour in fact, to watch a young mind being inspired. I recall going to the very same museums with my mother when I was young and I hope the memories stay with Helen also.
I shall end this blog post on a high and show you the space rocket and Moon Helen created. If she ever gets around to making the pie and space suits, I'll post a picture of them at a later date.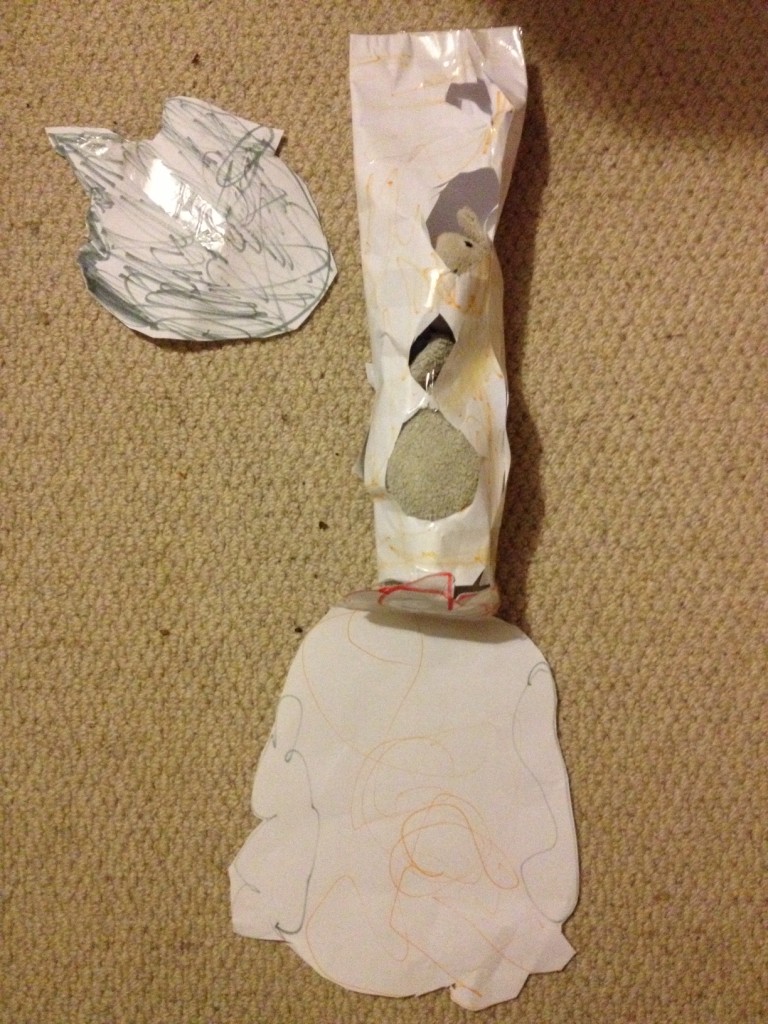 Interested in this blog post? Well have a read of these...