I never thought I'd use a recumbent bike. I'll be quite frank, they've always looked a bit too relaxing to provide a full workout. Over the past couple of months, however, I've been using a Domyos E-Seat recumbent exercise bike and it's become my main form of aerobic exercise. There's a bit of a story as to why, so indulge me for a moment.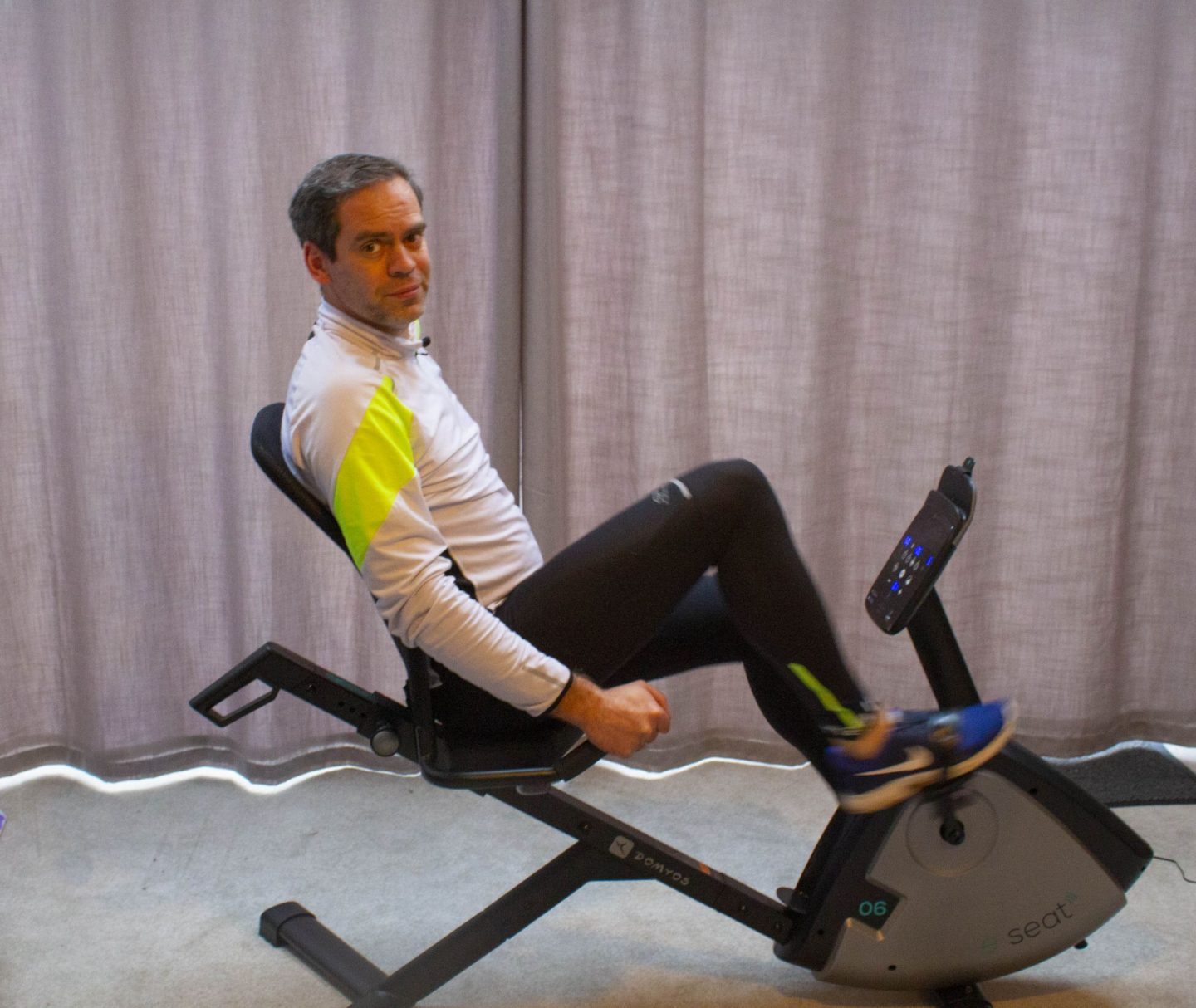 The story….
Throughout my life, I have been a runner. Going back to my school days, I was in the cross-country team and ran the 400 metres sprint every sports day, never coming less than third. As an adult, it was my main form of exercise.
This was despite the fact I have had repeated issues with one of my ankles. As a teenager, I tore all the ligaments in the joint when I landed badly after jumping off a wall. In a case of shocking timing, I fractured the same ankle just six weeks later when I put it down a rabbit hole. It was never the same again and I frequently sprained my ankle during my teens and twenties. I eventually ended up having surgery on it and for a few years all was good, until last summer.
We moved to a quieter, more rural location and this enabled me to go for longer runs. After each one, I lost mobility in my ankle. Even a slow jog around a rubber running track caused me issues and I ran less and less because of the issues it caused me.
My running days are over, but I'm still working out
It was sad, but I simply had to accept my running days were through. I've always wanted to keep in shape. In summer I'll no doubt go cycling outside but I wanted something I could do over the winter months.
An exercise bike seemed like a good option. As I have to balance kids and family life, it meant I could exercise at home and wasn't dependent on good weather.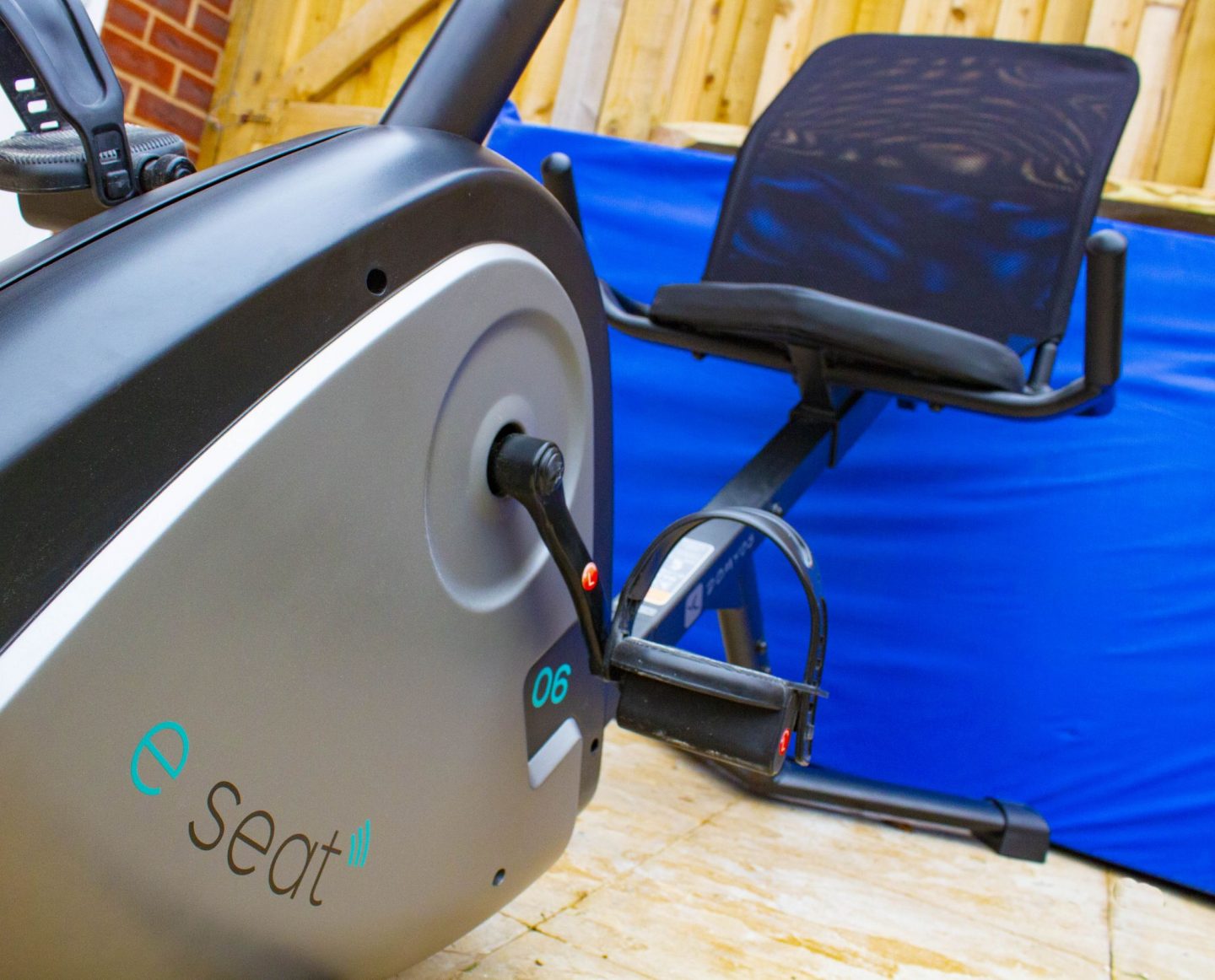 Ideally, I wanted an upright spin cycle. I wasn't sure this would appeal to Mrs Adams who isn't quite as obsessed with fitness as I am. I instead I opted for the Domyos E-Seat exercise bike from Decathlon and it's taken me completely by surprise.
First impressions
The E-Seat arrived flat-packed. That said, there are only about three main pieces to put together. After about 45 minutes, the bike was ready for use.
I was, I confess, a bit concerned a recumbent bike would be too easy for me to use. I quickly discovered this exercise bike is, in fact, capable of providing a very thorough workout, although I will come on to that.
One stand-out feature of this item is the lack of noise. It's almost silent (worth noting, mums and dads, if you are trying to exercise with young, napping infants or toddlers in the house).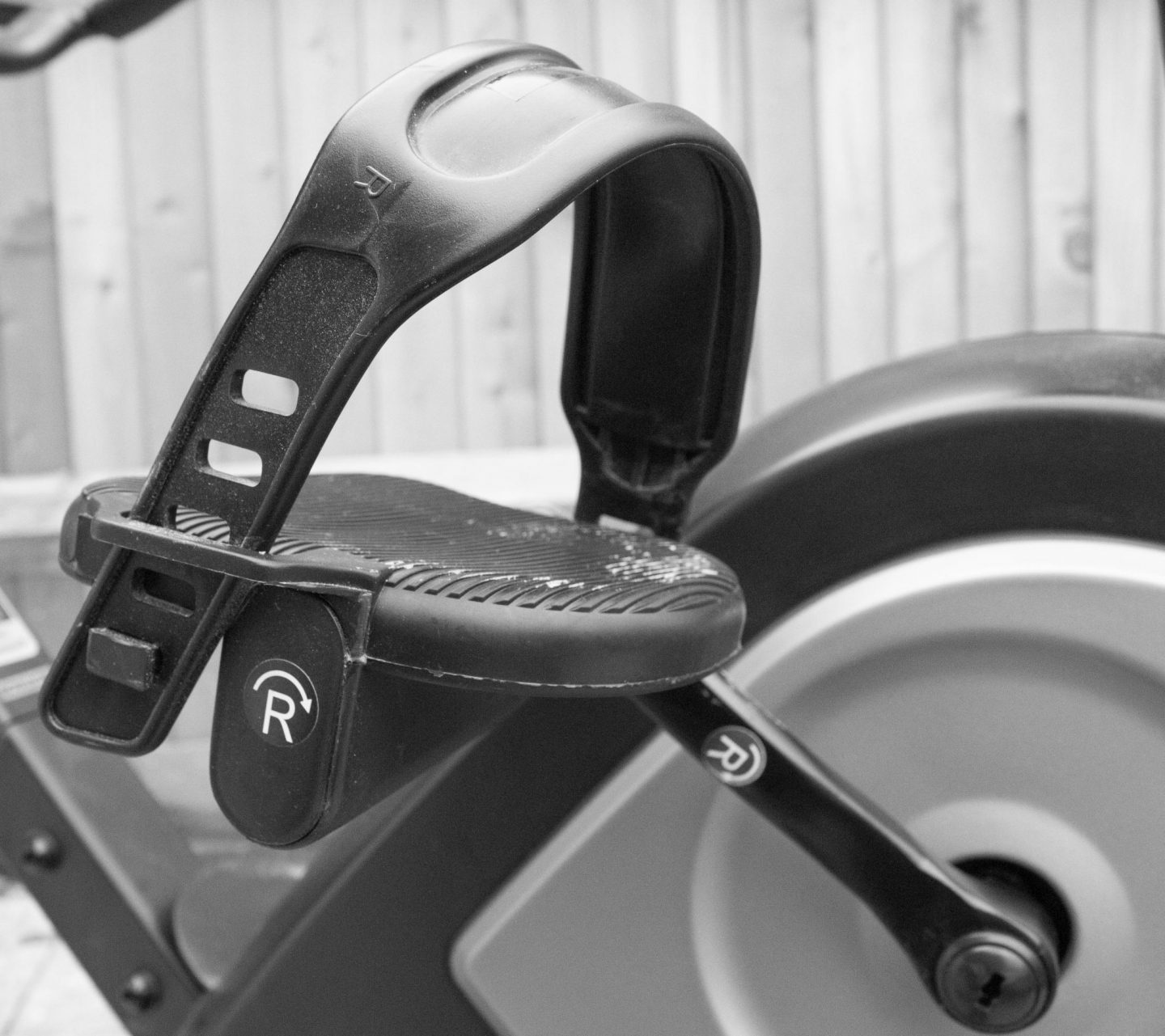 Despite weighing 36 kilogrammes, the Domyos E-Seat is also easily manoeuvrable. With wheels at the front and a carry handle at the back, it is straightforward to move around if you need to.
Technical details
This particular recumbent bike is mains powered. It is controlled by a console that is positioned above the fly-wheel.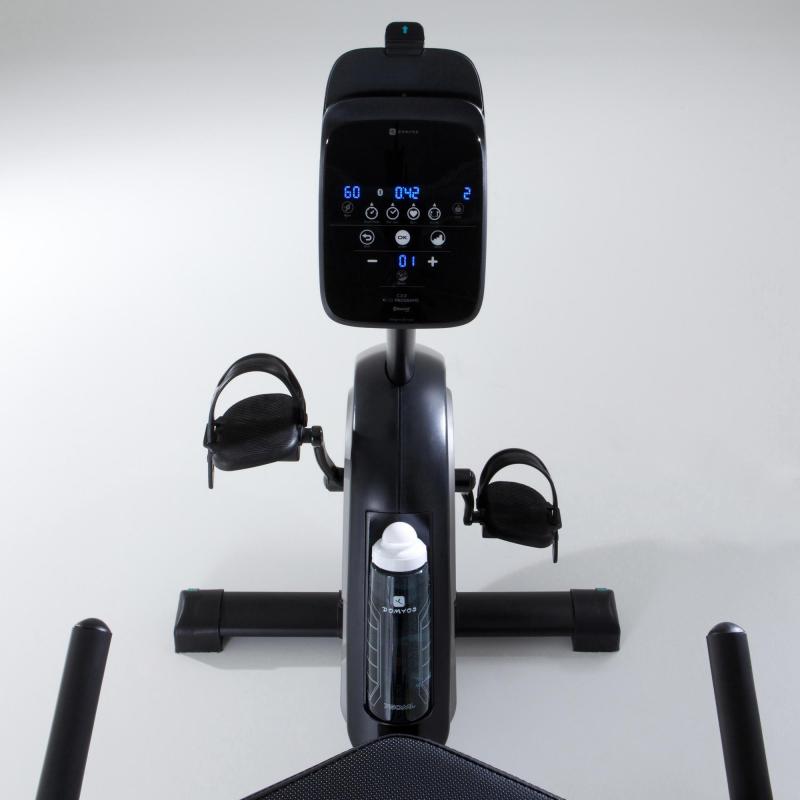 It has 15 resistance levels and six functions: Calories burnt, distance covered, workout time, speed, heart rate and revolutions per minute. There are also nine programmed workouts allowing you to concentrate on areas of most concern, be it calories burnt, fitness levels and so on.
The first resistance level is very easy. Even to warm up, I have generally chosen to ramp it straight up to the third level which is where I first notice any kind of bite on the fly-wheel. Some of the workouts I have chosen go all the way up to level 13 and this is very much like cycling up a steep hill. Once I'm on my way, however, I simply can't stop!
More often than not, I have completed a 30-minute workout, cycling around 14 kilometres and burning off just shy of 400 calories.
The seating position
Being a recumbent bike, you sit back in the seat as opposed to sitting on a saddle. I had concerns this would stop me from getting a serious workout. As I mentioned at the start, it also looked a bit too relaxed.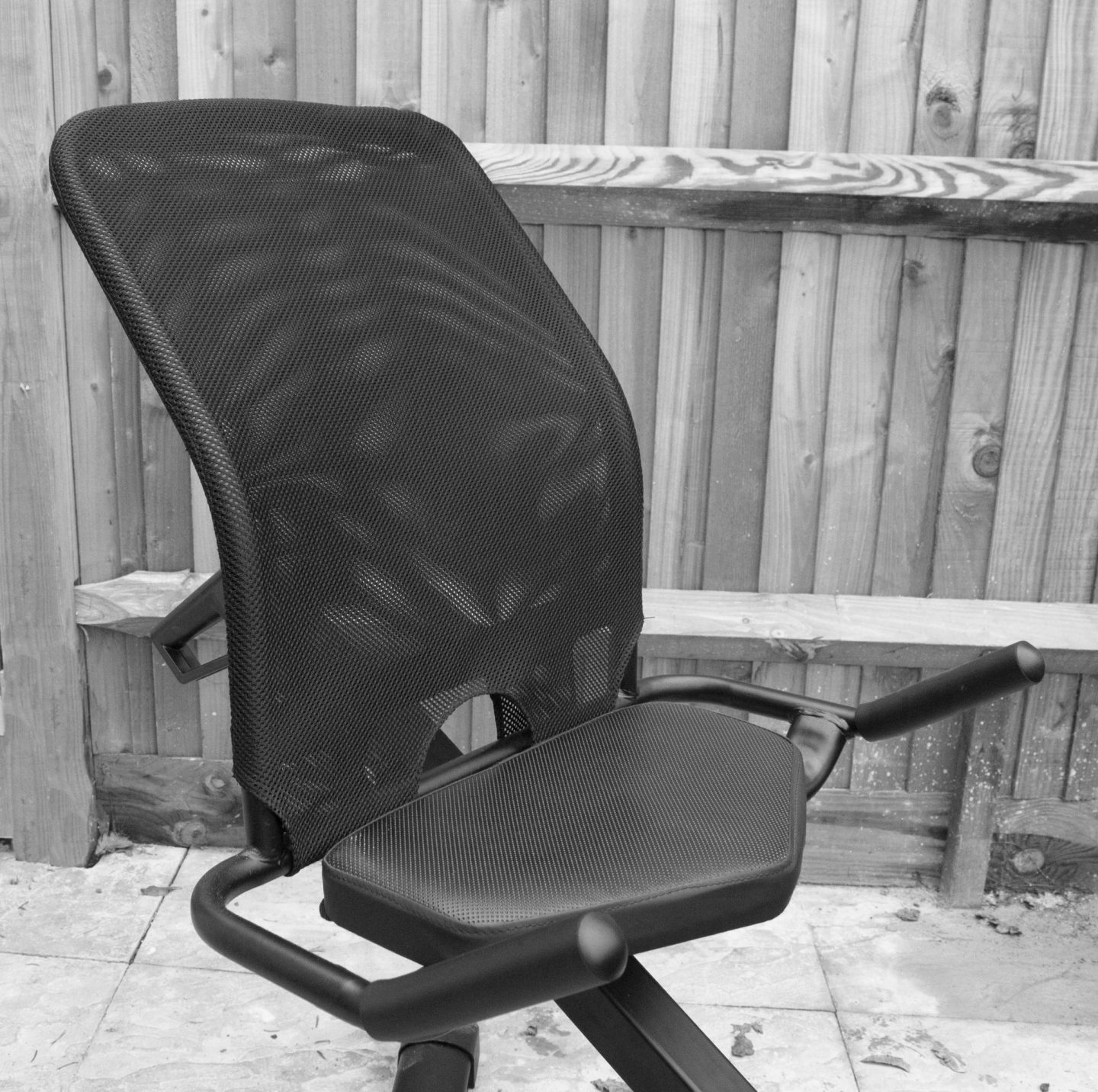 Look for advice online, and recumbent bikes are often recommended for people just getting into exercise or those with back issues or joint issues. While the latter point about joint issues does apply to me, it was not my main consideration.
In truth, when I have finished a 30-minute workout, the sweat is pouring off me. I have got plans to invest in a spin cycle as well, so I can get a more vigorous workout, but the recumbent bike has proven to be a great way to exercise and I'm using it about five days a week.
I should also add you can easily adjust the position of the seat depending on your height. This is done using a spring-loaded adjuster that's underneath the seat itself.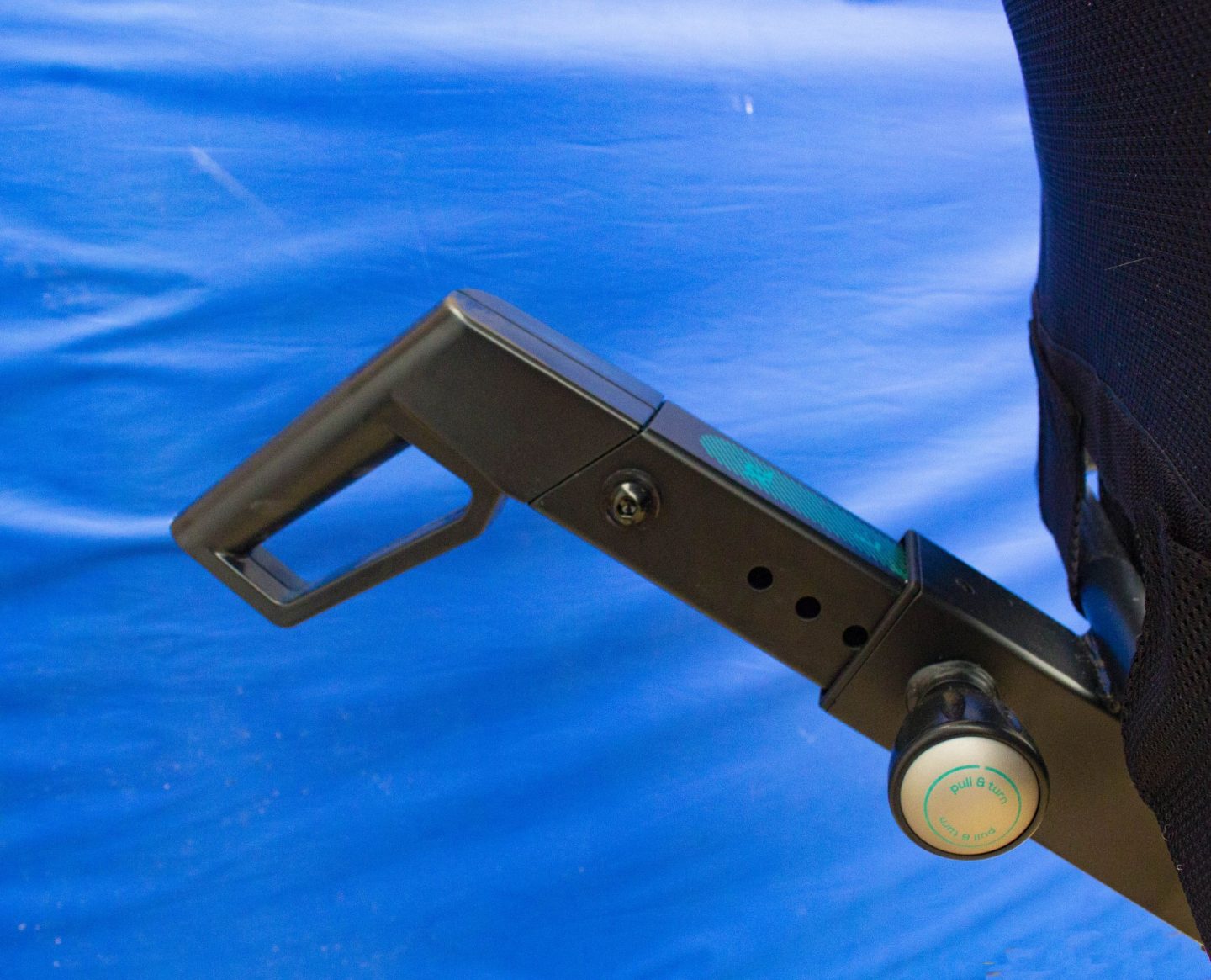 Heart monitor
A heart monitor comes with the E-Seat bike. It's very simple to use. It straps around your chest and your heart rate appears on the console alongside the other information on display.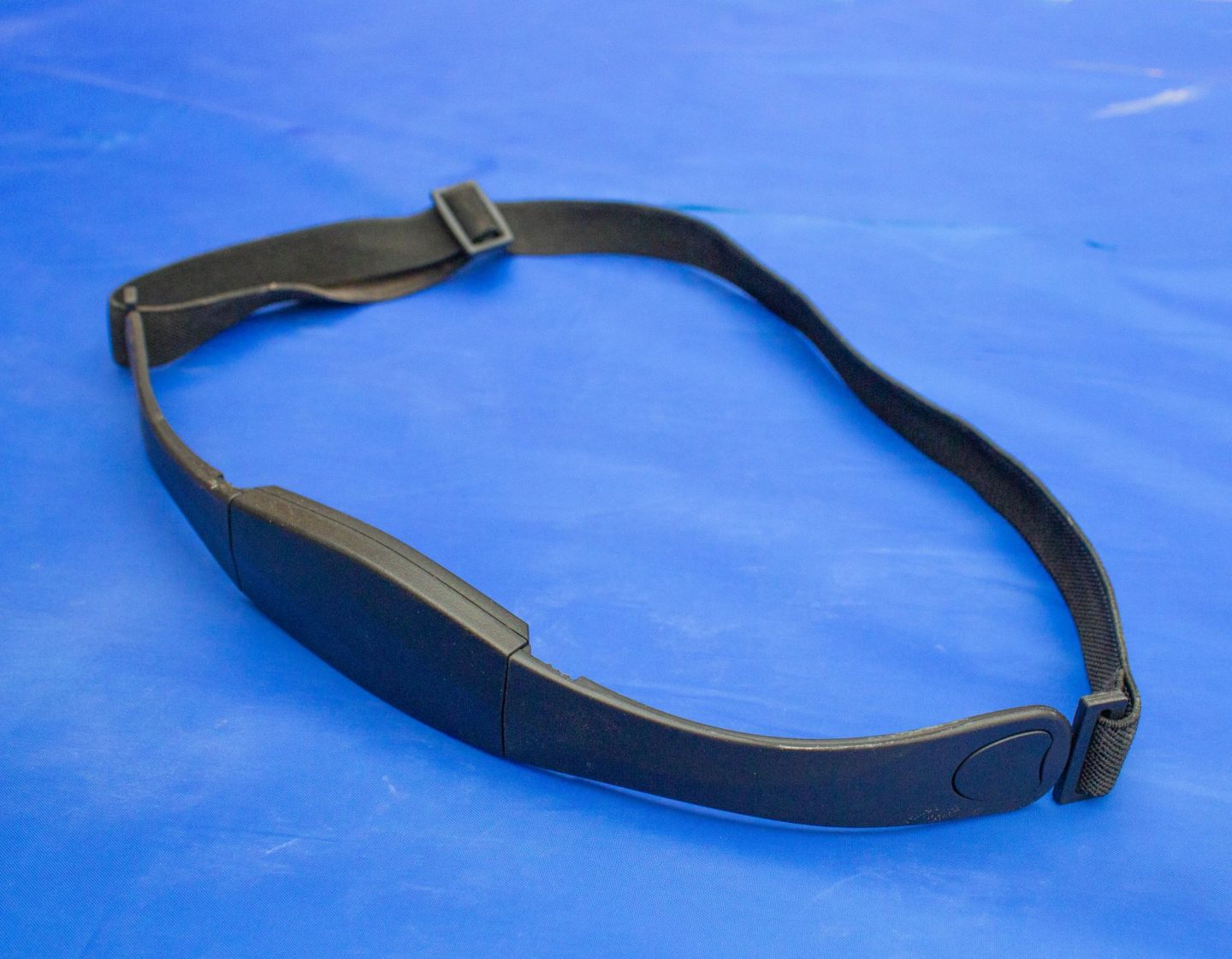 You can also configure the E-Seat console with the E-connected app. This allows you to set weekly goals and it keeps a record of your performance. It's very good, but I just don't feel the need to 'app' everything in my life and so while I've tried it out for the purposes of this review, it's no an app I personally feel inclined to use again.
In summary, cost and further information
A 30-minute session on the Domyos E-Seat is a hardcore, lower-body workout. It's a great calorie burner and equally great for maintaining and improving fitness.
I have no doubt that an upright spin-cycle provides even greater opportunities for improving fitness and burning fat and calories, but this recumbent bike can't be written off as an easy option because, used properly, it isn't. That said, if you are just getting into exercise or want a mild workout, the Domyos E-Seat could meet your needs with ease.

For a full body workout, I combine 30 minutes on the E-Seat with crunches, dips and chin-ups on my Domyos exercise rig. This compliments the lower body work out very nicely. I'm definitely building up muscle all over, but that's another story!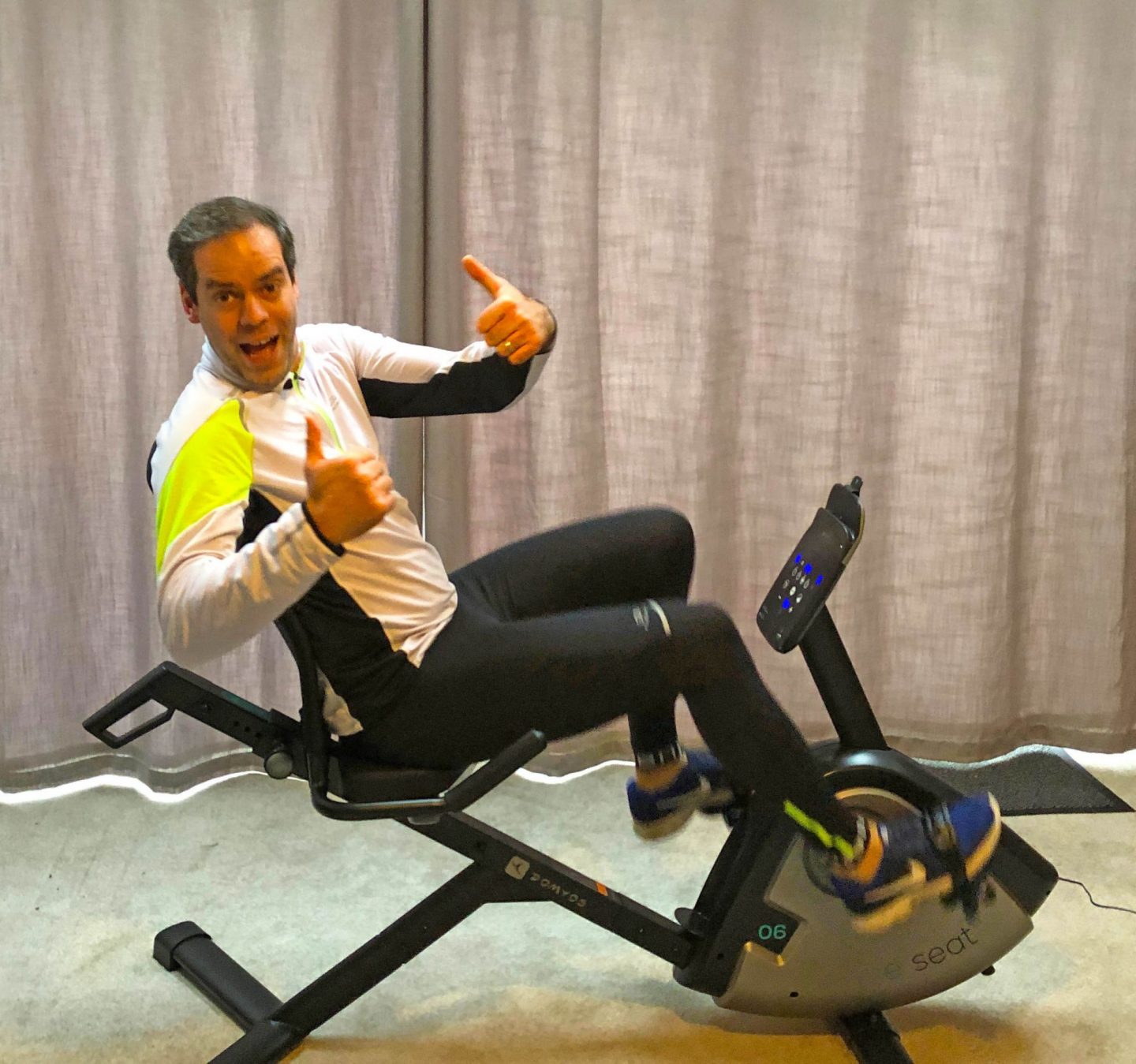 The Domyos E-Seat exercise bike is available from Decathlon. At the time of writing it was selling for £249 and more information is available online at the Decathlon website.
Finally, I have to concede this is a bitter sweet moment. I enjoy outside exercise but for the sake of my future mobility, my running days are over. I shall be doing more cycling in the summer months but for now, the recumbent exercise bike and exercise rig are serving my needs well. The next stop for me, however, is a spin cycle. Watch this space!
Disclosure: I am a part of the Decathlon Blogger Community and received this item for review purposes. Thoughts and opinions entirely my own.
Interested in this blog post? Well have a read of these...