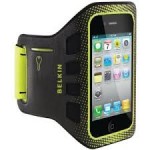 The Belkin EaseFit Sport armband is one of those armbands you see joggers wearing when they listen to music while running. Bearing in mind the product's name, however, you had probably figured that out!
It's very easy to use. You slip your iPhone (the one I looked at was for the iPhone4GS) into the plastic sleeve, wrap it round your arm using the Velcro strap and off you go. The designers have thought ahead and also provided a small pocket for your house key. If you're like me, you'll find this pocket useful as it means you don't have to run while a bunch of keys jangles away in your pocket as you jog.
Another nice feature is the fact you can still operate your phone once it's in the plastic wallet. All too often I've found similar products stop the touch screen from working but not so with the EaseFit Sport.
There's not too much else to say about the EaseFit Sport. It does what you expect it to and works well.
I obtained mine from MyTrendyPhone.co.uk where it costs £17.99. In summary it's well worth considering if you're into your exercise.
Interested in this blog post? Well have a read of these...