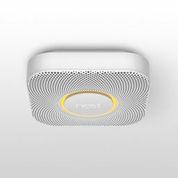 This product arrived just at the right moment. Not only was I in the midst of renewing our house insurance and ticking boxes about smoke alarms, but the plug on our dishwasher almost caused a housefire when it melted and fell out the wall about 20 minutes after I had installed this device. I honestly couldn't have made that last bit up, the timing was unreal.
Anyway, the Nest Protect is a new generation of smoke alarm. It works in the usual way; if it senses smoke or carbon monoxide it will beep loudly.
That, however, is where comparisons to your average white, plastic smoke alarm come to an end.Once installed, you have the option of hooking it up to your WiFi and then configuring it with an app that you download to your wireless devices. Wherever you are in the world, you can refresh the app and have peace of mind knowing that smoke and carbon monoxide levels in your house are safe. It will also light up, thereby allowing you to find an exit in the dark.
By the way, don't be put off by the idea of configuring the alarm with your smartphone if you're a technophobe. It is incredibly simple to set up. I personally think it's well worth doing.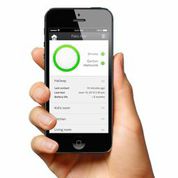 The battery life is about five years. The Nest Protect is also programmed to talk to you. It doesn't simply beep if the battery is running low, a kindly female voice will inform you of this fact. It will also speak to you when you hit the test button to ensure it's working properly.
It's a well designed item. It looks like the kind of item you would actually want in your house, not an unsightly white brick.
As you can perhaps tell, I've been impressed by the Nest Protect. It also got a big thumbs up from Mrs Adams who particularly likes the app.
With a price tag of £89 it is not the cheapest of smoke alarms. It is, however, very good so you may think this is a price worth paying. The Nest Protect is available from Amazon, B&Q, John Lewis and Nest.com.
For information on my Disclosure Policy please follow this link.