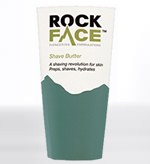 Anyone that knows me will confirm I generally have a regulation 1.5mm of stubble on my face. It's been this way since baby number two was born and it's got to the stage where my wife complains when I am clean shaven.
You might, therefore, be thinking this product isn't of much interest to me. I'm pleased to say you'd be mistaken!
To keep stubble looking smart you have to shave the neck and some of the cheeks and so I was only too happy to give Rock Face shave butter a go. As a shave cream (shave butter if you must) it worked very well. It didn't clog up my razor and I was left with a nice finish on my face.
What's particularly good bout Rock Face is that you are supposed to rub it into the face after shaving "for ultimate post-shave hydration." In other words, it works pretty well as a moisturiser too.
I've deviated from the instructions and been using it as a moisturiser for the past couple of days and been very pleased with the results. It's not very oily and works into the skin well.
Oh, yes, for all intents and purposes that was a confession; I moisturise. I'm also not ashamed to admit it. Quite the reverse actually, I moisturise and I'm proud of it!
A 75ml tube will set you back £4.99 so Rock Face is good value for money. Having tried the shave butter, I'm keen to check out the other products in its range.
For more info go to http://rockface4men.com
Interested in this blog post? Well have a read of these...