If there's one home maintenance task I struggle with, it's trimming our garden's hedges. The reason for this is that we have ginormous hedges that were very badly maintained in the years before we bought our house.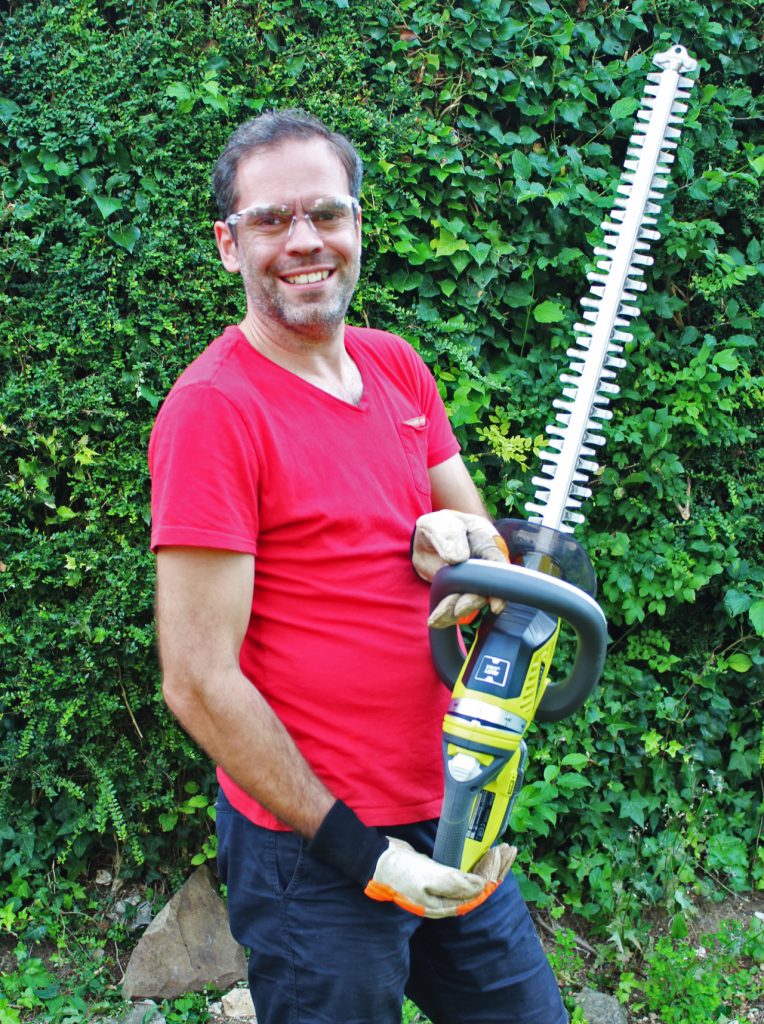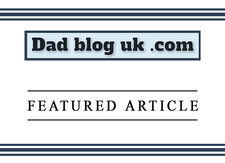 It takes a lot of effort to knock them into shape. I need reliable, hard-wearing tools to help me keep the hedges under control.
Could the new to the market Ryobi ONE+ Cordless hedge Trimmer complete the task? There was only one way to find out.
First impressions
On getting the hedge trimmer out of the box, I was impressed by its weight. The hedge trimmer is a very manageable 2.8kilogrammes.
To be clear, you do also need a battery and battery charger. I have seen these sold separately or in a bundle so do shop around.
Charging was very straightforward. Once the battery was fully charged, the hedge trimmer was good to go.
In fact, I made a brief video as I unboxed the hedge trimmer and used it for the first time. Just click on play below to watch.
Features
One thing stands out about the Ryobi ONE+ cordless hedge trimmer and that's the handle. For comfort or to help you cut at an angle, you can off-set the handle by either 45˚ or 90˚.
I made use of this feature for comfort. I found it particularly useful when using the trimmer over large, horizontal face.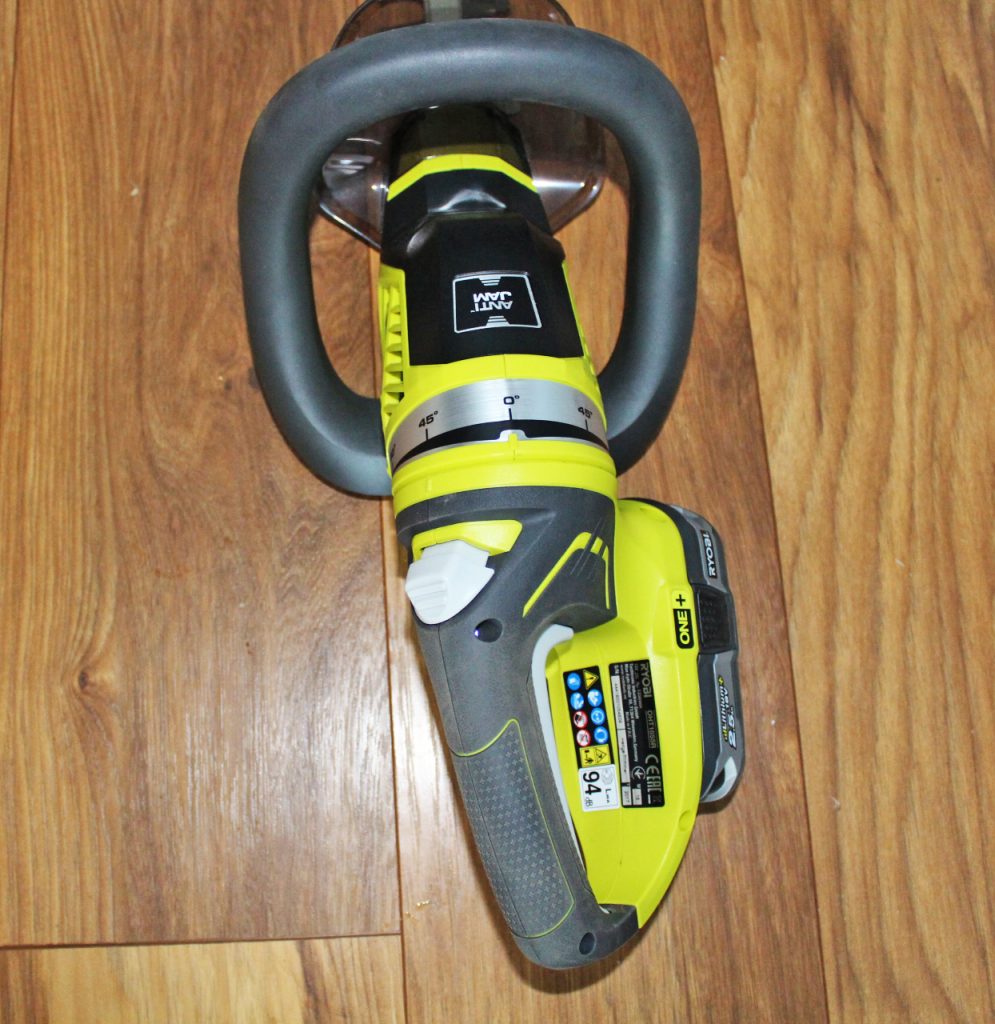 The trimmer also has a 55cm blade. This is a perfectly adequate size, but if you have a particularly large hedge you may want to consider something with a larger blade.
At the very tip, the blade has a saw cutting function. If you do come across any particularly tough branches, you can use this function to slice through them and it does work very well.
There is one further feature worth mentioning. That's the HedgeSweep attachment.
This had me completely confused at first and I had no idea how to use it! It slides into the blade so you can clear trimmings away as you cut the hedge.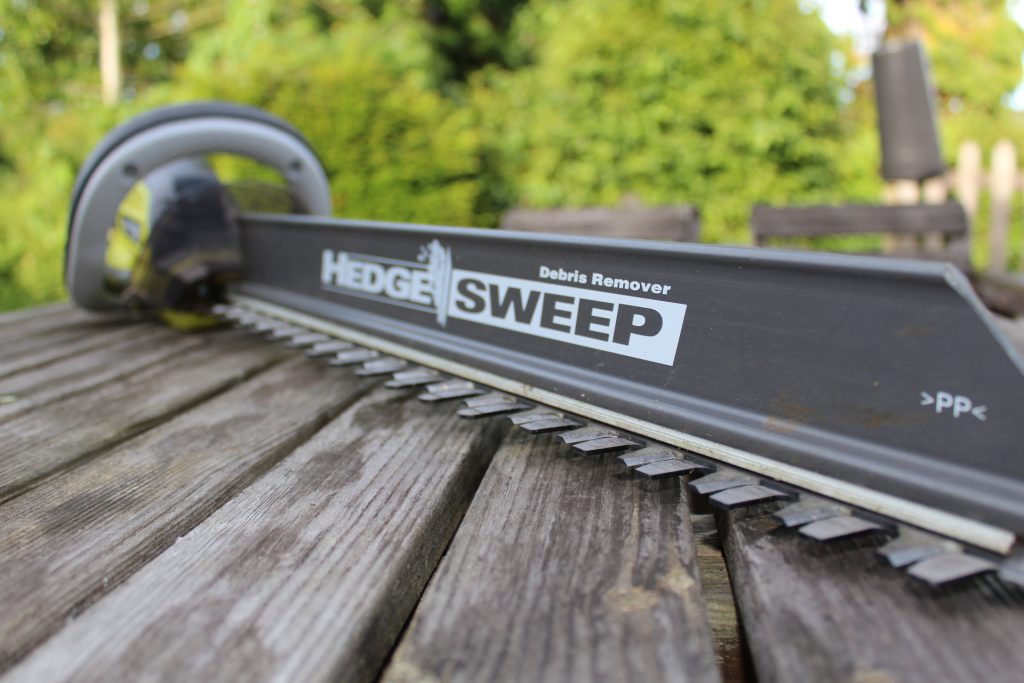 Performance
After making that video, I really put the trimmer to the test. One thing I noticed was the power delivered by the 18v battery.
There is no doubting the ONE+ hedge trimmer packs a punch. It made very light work of our hedges and I was impressed at how easily it dealt with the thicker stems that I had to cut through.
The battery has thus far held its charge very well. It certainly seems to be a very well-constructed item and I was able to do all of our hedges in one charge. To give you some idea, our hedges are about two metres high and have a total length of about 50 metres.
The battery charger was also very easy to use. The battery only fits one way and you simply pop it in and indicators inform you when it is charged, which should only take 60 minutes.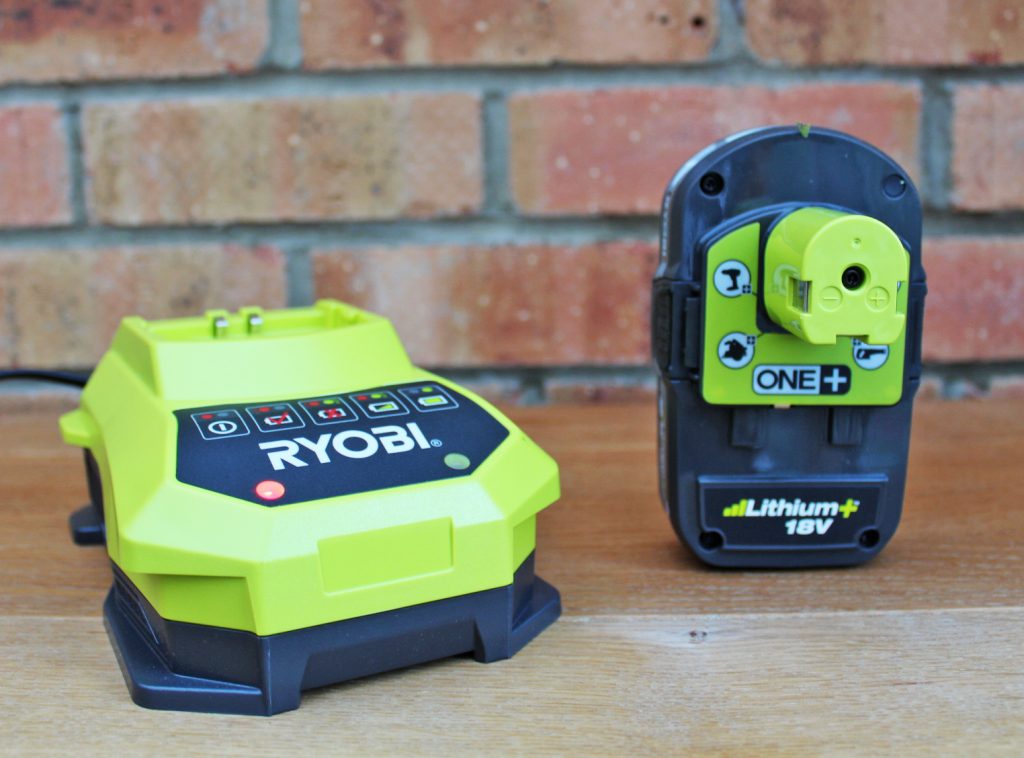 Safety
The ONE+ hedge trimmer has a two-trigger system. You have to depress a large button in the handle while also pulling a trigger with the other hand. Both must be deployed for the trimmer to work.
There is also a safety guard at the front of the handle. This protects the hand gripping the front of the handle.
Cost
At the time of writing, the Ryobi ONE+ Cordless hedge trimmer (OHT1855R), Ryobi ONE+ 18v Fast Charger and Ryobi Lithium+ 18v 2.5Ah battery can be bought in a bundle for around £149. It is available from retailers including Amazon amongst others.
On its own, the hedge trimmer is available for around £89.99. Just remember, the battery comes separately so it may make sense to buy the lot in one go.
I should mention the items I have reviewed here are part of a much bigger range of ONE+ cordless items. Ryobi also sells a cordless drill, sander, blower, chainsaw and so on.
More information
There is a huge amount of information available on Ryobi's Facebook page. You will find product information, competitions, pictures, videos and all sorts on the page. It is well worth taking a look to explore the Ryobi range.
Final words
I was very impressed with the power of this product. It worked very well and handled our horrendous hedges with ease.
It seems well built and well-priced. If your hedges need some mid-summer attention, I would take a look at the Ryobi ONE+ hedge trimmer. If you like the sound of it but have particularly tall hedges or there is an unusual aspect to your garden, you might want to take a look at the Facebook page and see if something else in the range fits your needs. It is a comprehensive range and you may find something suitable.
Disclosure: This commissioned post was produced in association with Ryobi. A hedge trimmer, charger and battery were provided for review purposes Thoughts and opinions entirely my own.
Interested in this blog post? Well have a read of these...