One of the joys of writing this blog is when I get talking to someone I could chat to all day long. Former professional cricketer turned children's author Stuart Simmonds definitely falls into that category.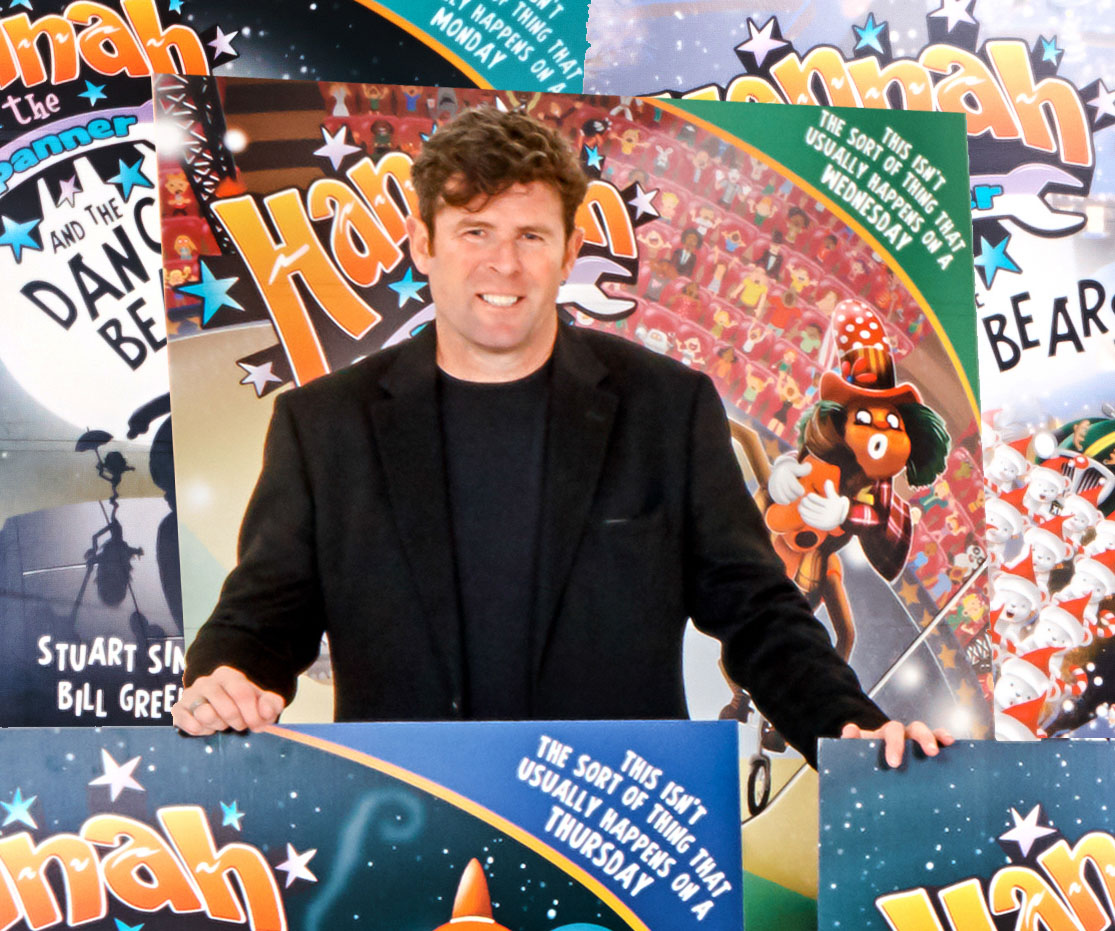 The former Sussex Cricket player and long-time coach lived up to his reputation of being very personable and approachable. Once we got talking, we chatted about everything from his expanding collection of books to his cricketing career and the career he almost had as a footballer.
What impressed me was how Stuart has managed to turn one of my favourite activities into a range of books for children. He has two adult children, Hannah and Lucy, but when they were younger he would make up bedtime stories for them, something I love to do for my kids.
Stuart turned the stories he made up for Hannah into a collection of children's books. They follow the adventures of Hannah the Spanner and proved so succesful he's about to publish the first in a new range of books based on the stories stories he made up for Lucy. Readers of Dadbloguk have a chance to win signed copies of all these books (Update: Giveaway ended on 5 August, 2020).
There are seven Hannah the Spanner books, one for each day of the week apart from Sunday. In the books, which are very funny, even for us adults, Hannah goes on various adventures. She goes to the circus, foils diamond robberies and travels to the moon. The seventh story Hannah the Spanner and the Polar Bears is a Christmas special.
What's below is just a fraction of our very long discussion. We start by talking about the new books.
Hannah the Spanner is a great name for a series of books. I understand you have something else in the pipeline right now. What's on the cards?
"Long story! I have two daughters. I have Hannah obviously, the Spanner, and Lucy. They both got bedtime stories when they were young.
"For Hannah's 21st birthday, which was couple of years ago, I did these books without telling her for her 21st birthday. It became a big family secret and she was given them for her birthday (This series of books has been on general release since April 2019)
"It's Lucy's 21st in a few weeks' time. Although she knows about it, she's getting her book. Her book is Harry the Karate Monkey. It's coming out on the 21st of September, which is Lucy's birthday, so I've now got two: I've got one series of Hannah's with potential for more (a series of six Harry books is planned)."
Stuart explains that his children's books are a partnership between him and illustrator Bill Greenhead. The imagery in all the books is very colourful and the emotion on the characters' faces is always incredibly well portrayed. Stuart says he "provides the words while Bill draws my imagination."
I ask how the new Harry the Karate Monkey books will differ from the Hannah the Spanner series?
"Lucy's books are written for a younger age group. They're a bit more cartoony and I've written these, half in mind, for the parents to have a giggle as well.
"I have always written with, you know, a sarcastic humour and so parents will giggle along as well, but some of the things that the kids don't see. It's not smutty or anything like that, but stuff about schools and people's lives and that sort of stuff."
"The illustrations are great. I think without realising, I have kind-of written a TV series."
Having read Harry the Karate Monkey, I'd agree Stuart's given a fair description. It is a cartoon-style book with simpler language. I did also find myself chuckling as I followed Harry's story. In this first story, Harry starts his life as a soft toy given as a gift to Lucy.
He is transformed into a living, breathing, karate-loving monkey after coming into contact with a secret formula. Some baddies need to get the formula back so hunt Harry down. The final scenes take place on a school trip to a zoo. I can't say any more or else I'll give the story away although there's a madcap grand finale during Lucy takes charge of a monorail that transports visitors around the zoo.
As I can't talk any more about Harry the Karate Monkey without ruining the plot, I ask Stuart about how he got into writing.
It transpires that before the Hannah the Spanner books, Stuart published an autobiography called Watching With My Heroes. Going from cricket to writing seems to have been a reasonably smooth transition for him.
"It has been quite nice to learn another trade, to be honest, to learn about another industry. Other than to, you know, work in sport and schools, over the years. It's been quite nice learning about something else as I get a bit older."
During Stuart's cricketing career he played in South Africa and Australia but only ever played four A-list games. Much of his career has been spent coaching the sport and he admitted to me A-list players were of an incredibly high standard. Even so, he is popular in sporting circles and former England international Derek Pringle wrote the foreword to Watching With My Heroes. I ask if he still plays the game.
"I retired properly about three or four years ago now. That's when I wrote the cricket book. I'm done now.
"I wrote Watching With My Heroes and it went amazingly well. I took it out to friends and said; 'Listen, if it is really, really poor, please tell me. I won't be offended. Just be honest. If you really think it's dreadful, I'll only get ten printed.'
"They came back and they were like; 'We really, really like your book. It was really funny, and it's, very, very humorous, very honest.' People just seemed to really have liked it."
Stuart explains the Amazon reviews were very positive and he has even received an email or two direct from readers who enjoyed Watching With My Heroes. Amusingly, however, Stuart did get the one complaint from his father who thought it featured a little too much swearing!
Stuart's first book led to the partnership with Bill Greenhead.
"I met Bill through a mutual friend. Once we'd done the cover for the cricket book, I said; 'Listen, I've got this idea for stuff I want to do for kids.' And then off we went. He's obviously very, very talented, and gets what I do. He draws my imagination, which has been nice."
It was suggested I ask you about the process of getting the books into print.
"It's fairly simple, really. I mean, I go away and write it and then the two of us sit down and throw a list together of about 35 pictures. I'll sit down with Bill and we'll just say; 'Okay, this is what we want here, here and here,' then he just goes off and sketches it. Once we're happy with it, he just goes off and draws. My work is done."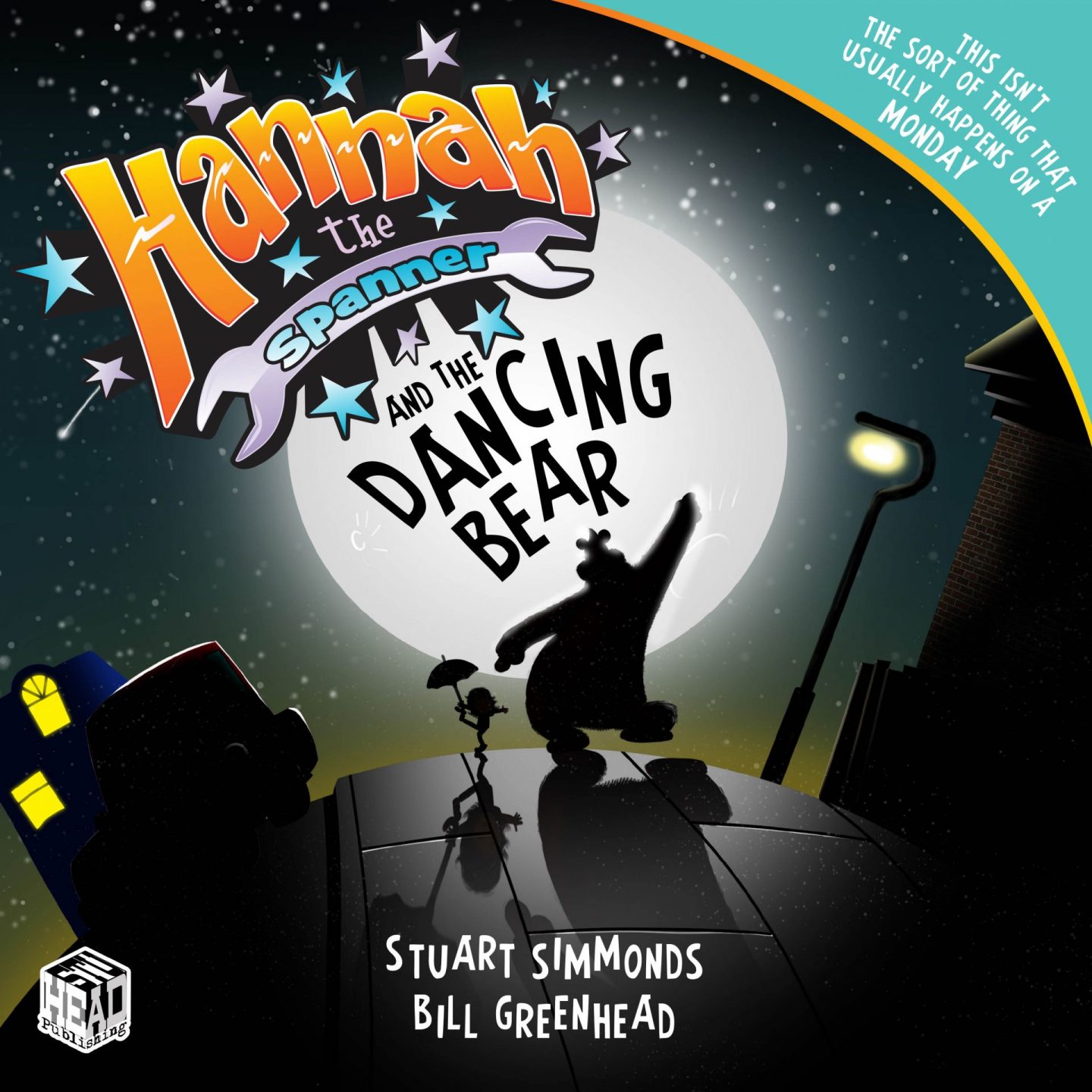 I tell Stuart that he makes it sound very simple. Sure enough, he explains that there is a team behind the operation featuring an editor and graphic designer in addition to Stuart and Bill. While he makes it sound simple, it's clearly quite a time-consuming process.
I remark that surely the writing of the books was the easy bit, everything else took the time.
"Yeah, kind of. It was obviously very different for Watching With My Heroes. With the kids books, you can sort-of knock them out. They are relatively easy to make because they're stories I've written, some made up years and years ago. My wife told me to write them down so I did have a bit on file and it was quite easy to amend them and change them around."
I'm hearing there's possibly a TV series in the making of the Hannah the Spanner books?
"Well, it's gone quiet because of the virus. We have spoken to quite a few production companies."
It turns out Stuart was asked to do some work to bring Hannah and the Dancing Bear to the small screen.
"We were asked to produce it and so we wrote a script, and we storyboarded it all up. We've taken that around to see a few people, including the BBC, and a few independent production companies.
"These things do take time, but this was, around Christmas, January, February. Then the brakes got slammed on as COVID hit. Luckily for us, we were able to hold fire and say; 'Okay, we can pick it up again in a year's time or whatever once we go back to anything approaching normal." Obviously we genuinely appreciate that sort of industry, like most, will be absolutely decimated I'm sure."
We chat for a while about the impact of COVID-19. Stuart is realistic to the fact a TV project may be on hold for some time but remarks that: "You've got to look at this as an opportunity." Unable to proceed with the TV project, he now has a chance to seriously promote the Harry the Karate Monkey range of books for the next year or so.
In addition to writing children's books, Stuart also does reading workshops in schools. I ask how this has been affected by the Coronavirus pandemic.
"We've been taken on by a company called Authors Abroad, which goes into schools. The main gist of what we do is to find out how many kids do actually still read with their parents or their grandparents or whatever. The aim of it is to try and get kids back reading really, and to get the parents reading to them.
"That's how this whole project started. Bedtime was a laugh and making up these stories was a giggle. You know, when the kids are that young, it's a really brilliant time. When your kids get older, they are certainly not interested."
Stuart's experiences of going into schools has sadly highlighted the issue of children being placated by technology, instead of parents actively engaging with them through reading.
"When you go around the schools and ask; 'Who goes to bed with a mum or dad reading a story?' A few hands go up.
"'Who goes to bed with a tablet?" A lot of show of hands go up. They're just basically put to bed with an iPad or whatever it is. You know, they're missing that sort of time.
"Without getting on my preacher's box here, sometimes the parents are as bad as the kids. They need to get off their phones as well.
Stuart tells me another story that demonstrates the impact of phones on family life. He explains that he used to coach cricket at a school and banned the students from their phones for 10 minutes after each game. He simply wanted a few uninterrupted minutes to discuss performance.
"I think almost like two thirds of the kids in the team…the parents complained."
Seriously?
"Unbelievable, yes, it is unbelievable. It's like a 'contacting junkie.' The emails we got from parents; 'He can't do that, I might need to contact my child.'
"You're like; 'Oh, please, is it really that bad?"
And are you still coaching?
"Not much now. I'm still involved with cricket. I'm the Vice President at Sussex County Cricket Club.
"I mean, I'm quite involved there, getting kids to play. I occasionally get my jersey on, but thankfully not very much."
I think that's the thing with sports people though isn't it? You generally have two careers don't you? After sport, you go into property and writing (Alongside his writing career, Stuart also has a property development and rental company called SJS Estates).
"Sometimes you think; 'Oh, I could easily do this into retirement.' But yeah, you know, it's been very nice to have, like you said, a second career."
There's a question I always like to put to people with a background in sport. What tips would you give to a mum or dad who has a child who is gifted at a particular sport? Is there anything you would say to them?
"Yeah. How long have you got? A lot of parents think; 'Oh, they're destined for Manchester United' without realising how brilliant you've got to be just to get anywhere near that sort of level at any of the sports. I mean, someone told me that apparently the percentage of people getting the chance to play a game of professional sports is something north of 0.14%.
"I think being Harry Kane or Ben Stokes or something like that, you have a great career and you could probably add another decimal point on it. I played four games, that was it, and I didn't expect to play four games. I'm in that decimal point or whatever, but I played four games.
Stuart explains that before cricket, he had shown some promise as a footballer and as a teenager was on a school programme with Brighton. One day he ended up playing against former Arsenal and England winger David Rocastle and former Arsenal midfielder Michael Thomas. It was the moment he realised football was maybe not for him.
"We just simply could not get the ball off these kids. They were so good. We decided to change our thinking, 'cause if that's how good you've got to be, we better start thinking of another occupation because we are not going to be anywhere near good enough.
"It's really hard because, loads of people's dreams get shafted, be it sport or music or something else. I mean, it's a real hard learning curve for people who are simply not going to make it.
"Just try to remember why you fell in love with the sport in the first place. If it happens later on to potentially become a career, and there are other ways of possibly staying in that sport, even though you might not play professionally, that's a nice way to go."
I explain that I once put that question to Olympic cyclist Sir Chris Hoy. Hoy has said it was often youngsters who excelled at the ages of 12 or 13 who burned out while still very young.
"Yes 100%. I didn't really get good until I was probably 20 or 21. I think also, work ethic is absolutely massive. You've got to have this. It's the kids who really, really want it and it really works out with their sacrifice.
"So yeah, I'd completely agree with him, but then he's got like, Olympic medals and I do not."
Book details and giveaway
My conversation with Stuart Simmonds has to come to an end at this point. To my amazement I find I've been chatting to him for half an hour but I am left wondering if I should turn some of the children's stories I have made up into children's books.
The Hannah the Spanner books by Stuart Simmonds and Bill Greenhead are widely available and are published by StuHead publishing. Harry the Karate Monkey will be published on 29 September.
As I said at the start, you could win signed copies of all the Hannah the Spanner and Harry the Karate Monkey Books. Simply follow the instructions in the Gleam below. It simply requires a comment on this blog post or a retweet. The deadline for entries is 11.59pm on 4 August, 2020 (Entrants must be UK residents over the age of 18). A winner will be selected at random by Gleam. Very best of luck.
**GIVEAWAY ENDED**
Interested in this blog post? Well have a read of these...